Antofagasta Minerals and MIT highlight innovation as a key pillar for the future of mining 
6th April 2023
Speakers at the seminar included leading MIT professors and researchers, such as Michael Davies, Luis Perez-Breva and Caterina Madeira. It was held on 21 March in the city of Antofagasta, and two days later in Santiago. 
In attendance was Aisén Etcheverry, Minister of Science, Technology, Knowledge and Innovation, who stressed that Chile has an ecosystem that is already convinced of the importance of these issues. Still, progress needs to be made, she said.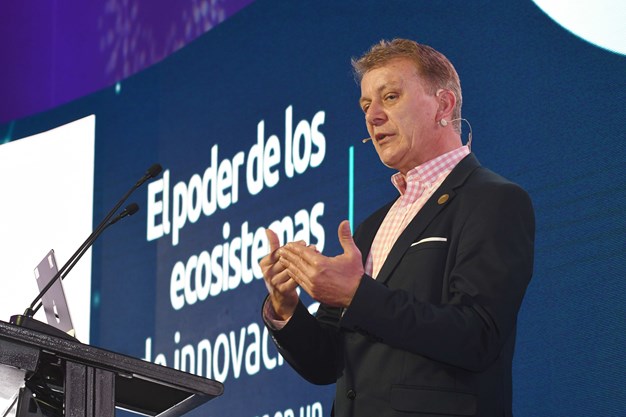 Alan Muchnik, Antofagasta's Vice President of Strategy and Innovationhighlighted the importance of innovation during the seminar, which was entitled "The Power of Innovation Ecosystems: How to Innovate in an Interconnected World". The event was organised by Antofagasta Minerals and the MIT Industrial Liaison Program (ILP). "We must continue to innovate if we are to produce the copper the world needs to tackle climate change, decontaminate our cities and improve the quality of life for millions of people. And, at the same time to maintain and increase our contribution to Chile," Muchnik added. 
The seminars took place on 21 March in Antofagasta, and two days later in Santiago.   
Attendees (and those who connected to the webcast via Antofagasta Minerals' LinkedIn page) had the opportunity to hear Klaus Schleicher, Director of MIT Corporate Relations, give a comprehensive update on how MIT works with businesse; from Michael Davies, Senior Lecturer in Technology and Strategy; from Catarina Madeira, Director of the MIT Startup Exchange, who described how 150 startups join the programme each year, and from Luis Perez-Breva, MIT Faculty Director of Innovation Teams (iTeams). 
COMMITMENT TO THE REGIONS 
Both events were hosted by René Aguilar, Antofagasta's Vice President of Corporate Affairs and Sustainability, who explained how last year Antofagasta Minerals signed a working agreement with the MIT Industrial Liaison Program "to deepen our innovation model. We saw how important it is to be connected to the world's leading innovation ecosystem, to broaden our view beyond the mining sector. We are sure that new technologies and solutions that are applied in other industries could also be used in mining." 
The MIT Industrial Liaison Program is industry's most comprehensive portal to MIT, enabling companies worldwide to harness MIT's resources to address current challenges and to anticipate future needs. 
Aguilar stressed that the international seminar was a sign "of our commitment to the regions, the country and its inhabitants." After the first meeting in Antofagasta, the MIT speakers were able to tour Centinela's Remote Operations Centre, the first of its kind built in the Antofagasta Region. They then travelled to Centinela to learn about the operation of autonomous haulage trucks in the mine's Esperanza Sur pit.  
The Chilean Minister of Science, Technology, Knowledge and Innovation, Aisén Etcheverry, replied in her speech: "I am part of a Government that is convinced that science and technology are the keys to development. We see that there are challenges in sustainability, social justice and the participation of all actors. And the way to make that happen also comes from what people are doing in the private sector. I'm listening here to René Aguilar talking about what Antofagasta Minerals is doing, and the projects they are carrying out, its interest in incorporating workers into innovation processes, thinking about sustainability and investing in science-technology-based ventures. This is exactly what we in the Government are strongly trying to promote."   
THE FUTURE IS HERE
Then, Alan Muchnik noted: "We need innovation to develop new deposits, where we must exploit more complex, lower grade harder to access ores, and to do so in a safe and sustainable way." He went on to say that "talent and collaboration (be it public-private, with universities and institutes, with other organisations, with entrepreneurs or with our suppliers and communities) is fundamental to the Chilean mining industry making the leap that it requires."   
Professor Michael Davies defined "innovation ecosystems" as places that engage five types of stakeholders: "research institutions, entrepreneurs, corporations, investors and governments. All of them linked by a strong social fabric of mutual interest, complementary needs and resources, and trust." 
Davies also quoted the writer William Gibson: "The future is already here. It's just not evenly distributed yet".