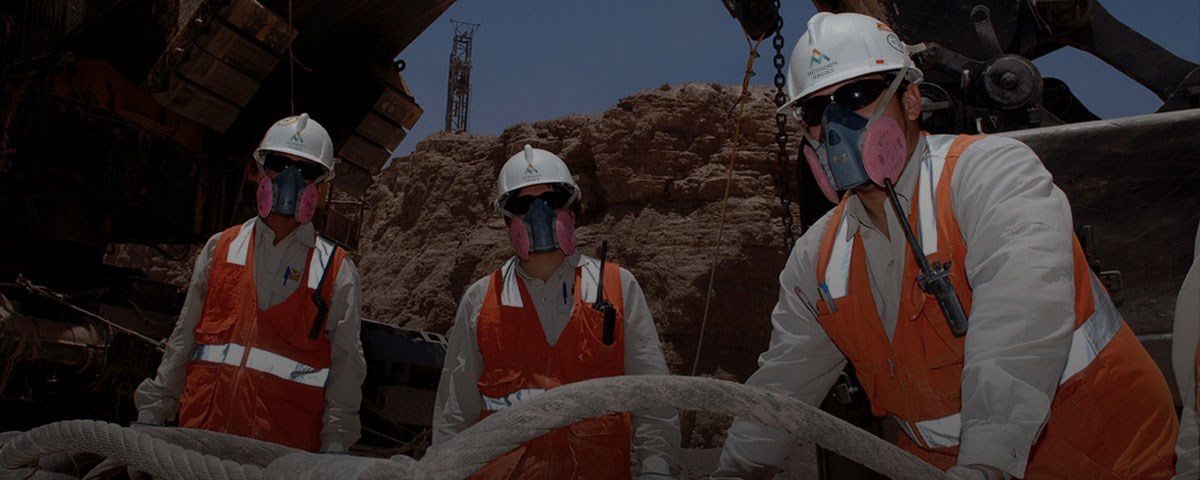 HIGHLIGHTS 2022
The proportion of female employees increased to 20.6%, compared to 17.4% in 2021, exceeding our target for the year
Our apprenticeship programmes accepted a total of 200 candidates, mainly from local communities, of whom 79% were women
We rolled out our Wellbeing Strategy that promotes our employees' physical, emotional, financial and social welfare.
The Group's People strategy is built around the four pillars of culture, organisational effectiveness, labour relations and talent management, and is aligned with our charter of values, which is central to our organisation. It seeks to promote an inclusive, innovative, motivated and effective workforce with access to training and career development opportunities.
The Board oversees the strategy, supported by the Remuneration and Talent Management Committee. Remuneration policies and practices seek to promote our business strategy and the long-term sustainable success of the organisation. Sustainability targets represent 25% of key performance indicators in annual bonus agreements for supervisor and management roles
In 2022, our workforce comprised an annual average of 29,223 employees and contractors, 16% higher than the previous year, due to the need for more contractor workers. Centinela has the largest share of the workforce with 29% followed by our corporate office in Santiago with 28%, which includes contractor workers hired by our Projects area. Los Pelambres accounts for 26% of the workforce, Zaldívar for 10% and Antucoya 7%.
We are committed to promoting local employment and, in 2022, 57% of our 5,867 direct employees were from the Antofagasta and Coquimbo Regions where our operations are based.
At Antofagasta Minerals, we believe employee wellbeing is vital to the effectiveness and sustainability of our organisation and improving employees' labour experience is a key focus of our work.
In 2022, we finished updating our Work-Life Balance Guidelines, which are tailored for each mining site and designed to improve the distribution of employees' time between work and personal life. Launched in 2019, the guidelines provide benefits that go beyond Chilean legislation such as being able to have a year off work for health or other reasons. Our corporate offices offer employees a flexitime system to fit working hours around their individual needs.
During the year, we rolled out our Wellbeing Strategy which focuses on the four pillars of our employees' physical, emotional, financial and social welfare. The strategy builds on the tools we developed to help employees deal with increased stress levels during the COVID-19 pandemic lockdowns and promotes healthy habits and closer ties among colleagues and with society.
As part of the strategy, we reinforced our 24-hour helpline and encouraged in-person meetings and activities to allow new recruits to meet fellow workers and strengthen interpersonal relations and teamwork. The initiative encourages a healthy lifestyle as well as preventive health checks. It also offers financial education to improve employees' understanding of subjects such as health insurance.
The social pillar particularly seeks to foster a collaborative and supportive workplace through the Volunteering Programme, which was run for the second time in 2022. Employees at our four mining operations and the corporate offices are encouraged to brainstorm, select and take part in a volunteer project in the local community.
A total of 70 employees took part in our first volunteering programme, which ended in April 2022, benefitting 261 people. In 2022, employees chose new projects to support, with the implementation of some rolling over into early 2023. Employees at Zaldívar, for example, chose to promote reading skills among 7-12-year-olds living in vulnerable neighbourhoods in the Antofagasta Region, in an alliance with Fundación Inkietas, an NGO that supports young people at social risk.
Our Diversity and Inclusion (D&I) Strategy, launched in 2018, has transitioned from an awareness-raising phase about unconscious bias and discrimination to inclusive practices becoming an integral part of how we work. As an example, in 2022, the procurement area began including D&I criteria in the evaluation of bids to supply goods and services.
In 2022, we renewed our network of 65 D&I champions, who act as agents of change to create an inclusive organisational culture that supports the retention of women and people with disabilities or different cultural origins. In a key initiative, we ran a campaign on respectful behaviours and held workshops on respectful environments. Other activities included webinars on Chile's same-sex marriage and gender equality laws and, using a protocol approved in 2021, supporting employees in a process of gender transition.
Since 2018, we have made steady progress in increasing the representation of women in our workforce. In 2021, one year ahead of schedule, we met the goal of doubling their participation compared to our baseline (8.6%, 2017). In 2022, we increased the percentage of female employees to 20.6%, 5% more than the industry average (Mining Council). We have now set a new goal for women to represent 30% of our workforce by 2025.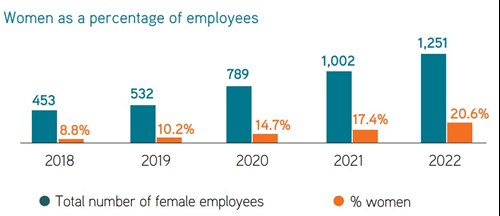 We use many different ways to attract, select and retain women in our workforce. We have alliances with universities that aim to attract women from science, technology, engineering and maths (STEM) subjects to join the organisation and encourage women's participation in STEM subjects through our scholarship programmes. In 2022, 45% of our new recruits were women.
Our apprenticeship programmes provide an important entry route for women from local communities to obtain technical qualifications and, in most cases, lead to a highly prized permanent job. In 2022, our mining operations selected 162 new apprentices to go onto the next stage of practical training at the operations in the areas of maintenance, mine truck operations, plant, tailings or ports. Of these, 77% were women, mainly from communities close to our operations.
We are also actively involved in:
National Women and Mining Roundtable: public-private initiative that seeks to increase women's participation in the mining sector to 30%, and in the industry's senior positions to 25%, by 2050.
Ministry of Women and Gender Equity's Gender Parity Initiative (GPI): public-private alliance which encourages women's participation in the labour market, promoted by the Inter-American Development Bank, World Economic Forum and Chile's Ministry of Women and Gender Equity. 
30% Club: sponsorship of the Chilean chapter of a UK initiative that seeks to increase women's representation on boards and in senior management. 
Target Gender Equality: UN Global Compact initiative to set and reach ambitious corporate targets for women's representation and leadership in business.
In 2022, people with disabilities accounted for 1.3% of our employees in our corporate office in Santiago and four mining sites, exceeding the 1% requirement of Chile's Workplace Inclusion Law. We take part in inclusive job fairs and raise awareness about disability issues across the organisation through talks and other activities as part of efforts to create a workplace that is welcoming to all. We help employees with disabilities, and also those who have family members with disabilities, to understand their rights and, if they wish, to obtain disability certificates.
In 2022, seven of our human resources team were certified to manage labour inclusion for people with disabilities, again surpassing the legal requirement of one accredited employee for companies of over 100 employees. Another 15 are in the process of certification. We continued to lead the Mining Council's technical working group on universal access for people with disabilities to mine sites.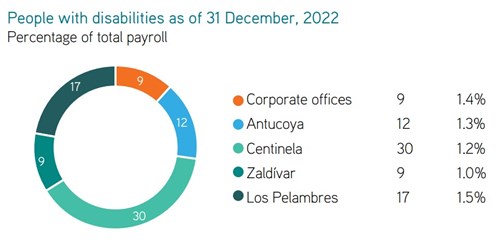 Read more about Our People in our Sustainability Report 2022