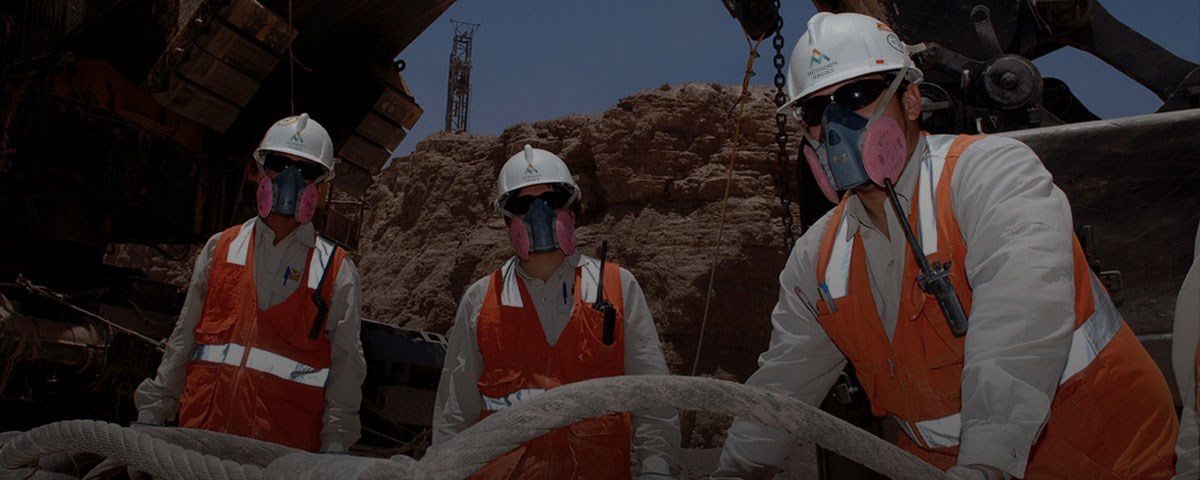 At Antofagasta, we understand that talent is key in addressing the challenge of developing mining for the future, and we therefore seek to foster our workforce's wellbeing and diversity.
Constructive relationships anchored in mutual respect and transparency help us to retain employees and avoid labour disputes, making for higher productivity and efficiency. Contractors are essential to mining operations and operational continuity requires that they adhere to the same standards as those expected of Antofagasta's own employees, particularly regarding safety and health.
Antofagasta's people strategy is built around the four pillars of culture, talent management, organisational effectiveness, and labour relations and engagement, and is aligned with the charter of values that we have established as central to our organisation. 
Our people's wellbeing
For Antofagasta, employee wellbeing is a core aspect of our effectiveness and sustainability as an organisation and we have taken important steps to improve our employees' work/life balance.
During the year a pilot flexitime system was introduced first at Centinela and then extended to our corporate headquarters in Santiago. The system allows employees to fit working hours around their individual needs, giving them more flexibility, particularly as regards shifts, and allows them to take up to a year off work for family or other reasons. 
Our Digital Transformation project will significantly change the way we work, including through the generation of synergies with the new flexitime system. We also worked with our operations and our Diversity and Inclusion Council to draw up a set of work/life balance guidelines, designed to foster both employees' work/life balance and the integration of women and people with disabilities. As well as the flexitime system, it includes benefits that go beyond those required under Chilean law, such as longer paternity leave and facilities for employees undertaking further education.
During the year, over 800 employees at our operations participated in an update of our Leadership Model, which is built around five key leadership skills. Its aim is to ensure inclusive leadership and facilitate innovation. 
Inclusive culture
The Group's Diversity and Inclusion (D&I) Strategy focuses on the inclusion of women, people with disabilities and employees with international experience, and in 2019 we embedded the conditions required for its full and sustainable success. A survey of executives and supervisors during the year found that 71% of them identified the D&I Strategy as a priority for the organisation.
Under Chile's Workplace Inclusion Law, people with disabilities must account for at least 1% of a company's workforce from 1 April 2020. Despite greater challenges, our mines have also made good progress and, through Chile's Mining Council, we are leading an initiative to define the minimum standards required to permit the employment of people with disabilities at mine sites.
  Diversity and inclusion targets
Double the percentage of women in the workforce by 2022, compared to the Q1 2018 baseline
Go beyond the 1% of employees with disabilities required under Chilean legislation
Building human capital
The mining industry is in constant change. Innovation, automation, new technologies as well as new generations of employees and contractors are an important challenge. Antofagasta seeks to develop human capital and talent, not only internally but also in our local communities.
As part of our involvement in the Antofagasta Mining Cluster, we continued to implement the Eleva programme. This public-private initiative brings together mining companies, the Mining Competencies Council (CCM), the Fundación Chile technology transfer institute and several government agencies, in order to improve young people's job prospects and develop human capital for the mining industry of the future.
In 2019, we invested $3.3 million in employee training. This was equivalent to 44 hours of training per employee. 
Labour relations
As part of our vision for the future, Antofagasta is committed to the development of collaborative, constructive and long-term labour relations to achieve mutually-beneficial common goals and a shared outlook. The comfort of mining camps, catering, ease and comfort of transport, recreation activities and continuity of working conditions in different posts are highly important and fundamental to the good quality of working life.
Antofagasta has 19 unions; 11 in the Mining division and eight in the Transport division. Together, they represent 74% of our direct employees.
We recognise employees' rights to union membership and collective bargaining, and in Chile freedom of association is protected by law. We also have a consultation and complaints system that can be used by our employees and contractors.
Aligning contractors
Contractors perform key tasks in our businesses and account for 74% of our total workforce. They are contractually required to meet all our labour, environmental, social and ethical standards and apply our best practices on safety and other working conditions.
Contractors are required to pay employees at least an ethical minimum wage set by Antofagasta. As from 1 January 2020, this increased by 17% to Ch$500,0001 per month for the on-site contractors of our Mining division, benefiting some 3,200 families, many of whom live in the vicinity of our operations. This ethical minimum wage is currently two-thirds above Chile's legal minimum wage.
Antofagasta has established control mechanisms to make sure contractors meet Antofagasta Minerals' standards and guidelines on labour, environmental, social and ethical matters, and is committed to auditing contractor companies' labour standards as well as their adoption of good practices. We require contractor companies to meet all the country's laws and regulations, as well as our Charter of Values and Code of Ethics. In addition, contractors must comply with the UK's Modern Slavery Act.