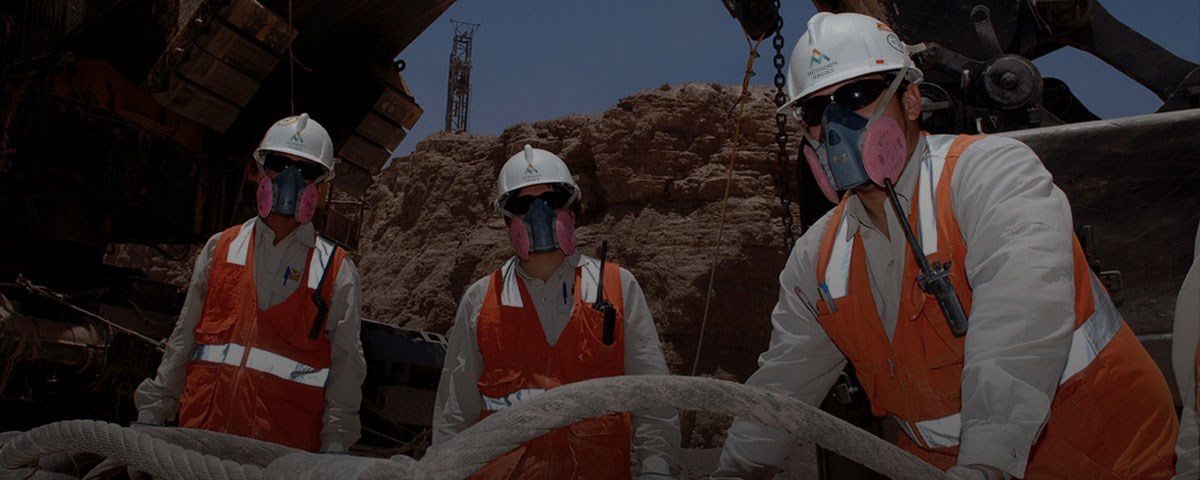 HIGHLIGHTS 2020
In 2020, 50% of new recruits in the Mining division were women
We rolled out our Digital Academy to improve employees' skills
We approved a permanent hybrid form of in-person and remote working
The Group's main focus in 2020 was to manage the impact of the COVID-19 health emergency so as to protect the health and safety of our employees and contractors, ensure operational continuity and safeguard jobs.
Our priority was to reduce to a minimum the number of people working in our corporate offices and operations to control the spread of infection at the workplace and in nearby communities. We rapidly implemented remote working for all possible positions, closing corporate offices and reducing worker numbers at the operations by between 30% and 35% at the pandemic's peak.
The pandemic made us change some plans but also helped to reinforce parts of our People strategy which is built on the four pillars of culture, organisational effectiveness, labour relations and engagement, and organisational skills and talent management.
Inclusive culture
The Group is committed to providing a workplace where everyone can flourish regardless of race, gender, sexual orientation, nationality, disability, religion or social background. Respect is one of the six core values contained in our Charter of Values and underpins the way we work and relate to people.
We believe an inclusive and diverse workplace is essential for people to fulfil their potential, thus promoting wellbeing, talent retention, safety and productivity. Our Diversity and Inclusion (D&I) Strategy, launched in 2018, is initially focused on creating the conditions to attract, recruit and retain women, people with disabilities and employees with international experience in the workforce.
Organisational effectiveness
Digital transformation
In April 2020, we created the Vice President of Strategy and Innovation function to drive our digital roadmap and innovation. The function's responsibilities include the adoption of the remote integrated management of operations and automated equipment as well as the Digital Transformation project to introduce technologies to eliminate printed paper, automate repetitive processes and make data-based decisions. By the end of 2020, 20 Digital Transformation projects had been implemented, seven were under development and six were in the design stage.
To support this change in the way we work, we established a Digital Academy to ensure we have the organisational capabilities to capture the benefits of technology as well as improve employees' skills and job opportunities. Over 1,500 senior leaders and supervisors took digital literacy courses on basic terminology and tools. By the end of the year, 94% had received diplomas for completing all nine online courses and 234 had moved onto a specialist course on data-based decision-making.
New Forms of Working
The COVID-19 pandemic showed that employees are able to work remotely without compromising safety, efficiency or productivity. Employee feedback was also positive about remote working. As a result, we decided to examine the longer-term opportunities offered by remote working with a view to:
Building a resilient and flexible organisation with the inbuilt capacity to respond to unexpected external events
Capturing opportunities to improve productivity and efficiency, for example by reducing travel
Offering a more attractive work-life balance to deepen our D&I strategy
New Forms of Working project comprises a hybrid system of planned remote and in-person work, the latter to maintain a sense of belonging to work teams, align employees behind the company culture and prevent any psychosocial risks from working at home. Corporate roles will be required to work in person 50% of the time, while roles at operations have been divided into three in-person models: 100% of the time (such as truck operators), 50% of the time, and at least one week a month. The model was approved by the Board in November and began to be partially rolled out in January 2021 in keeping with ongoing COVID-19 health restrictions.
Building human capital
Antofagasta is committed to promoting a culture that fosters innovation, develops skills and enables transformation. In 2020, we invested $1.1 million in employee training, the equivalent of 31 hours of training per employee, including the Digital Academy, Desarrollo Mujer, and safety and health. Due to COVID-19, most of the training was online.
We also designed a training programme that will be implemented in 2021 on non-technical skills that are required in today's digital world such as the capacity to learn quickly, work in a team, be curious and promote innovation.
Labour relations
The Group recognises employees' right to union membership and collective bargaining. In Chile freedom of association is protected by law. Our mining operations have 11 unions: four at Centinela, three at Los Pelambres, two at Zaldívar and two at Antucoya, together representing 78% of all employees.
In 2020, we closed five labour agreements: one at Zaldívar and four at Centinela. Negotiations were conducted remotely and involved no strikes. Under Chilean law, these binding agreements are renegotiated up to every three years and cover salaries, shift patterns and employment benefits among other matters.
Contractors
Contractors perform key tasks in our businesses and account for 75% of our total workforce. They are contractually required to comply with Antofagasta's safety and health, environmental and ethical standards, as well as the UK Modern Slavery Act. In 2020, we strengthened our oversight of contractors to ensure compliance with protocols for critical tasks.
We also require our contractors and subcontractors to provide their employees with health and life insurance and, in the case of Los Pelambres and Centinela, support for their children's education.
During the year, we launched a platform for large contractor companies providing services to our operations in the Antofagasta Region to publish job openings, thus furthering our commitment to create employment in the regions where we operate.