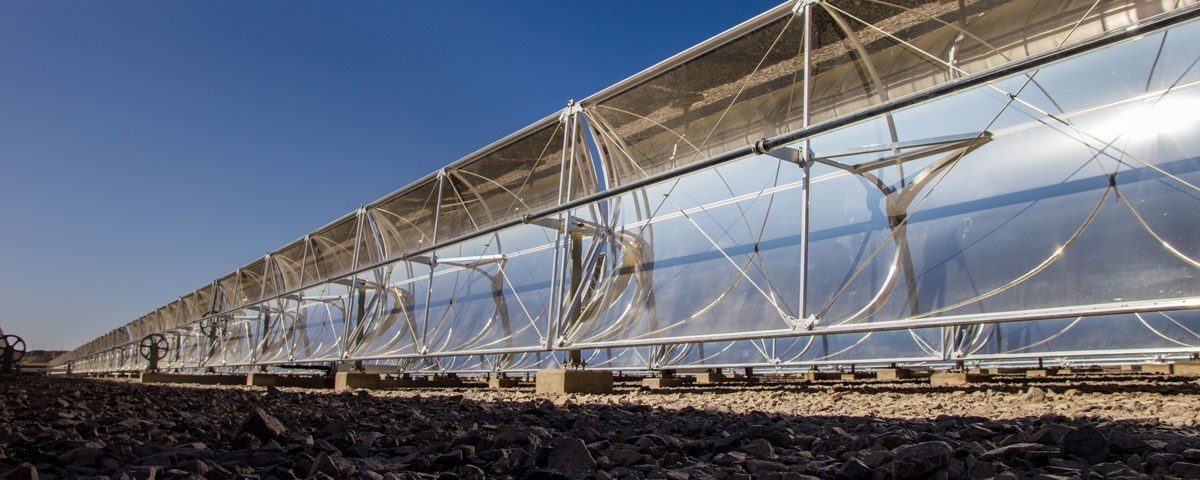 HIGHLIGHTS 2022
Since April 2022, all our mining operations have used power from 100% renewable energy contracts, leading to a 90% reduction of tCO2e in our Scope 2 emissions compared to 2021. As a result, we reached our emission reduction targets, initially planned for 2025, three years early.
We continued to refine Scope 3 emissions calculation to advance our commitment to set a reduction target in 2023. We also began applying an internal carbon price on tenders for carbon-intensive products and in the evaluation of projects.
Centinela ceased using continental water in December 2022, becoming our second mine, after Antucoya, to only use sea water for operational purposes.
We approved new Water and Energy Policies to improve our management of these critical resources in the fight against climate change and aligned our Energy Management System with Chile's Energy Efficiency Law.
At Antofagasta Minerals, we recognise climate change as one of the world's greatest challenges and acknowledge our responsibility to be part of the solution. As a copper producer, we supply an input that is critical for low-carbon technologies and, at the same time, we are working to decarbonise our operations, putting climate change at the heart of how we manage our business.
Our Climate Change strategy is central to our overall strategy and sets the framework to coordinate and realise synergies among our many initiatives to mitigate and adapt to a changing climate. It is based on five pillars: development of resilience to climate change, reduction of greenhouse gas (GHG) emissions, efficient use of strategic resources, management of the environment and biodiversity, and integration of stakeholders. For each pillar, different areas of action have been identified, accompanied by a plan of short-, medium- and long-term measures. It is designed to facilitate early management of risks and opportunities, mitigating climate change's effects and enabling us to adapt to changing scenarios and prepare for the transition to net zero emissions mining.
The Board of Directors has recognised climate change as one of the principal risks facing Antofagasta Minerals. It has ultimate responsibility for our climate-related objectives and strategy, driving a deeper awareness of climate change into our decision-making processes. An executive Climate Change Advisory Committee, formed in 2021 and led by the Environment department, meets fortnightly to review advances and consider issues that may be adopted for future implementation, such as nature-based solutions.
The Climate Change Strategy's main initiatives are associated to a proportion of our senior management's long- and short-term performance incentives, as well as to the annual performance incentive for employees.
In 2019, we committed to implementing the recommendations of the Task Force on Climate-related Financial Disclosures (TCFD) and, in our 2022 Annual Report, achieve full disclosure against these recommendations.
We are also a signatory to the International Council on Mining and Metals (ICMM) environmental stewardship standards.
Greenhouse gas emissions and climate metrics
Objective: To establish GHG emissions reduction targets and pathways, developing sustainable mining in line with the objectives of science and Chile's undertakings in this field.
At Antofagasta Minerals, we recognise our responsibility for upstream and downstream emissions and have aggressively adopted measures to mitigate the carbon footprint of our operations. By the end of 2020, we had reduced our Scope 1 and 2 greenhouse gas (GHG) emissions by over 580,000 tonnes of carbon dioxide equivalent (tCO2e), exceeding the target set in 2018 to reduce emissions by 300,000 tCO2e by 2022.
In 2021, we set more ambitious targets to reduce direct and indirect emissions (Scopes 1 and 2) by 30% by 2025 compared to the 2020 baseline, equivalent to a reduction of 730,000 tCO2e, and to achieve carbon neutrality by 2050 or earlier, technology permitting. However, as of April 2022, all of our electricity consumption comes from renewable energy-based supply contracts. This reduced our Scope 2 emissions, leading to our meeting the 30% reduction commitment earlier than anticipated. During 2023, we will establish a new medium-term emission reduction goal for 2030.
In 2022, we began working on a preliminary decarbonisation roadmap for all our operations, defining the baselines, the haulage truck replacement plan, energy input projections and the assumptions for current and future technologies. The final roadmap, to be defined in 2023, will clearly indicate the steps needed to achieve carbon neutrality by 2050.
We use our Scope 1 and 2 emissions profile and emissions intensity (tCO2e /tCu) to monitor our exposure to our most material transition risks related to power supply and diesel consumption, as well as any emissions tax or regulatory changes that may influence the reduction goals.
In addition, we also track and monitor several other environmental indicators, the most important of which is the measure of water withdrawal (see "Water consumption and management" section on page [xx]). This helps us manage water security risks at our operations and in our local communities as we strive to reduce our reliance on continental water sources.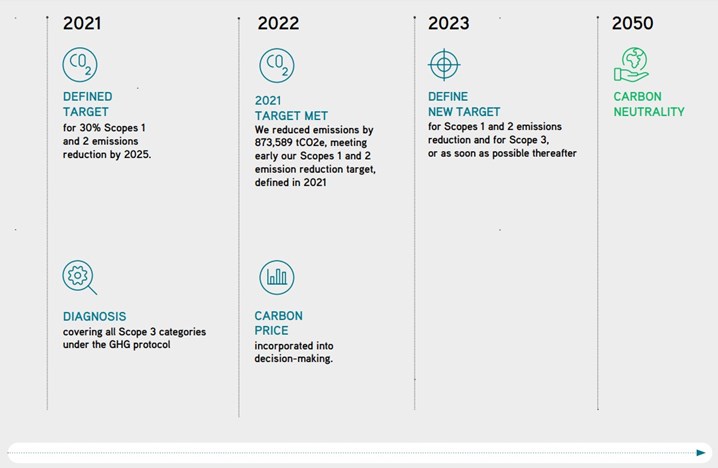 Energy represents roughly 21.1% of our mining operations' total operating costs. Of that total, approximately 10.5% corresponds to electricity and 10.6% to fuels, principally diesel. In 2022, electricity consumption reached 3,295 GWh, down by 5.4% from 3,482 GWh in 2021, while diesel consumption reached 429,627 m3, a 7.7% increase when compared to 398,847 m3 in 2021.
In 2022, we implemented our new Energy Policy, which recognises energy as a strategic resource whose management must ensure a safe, economic, efficient and sustainable supply for our operations, in accordance with our Climate Change Strategy. We are committed to implementing, maintaining, operating and continuously improving our Energy Management System to incorporate technological innovation and clean energy to reduce GHG emissions. During the year, we completed aligning the system, which is based on the ISO 50001:2018 energy management standard, to the requirements of Chile's Energy Efficiency Law. We will continue to explore new energy efficiency initiatives in our mining operations in 2023, with the aim of prioritising and developing implementation plans for initiatives to reduce our energy intensity in line with the requirements of said law
During the past few years, we have renegotiated power purchase agreements (PPAs) with generators, switching from a supply from conventional sources - principally coal - to renewables to take advantage of the abundant and competitively-priced solar and wind energy available in Chile. Additionally, our own operations employ renewable energy technology to reduce fuel consumption and emissions, such as the case at Centinela which has a solar thermal plant, as well as at Los Pelambres and Zaldívar, which use a conveyor belt system for the self-generation of electricity.
Our conversion to electricity supply contracts from clean energy sources was led by Zaldívar, which became our first operation to achieve this landmark in July 2020. It was followed by Antucoya and Centinela in January 2022 and Los Pelambres in April 2022, leading to a reduction of 918,577 tCO2e in our Scope 2 emissions in 2022, when compared to 2021.
To reflect the reduction of emissions in our annual accounting, in 2022 we verified our Scope 2 emissions for the years 2020, 2021 and 2022 according to the emissions reporting methodology recommended by the GHG Protocol Scope 2 Guidance, which considers market- and locationbased methods. The market-based method reflects renewable energy supply from PPAs with generators.
 Read more about Climate change in our Sustainability Report 2022