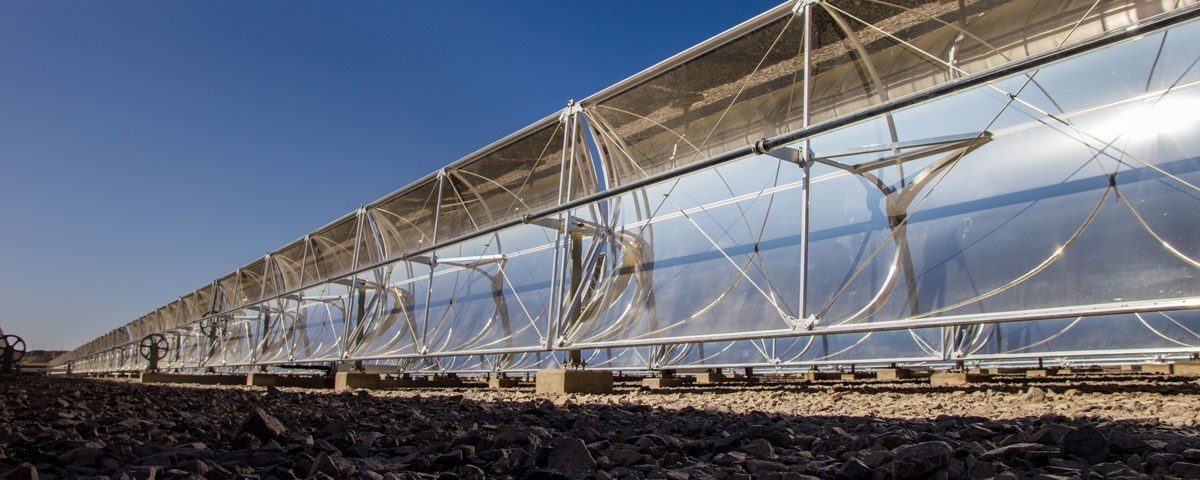 HIGHLIGHTS 2020
Our new Climate Change Strategy came into force in 2020.
In July 2020, Zaldívar became our first mine to use only electricity generated from renewable sources.
We have contributed to the creation of a university chair for research into water sustainability.
At Antofagasta, we take into account Chile's particular vulnerability to climate change. Since 2019, our risk matrix has specifically included climate change and we have drawn up a comprehensive Climate Change Strategy, which was approved by the Board in 2020.
Thanks to this strategy, we will be able to take a multi-disciplinary approach to the challenges posed by climate change, improving coordination of the many initiatives, large and small, being implemented by the different areas of our operations. The Strategy has five pillars: development of resilience to climate change, reduction of greenhouse gas emissions, efficient use of strategic resources, management of the environment and biodiversity, and integration of stakeholders.
For each pillar, different areas of action have been identified, accompanied by a preliminary plan of short, medium and long-term work. For example, resilience to climate change refers to the development of initiatives to adapt to the direct risks that climate change poses for the Group. The short-term actions related to this pillar include:
Achieving a more in-depth understanding of the physical and transition risks for each operation under different temperature increase scenarios
Incorporating the risks into our risk management systems in greater detail
Evaluating the impacts of climate change from the operational, financial and social standpoints.
In the medium and long term, we anticipate that, with greater knowledge about the impacts of climate change, we will be able to progress in defining other areas of action under this pillar that will, for example, permit the implementation of measures to adapt the infrastructure and critical processes of our operations.
In 2021, we will publish a report with information about actions in relation to each pillar. It will also include our progress on implementing the recommendations of the Task Force on Climate-related Financial Disclosures (TCFD).1
1 Under these recommendations, companies should report the impacts of climate change on their operations and how these are being addressed in order to help financial markets understand if the impacts are correctly reflected in the valuation of their assets.
Over the past few years, our mining operations have gone on to renegotiate their power purchase agreements (PPAs) with generators, switching from conventional sources - principally coal - to renewables. In the first outcome of these renegotiations, Zaldívar became the first of the Group's mining operations to use electricity only from renewable energy sources, making the switch in July 2020.
It will be followed by Los Pelambres - with the exact date of its full switch depending on the start-up of a new hydroelectric plant - and by Antucoya and Centinela. As a result, all our mining operations' electricity consumption will be supplied from renewable sources as from 2022.
As part of the renegotiation of Centinela's PPA with energy multinational Engie, we reached an agreement to transfer our 40% stake in the Hornitos coal-fired power plant, located in the port of Mejillones in northern Chile, to Engie, which already owns the other 60%. The transfer will be completed in 2021.
Energy consumption
Our Energy Management Strategy has three pillars:
Supply security
Competitiveness
Energy effciency and emission reduction
In 2020, work on the Strategy's consolidation included the incorporation of an Energy Portal, a platform that brings together data from all our four operations in a single place.
Since 2017, we have been implementing a series of projects to reduce our direct and indirect CO2 emissions (or Scope 1 and Scope 2 emissions) by 300,000 tonnes by 2022. As of the end of 2020, we had reduced emissions by 581,353 tCO2e, enabling us to meet the target established for the mining division.
The reduction of our Scope 2 emissions reflects the impact of energy efficiency projects implemented by all our mining operations. Another key factor was the integration of Chile's formerly separate electricity systems. This allowed lower-carbon energy from central and southern Chile to be brought to northern Chile where the Centinela, Antucoya and Zaldívar mines are located and significantly reduced their emissions.
The full switch of Zaldívar to renewablygenerated electricity in July 2020 meant a reduction of 67,615 tCO2e in our Scope 2 emissions. However, under the Corporate GHG Protocol Standard, this is not included in the reduction of 581,355 tCO2e since, for this, the generators' certification must be validated and the necessary local regulation is not yet in place. As a result, we continued to use the average emissions factor of Chile's electricity system to calculate the emissions associated with our power consumption in 2020.
Our next challenge is to reduce our Scope 1 emissions, generated principally by the diesel used in mining vehicles and for heating the water and solutions used in different mineral treatment processes. Centinela and Antucoya have switched their boilers from diesel to liquefied natural gas (LNG) as a cleaner alternative. We are also looking at alternatives such as solar energy and are closely monitoring the development of new technologies such as green hydrogen.
In 2021, we plan to identify gaps in data about our Scope 3 emissions and define the methodology we will use for their measurement as from 2022. These are the greenhouse gases associated with our inputs and products, but over which we do not have control and correspond to upstream and downstream activities such as the shipping of our products to customers.
All our mining operations are in water-stressed areas. Care for water is therefore a key part of our approach to mitigating and adapting to climate change, as we seek to ensure sufficient water availability for our operations and local communities, and for the benefit of the environment. We are achieving this already through the use of raw sea water at two of our mines and will increase our use of sea water further once the desalination plant at Los Pelambres is completed in 2022.
In 2020, sea water accounted for 43% of our Mining division's water consumption. At Antucoya, it accounted for 97% and, at Centinela, 86%. Centinela, which also uses thickened tailings technology to reduce its water consumption, currently has some water extraction rights which it does not plan to renew when they expire in 2022.
Zaldívar exclusively uses continental water, drawn from wells some 100km from the mine. These water extraction permits will expire in 2025 and, as part of the Environmental Impact Assessment (EIA) submitted to extend the mine's life, we are seeking to extend them to 2031.
The main loss of water is through evaporation and no water is discharged into continental water bodies. All our operations are working to increase their water reuse rates, which currently vary between 78% and 96%, depending on the operation.
Los Pelambres is located in the mainly agricultural Choapa Valley and currently only uses continental water. However, a 400 l/s desalination plant is being built, which is scheduled to start operation in 2022.
During the year, it was decided to double the plant's capacity to 800 l/s by 2025. This will allow Los Pelambres to stop drawing water from the Choapa River and increase its use of desalinated and recycled water to around 96% of its total consumption.
In 2020, total water consumption rose mainly because continental water withdrawal increased at Los Pelambres due to the critical lower levels of water in the Mauro tailings storage facility (where water is recirculated to the concentrator plant), the increased ore throughput volumes and our prioritisation of local communities' use of continental water.