LOS PELAMBRES
60% OWNED
Los Pelambres is a sulphide deposit in Chile's Coquimbo region, 240 km north-east of Santiago. It produces copper concentrate (containing gold and silver) and molybdenum concentrate through a milling and flotation process.
VISIT OUR WEBSITE FOR DETAILS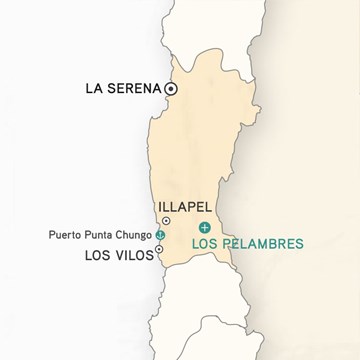 Operating performance
Los Pelambres had a strong year with copper production at the top end of guidance and costs outperforming guidance despite restrictions due to the pandemic. This confirms its position as a stable and reliable world-class operation.
EBITDA at Los Pelambres was $1,663 million, compared with $1,384 million in 2019, reflecting higher sales volumes and realised prices, combined with lower operating costs.
Production
Copper production for the year decreased by 1.0% to 359,600 tonnes.
Molybdenum production in 2020 was 10,900 tonnes, slightly lower than in 2019 as a result of the lower throughput.
Gold production was 60,300 ounces, 1.0% higher than the previous year.
Cash costs
Cash costs before by-product credits at $1.27/lb were 9.3%, or 13c/lb, lower than in 2019, reflecting strong cost control during the year and the weaker Chilean peso.
Net cash costs for the full year were $0.81/lb, or 11.0% lower than in 2019.
Capital expenditure
As a result of the COVID-19 pandemic the Los Pelambres Expansion project was temporarily suspended from March to August. Work resumed with approximately 75% of the original planned workforce on-site and it is assumed that these manpower levels will continue throughout 2021.
A detailed review of the project schedule and costs, including those associated with the realised and continued restrictions due to COVID-19, and changes to the marine works to enable the future expansion of the desalination plant to 800 l/s was completed. The revised capital cost estimate is $1.7 billion and completion is expected in early H2 2022.
Throughput at the plant will increase from the current capacity of 175,000 tonnes of ore per day to an average of 190,000 tonnes of ore per day and copper production will increase by 60,000 tonnes.
At the end of 2020, the Los Pelambres Expansion project (engineering, procurement and construction) was 45% complete.
Capital expenditure during 2020 was $783 million, including $139 million on mine development and $471 million on development.
The forecast production for 2021 is 340–350,000 tonnes of copper, 8–9,000 tonnes of molybdenum and 50–60,000 ounces of gold.
Cash costs before by-product credits are forecast to be approximately $1.45/lb and net cash costs $1.05/lb as grades decline in 2021.