LOS PELAMBRES
60% OWNED
Los Pelambres is a sulphide deposit in Chile's Coquimbo Region, 240 km north of Santiago. It produces copper concentrate (containing gold and silver) and molybdenum concentrate through a milling and flotation process.
Visit the Los Pelambres website for more details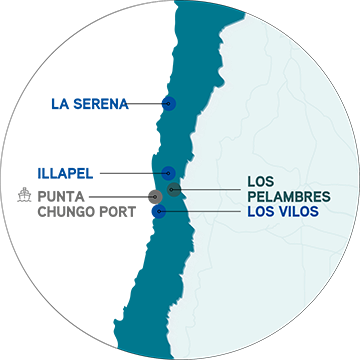 Operating performance
As expected, the prolonged drought at Los Pelambres impacted copper production, which was also affected by the concentrate pipeline incident.
EBITDA was $1,473 million, compared with $2,526 million in 2021, reflecting lower copper realised prices, lower sales volumes and higher operating costs.
Production
Copper production for the year decreased by 15.3% to 275,000 tonnes, to mainly due to the lower throughput due the expected restrictions on water availability during 2022 as a result of the accumulated impact of the long-running drought conditions in the Los Pelambres area, and the pipeline incident. Molybdenum production in 2022 was 7,200 tonnes, 21.7% lower than in 2021 due to a decline in throughput and grades. Gold production was 43,100 ounces, 19.0% lower than the previous year.
Cash costs
Cash costs before by-product credits were $1.84/lb, 15.7% higher than in 2021. This was due to the lower production, higher input prices (mainly diesel, explosives and energy) and general inflation, partially offset by the weaker Chilean peso.
By-product credits increased from $0.70/lb in 2021 to $0.74/lb in 2022 due to higher realised by-product prices despite lower production.
Net cash costs were $1.10/lb, 21c/lb higher than in 2021, reflecting the increase in cash costs before by-product credits, partially offset by higher by-product credits.
Capital expenditure
Capital expenditure during 2022 was $890 million, including $251 million on sustaining capital expenditure and $496 million on growth projects.
As at the end of 2022, the Los Pelambres Desalination Plant and Concentrator Expansion projects, including design, procurement and construction, were 93% complete, and both are due to be in production during the second quarter of 2023.
The forecast production for 2023 is 320–335,000 tonnes of copper, 7.5–8,500 tonnes of molybdenum and 45–55,000 ounces of gold. Higher production is due to higher throughput, as the desalination and concentrator expansion are expected to be in production by the end of Q2 2023.

Cash costs before by-product credits are forecast to be approximately $1.85/lb and net cash costs $1.25/lb, reflecting higher production and decreased input costs, offset by inflation and a stronger Chilean peso.