CENTINELA
70% OWNED
Centinela mines sulphide and oxide deposits 1,350 km north of Santiago in the Antofagasta Region, one of Chile's most important mining areas.
Centinela produces copper concentrate (containing gold and silver) through a milling and flotation process, and molybdenum concentrate. It also produces copper cathodes, using the solvent extraction and electrowinning (SX-EW) process.
VISIT OUR WEBSITE FOR DETAILS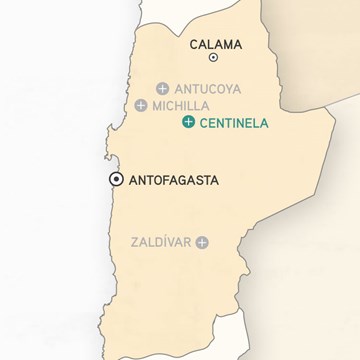 Operating performance
Centinela had a year of record copper production during 2019 as the sulphide ore grade increased by 21.1%.
EBITDA at Centinela was $960 million, compared with $645 million in 2018, on higher copper and gold sales volumes and lower unit costs.
Production
Copper production for the full year was 276,600 tonnes, 11.5% higher than in 2018 primarily as a result of higher grades at Centinela Concentrates, partially offset by lower grades at Centinela Cathodes.
Production of copper in concentrates for the full year was 25.7% higher than in 2018 at 195,500 tonnes due to higher grades and recoveries.
Cathode production in 2019 was 81,100 tonnes, 12.3% lower than 2018 due to lower oxide grades, partially compensated for by higher throughput.
Gold production was 222,600 ounces, 51.5% higher than in 2018 as a result of expected higher grades and recoveries.
Cash costs
Cash costs before by-product credits for the full year were $1.83/lb, 3.2% lower than in 2018, mainly as a result of higher production and the weaker local currency, partially offset by higher input prices.
Net cash costs were $1.26/lb, 16.6% lower than the previous year, reflecting the lower cash costs before by-product credits and $0.19/lb higher by-product credits as gold production increased by over 50%.
CAPEX
Capital expenditure was $458 million, including $213 million on mine development.
OUTLOOK FOR 2020
Production for 2020 is forecast at 240–250,000 tonnes of copper, 130–140,000 ounces of gold and 2,500–3,000 tonnes of molybdenum.
Cash costs before by-products are forecast to be approximately $2.00/lb and net cash costs $1.50/lb.