CENTINELA
70% OWNED
Centinela mines sulphide and oxide deposits 1,350 km north of Santiago in the Antofagasta Region, one of Chile's most important mining areas.
Centinela produces copper concentrate (containing gold and silver) through a milling and flotation process, and molybdenum concentrate. It also produces copper cathodes, using the solvent extraction and electrowinning (SX-EW) process.
VISIT OUR WEBSITE FOR DETAILS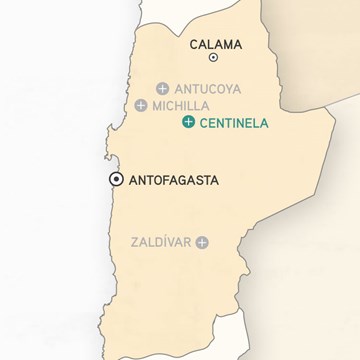 Operating performance
Centinela had a solid year in 2020 despite expected lower copper and gold grades, as throughput increased at both the concentrate and cathodes lines and cash costs outperformed guidance.
EBITDA at Centinela was $912 million, compared with $960 million in 2019, on lower copper and gold sales volumes, offset by higher realised prices and lower unit costs.
Production
Copper production was 246,800 tonnes, 10.8% lower than in 2019 due to the expected lower grades at Centinela Concentrates, partially offset by the higher production at Centinela Cathodes due to increased plant throughput during the year.
Production of copper in concentrate was 153,500 tonnes, 21.5% lower than in 2019 as copper grades decreased to an average of 0.53%.
Copper cathode production during the year was 93,300 tonnes, 15.0% higher than in 2019, primarily due to higher throughput and grades.
Gold production was 143,700 ounces, 35.4% lower than 2019, due to expected lower grades.
Molybdenum production was 1,700 tonnes on improved grades.
Cash costs
Cash costs before by-product credits in 2020 were $1.85/lb, 1.1% higher than in 2019 as a result of the lower copper production offset by tight cost control, a weaker Chilean peso and lower input costs.
By-product credits were $0.58/lb, $0.01/lb higher than in 2019 as lower gold production was offset by a higher realised gold price.
Net cash costs during the year were $1.27/lb, 0.8% higher than in 2019.
Capital expenditure
Capital expenditure was $442 million, including $198 million on mine development.
Pre-stripping started at the Esperanza Sur pit in the third quarter and is expected to be completed in H1 2022.
During 2021 and 2022 autonomous trucks will be acquired to continue mining once the contracted stripping has been completed.
Production for 2021 is forecast at 270–280,000 tonnes of copper, 190–200,000 ounces of gold and 1,500–2,000 tonnes of molybdenum.
Copper production should increase compared to 2020 as grades improve at Centinela Concentrates to an expected 0.59%.
Cash costs before by-products are forecast to be approximately $1.75/lb and net cash costs $1.15/lb.