CENTINELA
70% OWNED
Centinela mines sulphide and oxide deposits 1,350km north of Santiago in the Antofagasta Region, one of Chile's most important mining areas.
Centinela produces copper concentrate (containing gold and silver) through a milling and flotation process, and molybdenum concentrate. It also produces copper cathodes, using the solvent extraction and electrowinning (SX-EW) process.
Visit the Centinela website for more details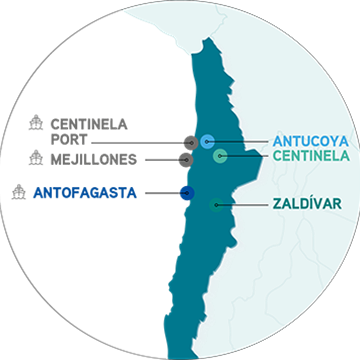 Operating performance
Centinela Concentrates' grades declined in 2022. However, operational reliability continued to improve and throughput averaged above design capacity for the year as a whole.
EBITDA at Centinela was $1,157 million, compared with $1,919 million in 2021, on lower copper and gold sales volumes, lower copper realised prices and higher unit costs.
Production
Copper production was 247,500 tonnes, 9.7% lower than last year due to expected lower ore grades at Centinela Concentrates, partially offset by higher throughput.
Production of copper in concentrate was 149,300 tonnes, 19.5% lower than in 2021, reflecting expected lower ore grades (18.3%), partially offset by throughput above the design capacity of 105,000 tonnes of ore per day. Copper cathode production was 98,200 tonnes, 10.6% higher than in 2021 mainly due to expected higher grades and recoveries, despite lower throughput.
Gold production was 133,700 ounces, 32.8% lower than in 2021, as grades, which are correlated to copper grades, and recoveries decreased. Molybdenum production was 2,400 tonnes on increased grades.
Cash costs
Cash costs before by-product credits in 2022 were $2.44/lb, 30.5% higher than in 2021 due to the impact of lower copper production and higher input costs.
By-product credits were $0.69/lb, 5c/lb lower than in 2021 due to lower gold production partially offset by higher molybdenum production and price.
Net cash costs were $1.75/lb, 62c/lb higher than 2021.
Capital expenditure
Capital expenditure was $857 million, including $431 million on mine development, $252 million of sustaining capital expenditure and $174 million on development capital expenditure.
Production is forecast at 235–250,000 tonnes of copper, 175–185,000 ounces of gold and 2.5–3,000 tonnes of molybdenum. Copper production will decrease compared with 2022 as grades fall at Centinela Cathodes.
Cash costs before by-product credits are forecast to be approximately $2.55/lb and net cash costs $1.70/lb.