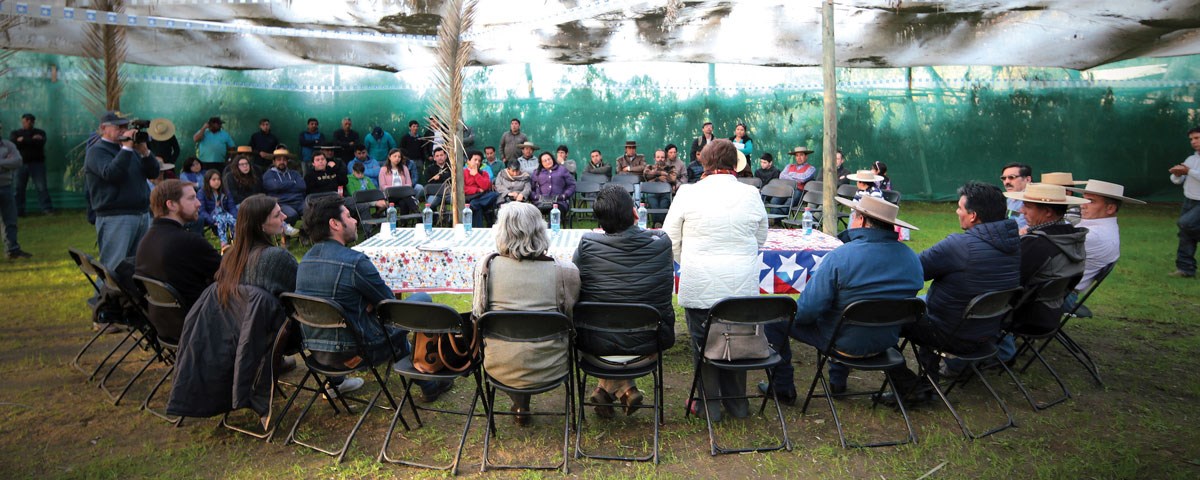 During the COVID-19 crisis, our operations' ties with neighbouring communities strengthened as we stood by them, seeking to protect their health and economic wellbeing.
In response to the pandemic, we rapidly refocused our social programmes to support nearby communities in containing the spread of the virus and mitigating its economic impact. In April, we established a $6 million COVID Fund to finance a three-phase response: an Emergency Phase, focusing on preventive health measures; a Recovery Phase to alleviate economic hardship; and a Normalisation Phase to support communities once the worst of the pandemic had passed.
In all these activities we worked closely with local authorities and the central government, complementing their efforts, while collaborating with other companies and industry and business associations. As with our regular social programmes, we implemented many of the COVID Fund's initiatives in alliance with local and national foundations and, in the case of Los Pelambres, its own foundation, Fundación Minera Los Pelambres.
Health measures
Health measures in neighbouring communities ranged from the provision of medical supplies and PPE to the donation of PCR testing machines and respirators. In northern Chile's Antofagasta region, where our Antucoya, Centinela and Zaldívar mines are located, we reduced pressure on local health services by taking doctors into the communities to treat non-COVID health problems and by setting up a telemedicine programme.
Economic relief
In one key initiative, Fundación Minera Los Pelambres (FMLP) implemented the Choapa Emergencia Económica (Choapa Economic Emergency) programme in the Coquimbo region where Los Pelambres is located. In a bid to save struggling small businesses, the programme awarded over 2,000 grants accompanied by technical assistance. FMLP also published a number of guides with advice on how to access the support available from the government. Other initiatives in the Coquimbo and Antofagasta regions ranged from the distribution of boxes with basic supplies to the organisation of local suppliers to produce masks. A total of 90,000 reusable masks were distributed in the Choapa Province, equivalent to one for each inhabitant.
Reactivation
This phase of our response included measures at a micro level – for example, pavement markings to enable street markets to resume activities in a safely distanced way – and at a more macro level, as in the case of the funds we set up with other companies in the Antofagasta region to expand the reach of the reactivation funds established by the government's economic development agency, CORFO.
Due to the pandemic, demand for local job creation, always a key issue in community relations, acquired new intensity. In 2020, as part of our regular activities, we launched a platform to encourage our larger suppliers to hire locally. 
Social Management Model
The Social Management Model rolled out by our Mining division in 2019 is designed to ensure the consistent application across operations of our engagement principles, methodologies and practices. It has four components: Engagement, Initiative Management, Impact Measurement and Socio-Territorial Risk Management. Following the planned incorporation of our new Impact Measurement and Risk Management Standards in 2020, all four components now have a corresponding standard.
In 2020, we formally adopted a Human Rights Policy. This applies to all the Group's companies, which will also seek to ensure compliance by contractors and other companies in our supply chain.
Community members have a number of channels through which to register a complaint. They can send an email to the corresponding operation or a letter to one of its local offices or use the confidential Tu Voz (Your Voice) reporting line on the Group's website. However, their first point of contact is typically the local community relations co-ordinator.
Indigenous peoples
Our Human Rights Policy explicitly recognises and undertakes to respect the rights, culture and traditions of indigenous peoples. The areas of influence of Los Pelambres and Zaldívar include indigenous communities and relations with them are aligned with local legislation, ILO Convention 169 and the guidelines of the International Council on Mining and Metals (ICMM).
Flagship programmes
Most of the activities of our Somos Choapa (We are Choapa) and Diálogos para el Desarrollo (Dialogues for Development) social engagement programmes, implemented in the Coquimbo and Antofagasta regions, respectively, had to be adapted in response to the pandemic. In the Coquimbo region, however, some key projects were completed:
Los Vilos dialysis centre. Thanks to this new centre, which opened in September, patients in the town of Los Vilos no longer have to travel long distances several times a week to centres in other towns. Los Pelambres financed the construction of the building while the regional government provided the equipment.
Aguas Claras 2 housing project. Los Pelambres implemented this public-private project in Salamanca, in alliance with the Housing Ministry, providing the design and assisting with obtaining the required permits. Homes have been provided for 50 low-income families, mostly with female heads of household, including some homes adapted for the needs of family members with disabilities.
The Coquimbo region is suffering a longstanding drought and, in light of this, Somos Choapa reinforced its drinking water and water conservation programmes.
Antofagasta mining cluster
We participate actively in the Antofagasta Mining Cluster, a public-private alliance of mining companies, government agencies and educational institutions to foster the development of the Antofagasta region. We are particularly committed to two of its strategic pillars: the creation of human capital and the development of regional suppliers, especially those with a focus on innovation.
Our contribution to strengthening human capital includes Antucoya's Relevos (Relief Workers) programme, which trains people from nearby communities to operate mine trucks and employs them to cover the regular operators' shift breaks. In 2020, 10 participants in the programme (five men and five women) received certification under the Eleva programme, a public-private educational initiative.
In 2020, our three operations in northern Chile implemented an Apprentices Programme in which a total of 181 young people, mostly from local communities, participated. Similarly, in selecting students to prepare their undergraduate thesis at our operations, we give priority to universities in the Antofagasta region, which accounted for 75% of the intake in 2020.
Impact measurement
In 2020, we met our goal of measuring the impact of four social programmes. All showed a positive social return on investment (SROI), led by the Relevos programme and followed by the programme of doctors' visits and telemedicine for the town of María Elena.
Citizen participation processes
In 2020, Zaldívar successfully carried out the Group's first voluntary indigenous consultation process. Implemented as part of the environmental evaluation of the operation's mine life extension project, it concluded with the signing of an agreement with the Socaire Atacameño community.
Los Pelambres implemented an Early Citizen Participation Process (PACA) to inform the community about its Operational Adaptation project, which was announced in September.
Meetings have been held with local farmers' organisations, water users' associations, fishermen's organisations, neighbourhood associations and indigenous communities.
In November, the Transport division launched a consultation process about the future use of its Estación Valdivia, an old railway station in the city of Antofagasta, which it plans to restore. The restoration forms part of a broader plan to vacate the division's railway yards in the city and prepare them for urban development. Built in the early twentieth century and no longer in use, Estación Valdivia, like other buildings owned by the division, is an important part of the city's heritage and identity.