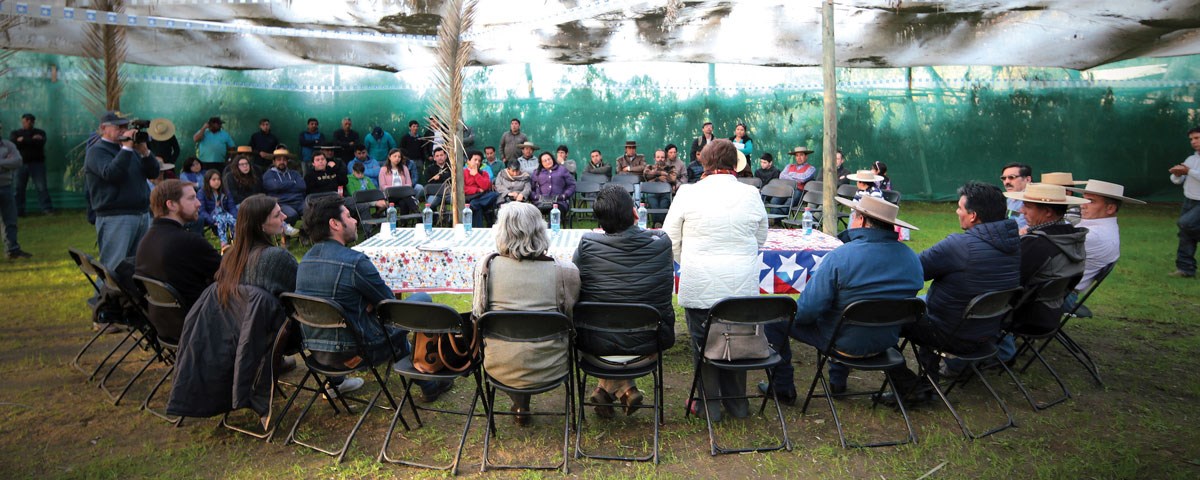 We seek to build sustainable long-term relations with the communities near our operations, anchored in proactive and transparent dialogue.
Developing mining for a better future implies conducting our activities in a prosperous social environment and the wellbeing of our neighbours is key for the sustainability of our business. However, we know that our activities affect communities and we strive daily to prevent the adverse impact of our activities and to show that mining can provide unique development opportunities for the regions where it takes place.
Our operations are located in areas with different social and environmental contexts. We coexist with a variety of communities in Chile, mainly located in Antofagasta and Coquimbo Regions. Los Pelambres operates in the largely agricultural Choapa Valley and interacts with several communities. Our mining operations in northern Chile are located in desert areas near small communities with a long mining tradition.
Social Management Model
The experience of cohabiting with communities in different geographical and social contexts has taught us that each region has its opportunities and challenges and that dialogue and collaboration among the different players that inhabit the region contribute to people's development and provide creative and relevant solutions to local problems. Through different dialogue mechanisms, we seek to make a significant contribution to the development and wellbeing of our host communities, respond to their expectations and concerns, and embed lasting capabilities to promote their productive activities, culture and tradition.
The Social Management Model seeks to ensure that engagement principles, methodologies and practices, and the measurement of results are consistent across the Group. The model has four components, each with its own standards: Socio-Territorial Risk Management, Engagement, Initiative Management and Impact Measurement. 
Flagship programmes
Somos Choapa
Our Somos Choapa (We are Choapa) programme is the largest public-private alliance for community development in Chile's Coquimbo Region, where our Los Pelambres operation is located. Through it, we work with the municipal governments and communities of the Choapa Province – which stretches from the Andes to the coast – to implement projects for the area's sustainable economic, social and environmental development.
Since the programme's launch in 2014, of the 135 initiatives that have been approved, 64 have been completed and 43 are underway, while the others are at the discussion or design stage. The projects range from job creation and economic diversification to water management and community building.
Dialogues for Development
At our three mining operations in northern Chile, community engagement takes place within the framework of Diálogos para el Desarrollo (Dialogues for Development), which is based on the experience we have acquired in Choapa.
In 2019, Antucoya implemented the second stage of the programme in the town of María Elena, in alliance with its municipal government. Working groups were set up to identify projects and two healthcare initiatives were approved. Centinela has also successfully strengthened its ties with the nearby town of Sierra Gorda. Key initiatives include a volunteer programme in which our employees and contractors participate.
Addressing social concerns
We consider a variety of aspects of the contributions we make to our host communities including:
Combating drought
In the mainly agricultural Choapa Valley, 2019 was the driest year of a 10-year drought and local communities are concerned about the availability of water in the future. In response to these concerns, we are participating proactively in a Provincial Water Working Group, convened by the Regional Government. This multi-actor body, with representatives of the different water users and communities as well as government services, is working to identify collective solutions that can improve water availability in the valley in the short, medium and long term.
Local jobs
In the Mining division we have new Guidelines on Regional Procurement and Hiring that make explicit our preference for suppliers and employees from the region where the operation is located. The guidelines also include measures to make it easier for local companies to win contracts by reducing barriers to their participation in tenders.
Engagement mechanisms
Dialogue is at the heart of our relations with neighbouring communities and, depending on the issue, can take many different forms. Key mechanisms include community meetings, round tables, community participation in environmental monitoring, and invitations to visit our operations. The results of this engagement are reported regularly to the Sustainability and Stakeholder Management Committee and, through it, to the Board. Our only operation whose area of influence includes indigenous communities is Zaldívar. Its engagement with these communities is aligned with ILO Convention 169 and the guidelines of the International Council on Mining and Metals.
Culture and heritage
Heritage is particularly important in the case of the Transport division, whose business and history are closely entwined with those of the city of Antofagasta. It owns some of the city's most historic buildings and its current plans include the restoration of the emblematic Valdivia Railway Station in the city centre. In 2019, we updated our Tesoros del Choapa (Treasures of Choapa) audiovisual programme, producing a series of videos celebrating the identity and culture of the Choapa Valley, its landscapes and ways of life.
Human rights
In 2020, the Board approved the Human Rights Policy after a human rights due diligence process and associated plan of action were carried out. Numerous interviews were carried out with both internal and external stakeholders, including neighbouring communities.
Complaint mechanisms
In the case of complaints or suggestions, a community's first point of contact is with our local communities teams. Depending on the nature and seriousness of a complaint, the team will report it to Public Affairs which will, if necessary, escalate the matter. Community members can also use our online Tu Voz (Your Voice) service, and such complaints are referred to the Company's Ethics Committee.
Impact measurement
One of the four key components of our Social Management Model is impact measurement, which we do by calculating a project's social return on investment (SROI). In 2019, we measured the impact of three social programmes implemented by Fundación Minera Los Pelambres: Confluye, an initiative to increase water availability for small farmers; Cosecha, a programme to help rural entrepreneurs add value to their products and services; and an educational programme that includes scholarships and skill-development projects. The scholarship programme had the highest SROI and Cosecha the lowest