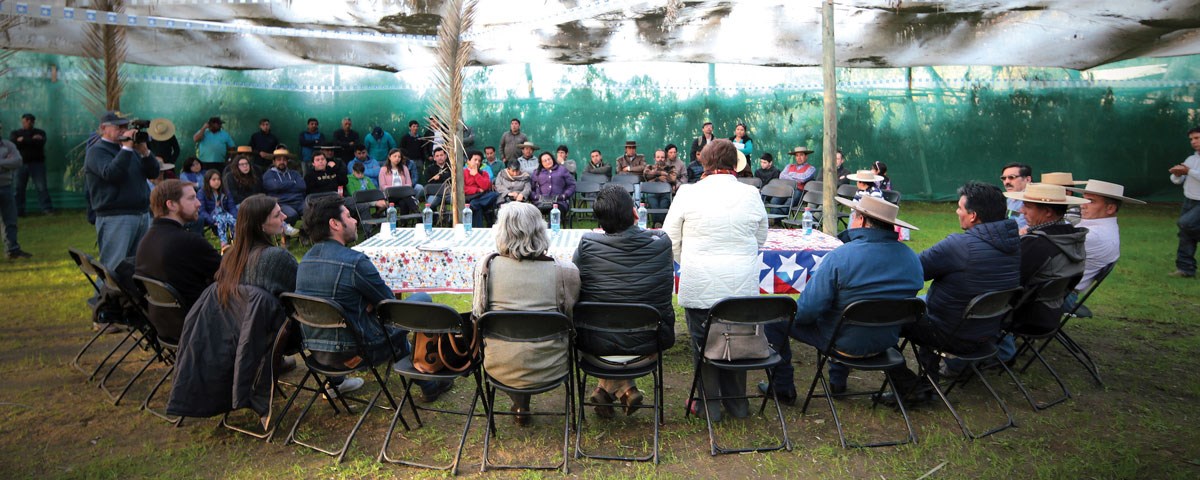 HIGHLIGHTS 2022
We continued measuring the social impact of our investments in our areas of influence as part of our efforts to continually evaluate the social impact and continually improve our programmes.
In March, we launched a new community grievances mechanism to deal with concerns, complaints or grievances caused by our operations.
Through public-private alliances, our En Red digital programme provided fibre-optic cables to the Caimanes and Limáhuida communities, giving over 500 families access to the internet.
In September, we began the Aproxima En Red project, which seeks to digitalise and automate the 80 Rural Sanitary Services (SSRs) that provide drinking water in the Choapa Province as part of efforts to combat the acute drought.
At Antofagasta Minerals, we aim to contribute to social value creation in the regions where we operate mainly through education and training initiatives, job creation and social investment that addresses the needs of local communities. A commitment to respect human rights underpins all our interactions.
We develop our social programmes in partnership with local people, authorities and third-party experts in order to respond to the specific needs of local communities, which have different economic and social contexts.
In 2022, we continued to measure the impact of our social investments as part of our different efforts to evaluate our programmes and improve their performance. We are assisted in these evaluations by external social impact advisors.
In total, we measured the impact of six social investment programmes and one process (taking the total number of programmes evaluated to 15 since we began the evaluations in 2018), using the Change Theory and Social Return on Investment (SROI) tools. All the evaluated programmes showed a positive SROI indicating they are successful in creating social value. As part of the process, we draw up improvement plans to address identified gaps to make their contribution even stronger.
In Choapa Province, the process to implement the Caimanes Development Fund and the Tranquilla sports stadium returned outstanding results, both scoring an SROI of over 27 for every Chilean peso invested. In the Antofagasta Region, our Safe Return plan and involvement in the public-private CCM-Eleva mining skills council also scored very positive results.
In addition, through our collaborative work with the Territorial Intelligence Centre (CIT) of Adolfo Ibáñez University, we updated the Territorial Human Wellbeing Matrix which measures the impact of Los Pelambres' social investment initiatives in the Choapa Province. The study measured 22 indicators, such as access to green areas, sports, education and health services, and found that the impact of 75 initiatives improved urban and rural living conditions by providing better access to services and reaching more beneficiaries.
During the year, we also advanced a study that maps all our social investment projects against the UN Sustainable Development Goals, which we expect to complete in 2023.
In March 2022, we launched a new grievance mechanism for communities to report concerns, complaints or grievances caused by our operations. Complaints can be made confidentially and tracked on the Antofagasta Minerals and four mining operations' websites: https://rc.aminerals.cl/
Community members that do not have access to the internet can make complaints by letter or in person to the corresponding operation or local community relations coordinator. These complaints are then added to the grievance system for us to be able to track and monitor all concerns raised.
The mechanism was designed in line with the United Nations Guiding Principles on Business and Human Rights (UNGP) and the International Council on Mining and Metals' (ICMM) Good Practice Guide on Handling and Resolving Local-Level Concerns and Grievances.
During the year, we worked on an improvement plan focused on the mechanism's grievance management and investigation process, governance and external dissemination, which we will implement in 2023.
Our complaints channel is:
Inclusive: A response is given to all grievances made by any member of our neighbouring communities.
Equitable: All grievances receive the same treatment, regardless of the level of urgency attributed to it.
Confidential: The privacy of grievances and responses is guaranteed. Grievances can also be made anonymously.
Interactive: A permanent monitoring system shows the status of filed grievances.
Timely: A response is provided within an estimated maximum period of 30 calendar days, with possible exceptions due to the investigation required or the complexity of some cases.
In 2022, we updated our Human Rights Policy to strengthen our explicit recognition and commitment to respect the rights, culture and traditions of indigenous peoples in our areas of influence, in line with the UNGP. The policy sets out the fundamental elements of our approach to human rights, establishing how we relate to employees, contractors, suppliers, business partners, nearby communities and other parties directly related to our operations.
During the year, we also approved an Indigenous Peoples Engagement Standard to ensure that all Antofagasta Minerals' operations and projects consistently apply processes and practices that are in harmony with full respect for the human rights of indigenous peoples. The standard seeks to ensure that our activities promote their economic, social and cultural development, and to identify and control possible impacts in a timely manner.
Our approach is aligned with international standards such as ILO Convention 169, the Universal Declaration on Human Rights and other commitments established by the ICMM and the UN Global Compact, among others.
During the year, Zaldívar participated in an indigenous community consultation process with the Peine Atacameño community as part of the operation's environmental impact study (EIA) on its mine life extension.
Zaldívar signed agreements between 2018 and 2021 with the Socaire, Camar and Talabre Atacameño communities that gave rise to a portfolio of social projects to be implemented for the period 2018-2023. Among initiatives, we are rebuilding a church in Camar to support the communities' cultural heritage. In 2022, we also sponsored a football championship, organised by the Andean Peoples Football Association, involving 22 teams from Toconao, Socaire, Camar, Talabre and Peine, in three different categories, over four months.
In the Choapa Province, we reached an agreement with the Chango people in Los Vilos on the dialogue process to be conducted prior to submitting the EIA to extend the mine life in the framework of the Los Pelambres phase two expansion plan. The agreement also covers a fund to give the Chango the advice and tools required to discuss projects on an equal footing with Los Pelambres and to develop an indigenous peoples development plan.
Read more about Communities in our Sustainability Report 2022