Effective risk management is an essential part of our culture and strategy. The accurate and timely identification, assessment and management of principal risks give us a clear understanding of the actions required to achieve our objectives.
The Risk and Compliance Management Department:
Provides guidelines, standards and best practice examples of risk and compliance management at the corporate and business unit levels


Is responsible for risk and compliance management systems

Maintains the Group's risk register

Organises and promotes risk and compliance workshops

Supervises the operations

Reviews the effectiveness of mitigating actions

Supports internal stakeholders in key strategic decisions
Areas of focus and development during 2022:
Implemented on-site risk reviews of certain selected risk areas accompanied by senior management, increasing the risk maturity level of the Group
Co-coordinated contingency committees in line with our risk management process
Updated the Company's risk appetite statement, including the sections relating to Environmental Management, Operations and Tailings Storage, and the Project Execution risk section was expanded to incorporate the conversion of mineral resources to ore reserves. The updated statement was approved by the Board and the level of risk appetite for all risk areas was unchanged
Reported monthly to the Executive Committee to identify and manage any deviation from expected performance
Defined and implemented lessons learned from the COVID-19 pandemic
Tested and validated the Business Continuity Plan
Introduced new controls identified during the assessment of the impact of the conflict in Ukraine
Participated in the review of the FQAR (Functional Quality Assurance Review) project
Continued training risk owners and main users
Updated and monitored critical controls and action plans
Prepared new action plans to maintain risk exposure within acceptable limits
Embedded timely and comprehensive risk analysis into each relevant decision-making process
Shared best practices across our operating companies
Our Risk Management Cycle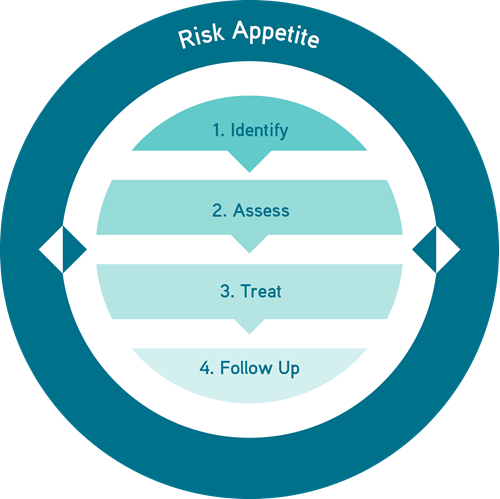 View our full risk management section from pages 24-25 of the 2022 Annual Report.