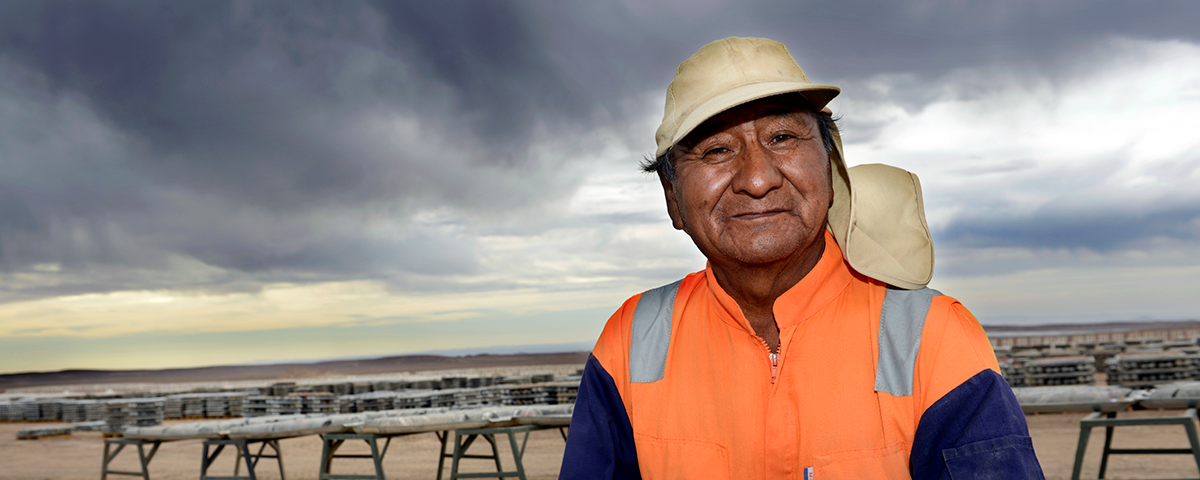 Our aim is at least to replace the mineral resources mined at our operations each year and to ensure Antofagasta's sustainable and long-term growth. In 2022 our mineral resources increased by 1 billion tonnes.
Exploration remains a key contributor to the sustainable and long-term embedded growth of the Group´s copper business.
After the lifting of restrictions imposed during the COVID-19 pandemic, exploration activities resumed as normal, subject to a few additional control protocols. We remain focused on favourable jurisdictions in the Americas, particularly in Chile, Peru, Canada and the USA.
In Chile, we are pursuing brownfield and greenfield projects and in the other countries we have generative programmes, identifying early-stage projects while remaining open to M&A opportunities.
The Global Exploration Management (GEM), team based in Santiago leads all the Group's exploration activities with the local offices in Lima and Toronto reporting to the GEM on progress in Peru and North America, respectively.
Exploration was conducted using these in-house teams, utilising a well-balanced portfolio of land holdings in Chile and Peru while pursuing third-party opportunities in the rest of the Americas, with the aim of building a portfolio of long-term copper projects
The Group's exploration and evaluation expenditure, which includes expenditure on pre-feasibility studies, increased by $10 million compared to 2021, to $113 million.
Chile
Our exploration programmes remain focused on highly prospective areas in northern and central Chile, mainly in metallogenic belts hosting porphyry, manto and IOCG (Iron Oxide Copper Gold) deposit types.
During the year, we did 80,000 metres of drilling, 27% more than in 2021, mainly at our two advanced projects, Cachorro and Encierro.
Cachorro is in the western Atacama Desert in northern Chile, 100 km north-east of the city of Antofagasta and 1,100 km north of Santiago. It reported its maiden inferred resources in 2021 and these were increased by over 70% during 2022 to 242.4 Mt at 1.21% copper (cut-off grade of 0.5% copper), making the project one of the most important manto-type deposits in the northern coastal belt in Chile. It lies between Antucoya and Centinela and may benefit from the use of their facilities.
The Encierro project is in the Chilean High Andes, 100 km east of the city of Vallenar and 600 km north of Santiago. The deposit is a complex Cu-Au-Mo Miocene porphyry copper and we announced its maiden inferred resources of 522 Mt at 0.65% copper, 0.22 g/t gold and 74 ppm molybdenum (cut-off grade of 0.5% copper) in June 2022.
The project is jointly held with Barrick Gold, with Antofagasta the majority shareholder and operator.
In addition, we advanced drilling evaluation at several projects in the Centinela Mining District, maintaining our focus on identifying new high-quality projects with leachable oxide mineralisation in our properties and in ground held by third-parties.
International
Our international programme has a strong focus on Peru, including the development of a diversified land portfolio with long-term and significant potential in the prospective coastal and Miocene belts. As at the end of the year, permits are being sought to test an exploration target in the country´s southern coastal belt.
Exploration efforts in North America remain concentrated on the key copper belts in British Columbia and Arizona/Nevada, with the GEM team seeking joint venture opportunities with companies that have attractive land holdings, local knowledge and resources.