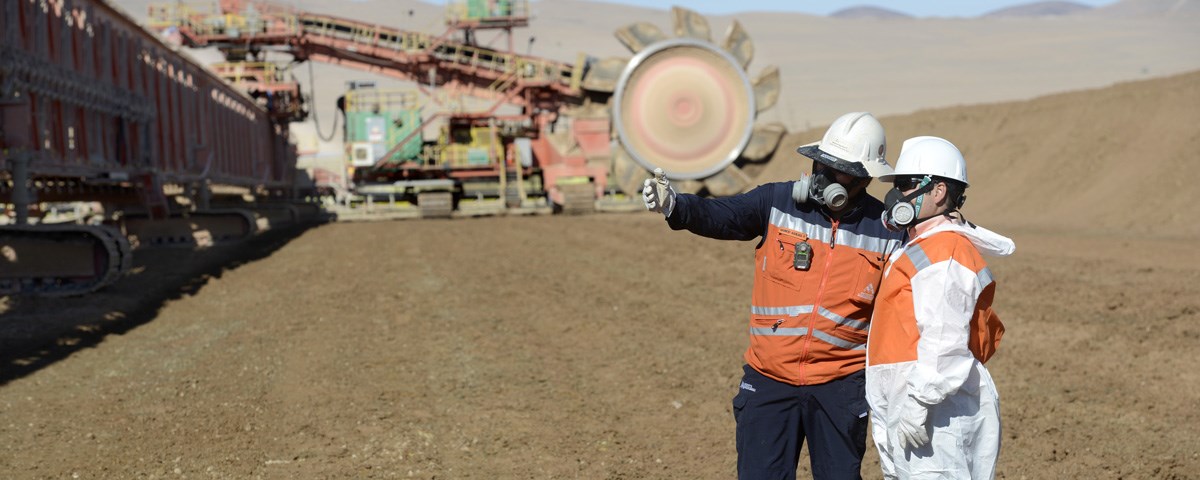 HIGHLIGHTS 2018
Environment
We set a target to reduce forecast carbon dioxide emissions by 300,000 tonnes by 2022 compared to the baseline in 2017.
As part of the private-public partnership initiative, Programa Tranque, we are actively participating in the development of a tailings deposit monitoring and warning system in Chile, currently in its pilot stage at the Mauro tailings deposit.
Sea water represents 45% of our operations' water consumption.
There were no significant environmental incidents at our operations in 2018.
Renewable energy sources represented 23% of Antofagasta Minerals' energy consumption in 2018.
People
Tragically, after 30 months without a fatality, a contractor at Los Pelambres lost his life while working on the Mauro tailings storage facility.
We rolled out the Diversity and Inclusion Strategy at all our operations and established the goal to double the percentage of women in the workforce by 2022.
Labour negotiations were successfully concluded at Los Pelambres.
Social Development
We joined the Mining Cluster in the city of Antofagasta, an alliance that seeks to strengthen employability and innovation in northern Chile.
We have reinforced the Somos Choapa (We are Choapa) engagement model at Los Pelambres and the Dialogues for Development programme in our operations in northern Chile.
We developed a new Social Management Model that will be gradually implemented as from 2019.
We began a process to evaluate and quantify the impacts and contribution of Los Pelambres based on the Sustainable Development Goals (SDGs).
We completed construction and opened the Technical Training Centre in Los Vilos for 304 students.
Transparency and Corporate Governance
We updated our Risk Management and Compliance Models.
We recertified our Crime Prevention Model.
We began a human rights due diligence process.