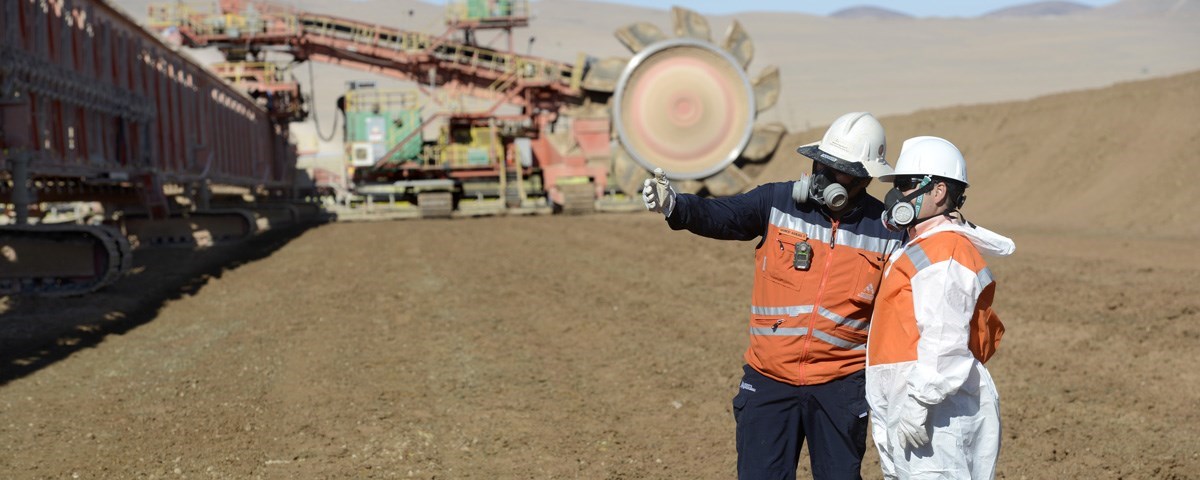 A commitment to sustainability is one of our core values. As well as seeking to maximise the value of our assets, we aim to contribute to the social and economic development of the areas in which we operate and to minimise our environmental impact, while always being open and transparent with all our stakeholders.
"Thanks to the dedication of our team, we marked significant milestones during the year on energy consumption and water management - both vital to the implementation of our climate change strategy - as well as on diversity and inclusion. Most importantly, we performed strongly on safety."
Iván Arriagada
Chief Executive Officer, Antofagasta Minerals
---
HIGHLIGHTS 2022
Sustainable Governance 
In August and December respectively, our Antucoya and Los Pelambres operations were awarded the Copper Mark, the copper industry's responsible production assurance framework. Zaldívar and Centinela received this recognition in 2021.
Our four mining operations completed the independent audits required to validate their performance against the International Council on Mining and Metals' (ICMM) Performance Expectations.
We updated our Human Rights Policy to strengthen our explicit commitment to respect the rights, culture and traditions of indigenous peoples and approved an Indigenous Peoples Engagement Standard.
We prepared a Sustainable Procurement Policy to govern both our management and our expectations of the companies in our supply chain.
Safety and health
We had zero fatalities in 2022.
We continued to improve our safety performance, reducing high potential incidents (HPIs) by 37%, the Lost Time Injury Frequency Rate (LTIFR) by 32% and the Total Recordable Injury Frequency Rate (TRIFR) by 19%.
We launched our Control Strategy for psychosocial risks, which had increased during the COVID-19 pandemic, to provide support for our employees.
People
The proportion of female employees increased to 20.6%, compared to 17.4% in 2021, exceeding our target for the year.
Our apprenticeship programmes accepted a total of 200 candidates, mainly from local communities, of whom 79% were women.
We rolled out our Wellbeing Strategy that promotes our employees' physical, emotional, financial and social welfare.
Suppliers
We consistently began applying environmental, social and governance (ESG) criteria to evaluate bids for contracts worth over $10 million and using an internal carbon price in tenders for categories that are intensive in CO2 emissions.
In December, we launched our Suppliers for a Better Future programme which sets ESG targets for suppliers to achieve by 2025.
We began evaluating our suppliers' ESG practices, in alliance with a renowned consultant. More than 200 suppliers also undertook training on ESG matters.
We increased the number of contracts awarded to local suppliers by 49% to 7,139, resulting in a 9.4% increase in the amount awarded of $374 million, compared to 2021.
Community
We continued measuring the social impact of our investments in our areas of influence as part of our efforts to continually evaluate the social impact and continually improve our programmes.
In March, we launched a new community grievances mechanism to deal with concerns, complaints or grievances caused by our operations.
In September, we began the Aproxima En Red project, which seeks to digitalise and automate the 80 Rural Sanitary Services (SSRs) that provide drinking water in the Choapa Province as part of efforts to combat the acute drought.
Through public-private alliances, our En Red digital programme provided fibre-optic cables to the Caimanes and Limáhuida communities, giving over 500 families access to the internet.
Climate change
Since April 2022, all our mining operations have used power from 100% renewable energy contracts, leading to a 90% reduction of tCO2e in our Scope 2 emissions compared to 2021. As a result, we reached our emission reduction targets, initially planned for 2025, three years early.
We continued to refine our Scope 3 emissions calculation to make progress on setting a reduction target in 2023. We also began applying an internal carbon price on tenders for carbon-intensive products and in the evaluation of projects.
Centinela ceased using continental water in December 2022, becoming our second mine, after Antucoya, to only use sea water for operational purposes.
We approved new Water and Energy Policies to improve our management of these critical resources in the fight against climate change and aligned our Energy Management System with Chile's Energy Efficiency Law.
Environment
We updated our Biodiversity Standard as part of the implementation of our Climate Change Strategy, improving alignment with the position statement from the International Council on Mining and Metals (ICMM) on mining and protected areas.
We continued to implement the Global Industry Standard on Tailings Management, which we aim to finish by the prescribed deadlines of 2023 at Los Pelambres and Centinela, and August 2025 at Zaldívar.
At the Quillayes tailings storage facility (TSF), Los Pelambres planted a total of 48,000 native trees and shrubs on 60 hectares to control particulate material events while blending the TSF in with its surrounding environment.