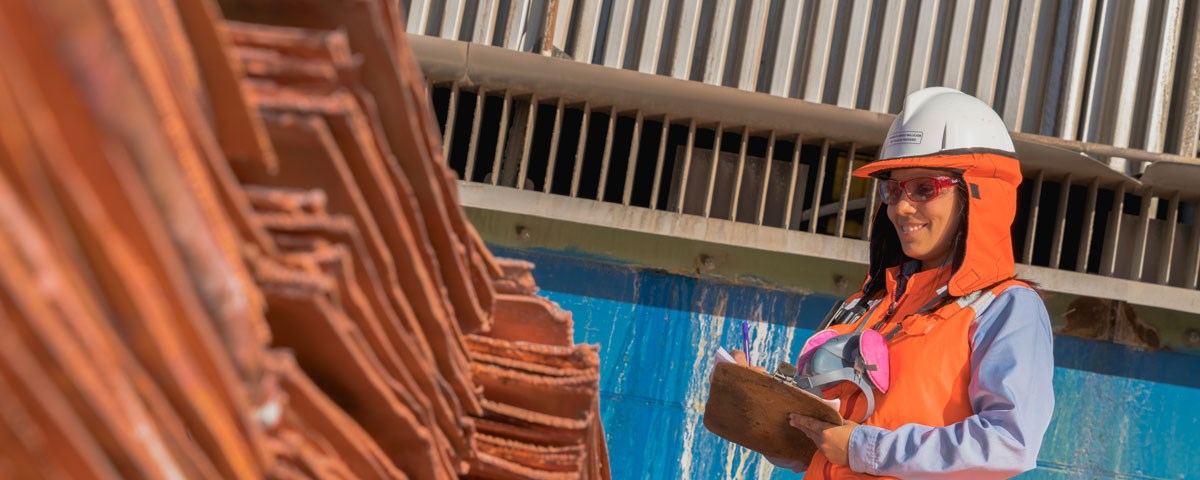 HIGHLIGHTS 2020
The value of contracts awarded to local suppliers in the Mining division rose by 9% to $275 million
We reduced payment times for local suppliers to 15 days
We improved our administration of contracts to enable contract owners to focus on critical tasks
Antofagasta works with 3,250 suppliers of goods and services which range from electricity and fuel to catering and maintenance services. A central procurement team applies common procedures to ensure compliance with our standards as well as competitive and fair tender processes.
We carry out due diligence on all potential suppliers prior to awarding a contract. We review company ownership, the participation of politically exposed persons (PEP), anti-trust issues, compliance models, commercial behaviour, legal cases, labour practices, conflicts of interest and contract risks. A compliance tracker system monitors irregularities such as money laundering, fraud or environmental infractions.
Tenders take place on an online platform to ensure objective and auditable award procedures. In 2019, we introduced Robotic Process Automation (RPA) solutions to automate tender invitations, leading to greater participation and competitiveness. In 2020, the software was updated to assist in the evaluation of bids.
Contracts with suppliers include clauses requiring compliance with Chilean Law N° 20.393 on bribery and asset laundering, the UK's Bribery Act on corruption and Modern Slavery Act, and our policies and procedures. In addition, we consider health and safety and energy efficiency criteria when awarding contracts. Audits to ensure compliance were conducted online in 2020 due to the COVID-19 pandemic.
During the year, we updated our guidelines to administer contracts for services to enable contract owners to focus on critical tasks, such as safety and health. We also set up a small corporate team to support the operating companies manage contracts. Our Procurement team also received refresher training on the Group's Crime Prevention Manual, modern slavery and our Compliance Model.
Suppliers can use the tender platform as well as the Tu Voz reporting line on the company's website to make complaints that can be filed anonymously.
Prioritising local growth
Our Procurement area seeks to stimulate economic growth in the regions where we operate by generating opportunities for local suppliers, enhancing their business capabilities and encouraging suppliers to employ local people. Our strategy is supported by alliances with regional stakeholders such as business associations, universities, government agencies, local municipalities and community organisations.
Boosting local suppliers
In 2020, we implemented new guidelines, approved in 2019, on regional procurement and recruitment to promote the contracting of supplier companies with headquarters in the Antofagasta and Coquimbo Regions where our operations are based. The guidelines seek to improve the registration and classification of local suppliers in our database and to facilitate their participation in tenders by reducing administrative and financial barriers.
During the year, we increased the number of local suppliers1 registered in our database and invited to participate in our tenders. In addition, in the Mining division, the value of contracts awarded to suppliers in the regions where we operate rose by 9% to $275 million, of which small and medium companies (SMEs) accounted for 54%. Payment times were reduced to 15 days at the end of 2019.
In July, we signed an agreement with the Antofagasta Industrialists' Association (AIA) to use its Approved Supplier Company System (SICEP), a digital database of certified suppliers, to increase our list of potential local suppliers and to publish tenders for the next six months. The initiative provides suppliers with greater visibility of upcoming opportunities and more time to prepare offers.
For the first time, Antofagasta Minerals also held online business meetings exclusively for suppliers based in the regions where we operate to discuss upcoming tenders and connect potential suppliers with opportunities. In August, we presented 12 tenders to 73 companies from the Antofagasta Region and, in November, our Los Pelambres mine presented seven tenders to 150 companies in the Coquimbo Region.
Promoting local employment
In August, Antofagasta Minerals launched a platform to allow large suppliers to publish job openings locally for contracts with our northern mining operations. Four major global suppliers have committed to using this platform and to give priority to hiring local people.
Los Pelambres includes a key performance indicator (KPI) in non-specialist contracts for 30% of supplier companies' workforce to be recruited locally.
Developing suppliers
One of our undertakings as active members of the Antofagasta Mining Cluster, a public-private alliance to promote the Antofagasta Region's economic and social progress, is to foster the development of innovative suppliers. As part of this commitment, in 2020, we proposed operational challenges to local technology companies in the framework of the Industrial Weeks for Innovation in Antofagasta. After two series of online workshops, participating suppliers pitched four solutions to problems presented by our mining operations. Since being launched in 2018, 120 companies have taken part in the initiative, with 754 people attending the launch events and 398 the workshops.
We also participate in Expande, an open innovation programme to promote the development of high-potential solutions from technological companies to address challenges faced by the mining industry. In 2020, together with Expande, we held 17 online pitch days for suppliers to present solutions to 10 challenges published on our InnovaMinerals open innovation platform. We are currently co-developing 12 innovation projects.
In December, we provided training to around 200 regional SME suppliers on how to take part in our tenders and use our digital platforms.
1 As from 2019, local suppliers in this report are defined as companies that are headquartered in the Antofagasta and Coquimbo Regions. Prior to 2019, we defined local suppliers as companies with an operating base in these two regions and headquarters in these, or other, Chilean regions.