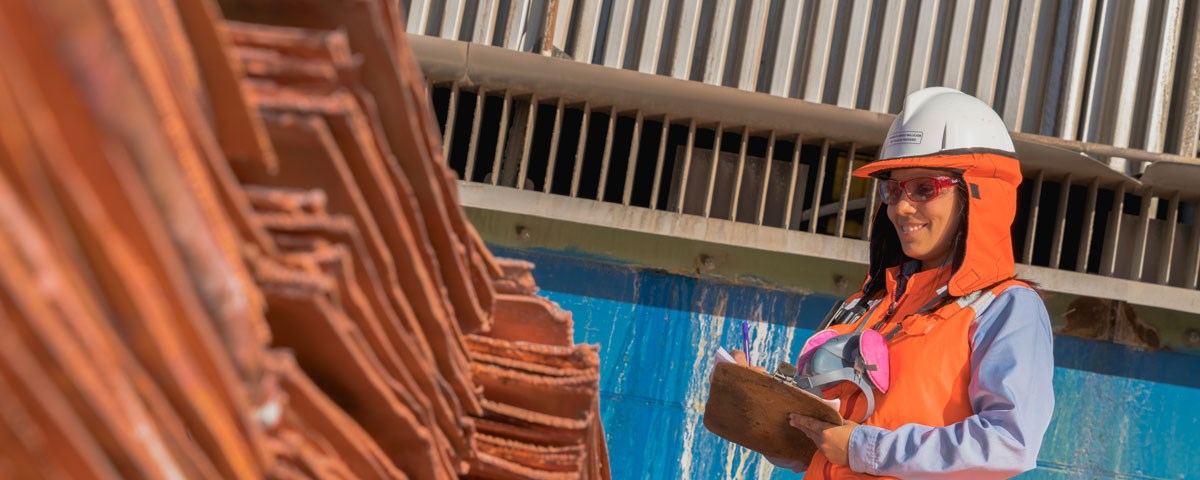 HIGHLIGHTS 2022
We consistently began applying environmental, social and governance (ESG) criteria to evaluate bids for contracts worth over $10 million and using an internal carbon price in tenders for categories that are intensive in CO2 emissions.
In December, we launched our Suppliers for a Better Future programme which sets ESG targets for suppliers to achieve by 2025.
We began evaluating our suppliers' ESG practices, in alliance with a renowned consultant. More than 200 suppliers also undertook training on ESG matters.
We increased the value of purchase orders and contracts awarded to local suppliers by 9.4% to $374 million, compared to 2021.
Suppliers provide a range of goods and services from heavy equipment to catering and are vital to our ability to operate continuously, safely and efficiently. In 2022, we spent $4,495 million on purchases of goods and services from 1,640 companies, of which 93% were based in Chile. Supplier company employees comprise 77% of our workforce.
Promoting best practice
In 2022, we began applying additional ESG criteria to evaluate bids for contracts worth over $10 million to complement the energy efficiency and safety considerations already in place. Extra points are assigned to bids from companies with robust governance, local recruitment, diversity and inclusion, and carbon emission reduction strategies and targets. In addition, we started applying an internal carbon price in tenders for specific goods and services, such as explosives, grinding balls. logistics and transporting personnel.
We also began working with a renowned consultancy (a leader in supply chain sustainability ratings) to assess the ESG risks of more than 700 companies, as well as the ESG performance of our suppliers. In the latter process, a scorecard is prepared that indicates corrective and monitoring actions. By the end of the year, 20 of our largest suppliers (based on spending), which participated voluntarily, had completed the process. We expect more suppliers to join the initiative in future. The same consultants will also support our ESG awareness and improvement work with small and medium-sized enterprises (SMEs) in 2023.
In December, we launched our Suppliers for a Better Future programme that seeks to align contractor companies' practices with our Purpose of developing mining for a better future. The programme provides support and sets ESG targets for suppliers to achieve by 2025 on local recruitment, hiring women and reducing emissions. In alliance with the Catholic University of the North (UCN), the programme also aims to strengthen the capabilities of local SMEs to apply ESG criteria. During the year, we held two training sessions on ESG matters directed at SMEs in the Antofagasta Region and another four aimed at businesses from other regions. In total, more than 200 national and regional suppliers took part.
Scope 3 emissions 
We estimate that suppliers cause around 60% of our Scope 3 emissions, which are indirect greenhouse gas (GHG) emissions related to our activities but caused by upstream (suppliers) or downstream processes that we do not control or own. In 2022, we worked on specific supplier categories, such as explosives, grinding balls and linings, to refine our Scope 3 emissions calculation for 2021. In 2023, we plan to set a Scope 3 emissions reduction target and include reduction targets in contracts for specific categories of suppliers.
During the year, we signed Greenhouse Gas Agreements with mining equipment suppliers Komatsu and Caterpillar to advance the development of zero-emission vehicles and machinery, which currently account for approximately 50% of our Scope 1 emissions.
In addition, we worked on long-term strategies to reduce Scope 3 emissions in nine categories and began collaboration initiatives with 15 suppliers. We also signed agreements to pilot four types of electric battery vehicles in 2023 at our operations (excavators, front-end loaders, dump trucks and pickup trucks).
As a member of the International Council on Mining and Metals (ICMM), we helped design ICMM's Scope 3 self-assessment tool and used it to measure our emissions. It placed us in the top three ICMM companies, of the 26 that did the assessment, with regard to the completeness and quality of our measurement of Scope 3 emissions.
Ethical minimum wage
Since 2020 we have required contractor companies to pay their employees an ethical wage that supports minimum living standards. In 2022, we set an ethical minimum wage of Ch$552,000, 38% higher than Chile's legal minimum wage of Ch$400,000 as of August 2022.
Driving local growth
At Antofagasta Minerals, we seek to foster economic development in the Antofagasta and Coquimbo Regions, where our operations are based, through sourcing and promoting local goods and services.
In line with our objectives, in 2022 we increased the number of tender invitations to suppliers headquartered in these regions. We also increased the number of awards to local suppliers by 49% to 7,100 and the amount awarded by 9.4% to $374 million, compared to 2021. On average, regional suppliers were paid within eight days or less. Due to our policy, spending on SMEs has continued to grow and reached $510 million in 2022, 26% higher than 2021.
At the end of 2022, we strengthened our Regional Procurement and Recruitment Guidelines that seek to promote local buying by reducing administrative and financial barriers for SMEs in the Antofagasta and Coquimbo Regions to participate in tenders. In response to feedback from contractor companies, we changed the guidelines to give more scope to award contracts to local companies that submit bids with added value, although a little more expensive, and to hold closed tenders for regional suppliers for specific contract categories.
Read more about our Responsible supply in our Sustainability Report 2022