ANTUCOYA
70% OWNED
Antucoya is approximately 1,400 km north of Santiago and 125 km north-east of the city of Antofagasta. Antucoya mines and leaches oxide ore to produce copper cathodes using the solvent extraction and electrowinning (SX-EW) process.
Visit the Antucoya website for more details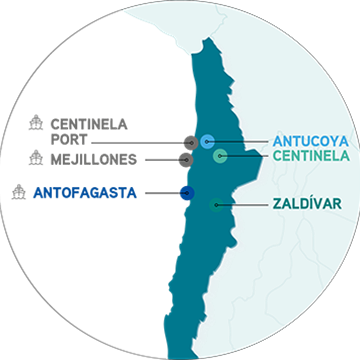 Operating performance
Antucoya continued to improve its operational reliability and consistency during the year with throughput increasing by 4.6% compared with 2021.
EBITDA was $261 million compared with $337 million in 2021, reflecting higher operating costs and the lower realised copper price.
Production
Antucoya produced 79,200 tonnes, 0.8% higher than last year due to higher throughput, which averaged 89,400 tonnes per day for the year, the plant's design capacity.
Cash costs
Cash costs for 2022 were $2.50/lb, 22.5% higher than in 2021 due to increased input costs, particularly for sulphuric acid, diesel and explosives.
Capital expenditure
Capital expenditure was $67 million, including $58 million on sustaining capital expenditure.
Production is forecast to be 70–75,000 tonnes of copper and cash costs are expected to be approximately $2.45/lb.