Zaldívar
50% OWNED Joint Venture
Zaldívar is an open-pit, heap-leach copper mine which produces copper cathodes using the solvent extraction and electrowinning (SX-EW) process. The mine is 3,000 metres above sea level, approximately 1,400 km north of Santiago and 175 km south-east of the city of Antofagasta.
Visit the Zaldívar website for more details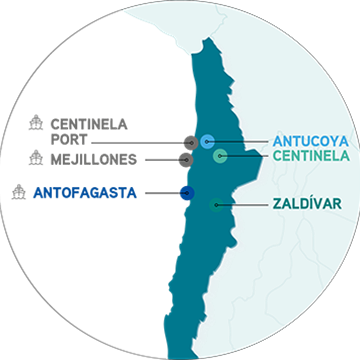 Operating performance
During 2022, Zaldívar completed construction of its Chloride leach project, which is being ramped up in 2023. Attributable EBITDA was $147 million compared with $173 million in 2021.
Attributable EBITDA was $173 million compared with $96 million in 2020.
Production
Attributable copper production was 44,500 tonnes, 1.1% higher than in 2021 mainly due to higher grades, partially offset by lower throughput.
Cash costs
Cash costs were $2.39/lb, unchanged from the previous year. The long leach cycle of approximately 210 days generates a time lag in costs, so the full effect of higher input prices is not fully reflected.
Capital expenditure
Attributable capital expenditure in 2022 was $55 million, of which $44 million was sustaining capital expenditure.
Attributable copper production is forecast to be 45–50,000 tonnes at a cash cost of approximately $2.70/lb.
Other matters
Zaldívar submitted an Environmental Impact Assessment (EIA) in 2018 which included an application to extend its water extraction and mining permits to 2029 (with decreasing activity levels in 2030-2031). Currently, Zaldívar is permitted to extract water and mine into 2025 and 2024, respectively. Zaldívar continues to work diligently with the authorities and consult with the local indigenous community.
To ensure the continuity of the operation, in March 2023 Zaldívar submitted a DIA (Declaration of Environmental Impact), a more limited scope and simplified procedure than an EIA, requesting that the mining permit be extended from 2024 to 2025 so as to expire at the same date as the current water permit. At the same time Zaldívar withdrew the 2018 EIA application. It is expected that an alternative and updated EIA application to extend the water and mining permits beyond 2025 will be submitted which will also include a plan for a transition from the current continental water source on completion of the extended water permit, to
either procuring water from a third party or using raw sea water.
Zaldívar's final pit phase, which represents approximately 20% of current ore reserves, impacts a portion of Minera Escondida's mine property, as well as infrastructure owned by third parties (road, railway, powerline and pipelines). Mining of the final pit phase is subject to agreements or easements to access these areas and relocate this infrastructure.