How international solar car racing can contribute to local development
23 March 2021
Thanks to an alliance between Los Pelambres and a state university, Chile has become a well-known brand in the solar car racing world.
What does driving 3,000 kilometres across Australia, from Darwin to Adelaide, in a solar-powered car have to do with a copper mining company in Chile? Of course, copper is an important input for solar energy systems, but there is more to it than that.
For the Los Pelambres mine in Chile's Coquimbo Region, it has become a vehicle, both literally and figuratively, for building ties with an important local university and for fostering the development of regional human capital and innovation.
The story began in 2010 when Jaime Muñoz, then an electrical engineer at Los Pelambres, approached the company for support to compete in the first Atacama Solar Race, due to be held the next year. Los Pelambres agreed, providing the car was built in collaboration with a local university, and Muñoz and his team, together with the University of La Serena, went on to win the three-day event in northern Chile's Atacama Desert.
Another Atacama Race, for which a much-improved car was built, and another win followed in 2012, and then the team was ready for a bigger challenge: the Bridgestone World Solar Challenge in Australia. Regarded as the world's most demanding solar car race, it takes place every two years and attracts teams in which some of the world's most prestigious universities compete with partners that include leading international car manufacturers.   
By comparison, the Chilean team, known as Antakari - or "great man of copper" in the indigenous Quechua language - is small and light on budget. Some teams spend more than twice as much on just the car, let alone travel and other expenses, reports Jorge Dharmawidjaja, a supervisor at Los Pelambres and another founding member of the team. "But we are recognised as one of the teams that does things well," he says.
The team has, indeed, done well. In 2019, in the last of the three Bridgestone Challenges in which it has competed, it was one of only 14 cars in its Challenger class, out of a starting line of 27, to complete the race and finished 7th, up from 10th in 2017.
But, comparing like with like, it did even better than that. The team's Intikallpa car was equipped with silicon solar panels while other teams had the advantage of more sophisticated - and vastly more expensive - gallium arsenide panels. Among the teams using silicon panels, Antakari came in second.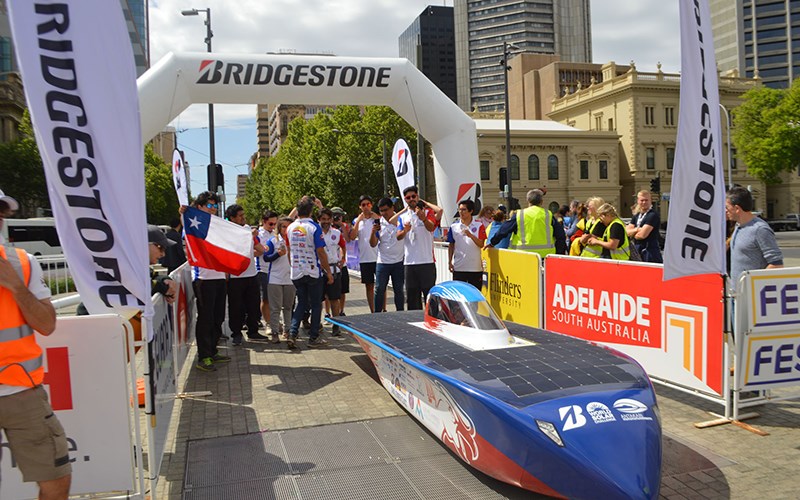 Broad benefits
For the undergraduate students who participate in the project, the painstaking construction of the hand-built cars - a new one is needed for each race - is a challenging 18 months of extra-curricular work, says Camilo Moreno, an academic at the University of La Serena's Department of Mechanical Engineering. It can mean job opportunities - some go on to work at Los Pelambres - but, according to Moreno, "it also shows them that a small university in a small country can be on a par with world-class standards."
Another lesson that Muñoz and Dharmawidjaja seek to inculcate has to do with industry standards. "We teach them priorities; safety always has to come first," says Dharmawidjaja.
Thanks to the Antakari project, the University of La Serena was able to obtain funding for a composite materials laboratory and, with carbon fibre, the material used to build the Intikallpa cars, has developed products such as prosthetic hands and fog harvesters. Participation in Antakari has also helped to enhance the reputation of the University and, in particular, its Faculty of Engineering, adds Moreno.
For Antofagasta Minerals, the project is not only an example of how, through alliances, it seeks to build capabilities, human capital and opportunities in the regions where it operates; it is also aligned with the Group's long-term commitment to combating climate change. "It fulfils various aspects of our Sustainability Policy and has operated successfully as a seedbed of innovation in the use of renewable energies and clean technologies that could be applied in the different stages of our operations," points out Alejandra Vial, environment manager at Antofagasta Minerals.
Meanwhile, the Antakari team is busy planning for the next Bridgestone Challenge, scheduled for October this year (although likely to be postponed). And it has high hopes for its performance. A change of rules to level the playing field means that, this time, cars will only be allowed to have silicon solar panels. "That certainly increases our chance of a higher position," anticipates Dharmawidjaja.