How Antofagasta is employing TCFD to strengthen climate resilience
24th September 2021
The Task Force on Climate-related Financial Disclosures (TCFD) was created in 2015 by the Basel-based Financial Stability Board as a voluntary set of recommendations to help companies incorporate climate-related risks and opportunities into their risk assessment and management, strategic planning and capital allocation.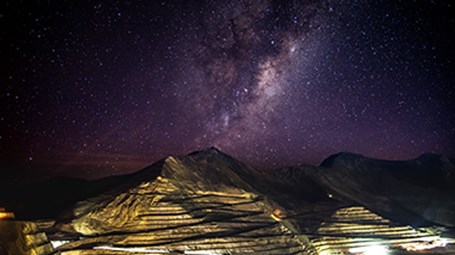 According to the TCFD itself, financial markets require clear, comprehensive and high-quality information regarding the impacts of climate change, including the risks and opportunities presented by rising temperatures, climate-related policy and emerging technologies.
In June 2021, finance ministers of the G-7 – comprised of Canada, France, Germany, Italy, Japan, the UK and the US - called to make the disclosure of climate-related financial risks, based on the TCFD framework, a requirement for companies; those trading on the London Stock Exchange, where Antofagasta plc is listed, will have to be TCFD-compliant by 2022.
But Antofagasta's journey to implementing the TCFD recommendations began more than a year before the call issued by the G-7 finance ministers and is about much more than meeting regulatory requirements. "The company's main goal is to develop mining for a better future, and part of that has to do with how we respond to climate change requirements, be they regulatory or physical, and prepare our company for both so as to guarantee business continuity. A solid risk assessment is essential to be able to do that," says Mauricio Ortiz, Group CFO at Antofagasta plc.
Acknowledging the need to recognise climate change while planning how to respond to it, Antofagasta management brought together teams of managers and employees from each of the four mining operations and different areas – maintenance, logistics, for example – to identify the physical risks and figure out and quantify impacts. Marcela Alvarado, Assistant Manager, Planning and Management Control at Zaldívar, who participated in the TCFD planning sessions, recalls that, with each meeting, the team realised that more people needed to be incorporated to form a clearer picture of the risks. "To get the whole story, we had to adjust and change the methodology. It ended up being a stimulating exercise; now you take a look at climatic events and you automatically start to think what type of impact they will have," she notes.
The teams came up with a total of 88 risks, varying from torrential rainfall to increased tidal waves, from rising temperatures to drought, and from stronger winds to more dust particles at operations.
Besides the physical risks, Antofagasta also worked to identify risks associated with the transition to a low-carbon economy. They may include governments levying carbon taxes or diesel taxes as they look to actively encourage companies to bring down overall emissions; on the other hand, aggressively reducing those emissions also requires significant investment in the form of transitioning to renewable energy.
"TCFD is not a check-box exercise, it's an organised attempt to provide an answer to a very complex puzzle. We may not have all the pieces of that puzzle yet, but we're getting more and more mature as a company in building this resilience," says Paresh Bhanderi, Financial Planning Manager at Antofagasta. "That's what is fundamental in TCFD – building climate resilience into our business plan and the heart of the company."
IDENTIFYING OPPORTUNITIES
The TCFD recommendations are not just about quantifying risks; part of the exercise is also identifying the opportunities in climate change. For example, copper's unique characteristics in electrical conductivity and heat transfer capabilities make it the metal of choice for electric motors and wires.
"There is tremendous demand for copper, it's the commodity that enables the energy transition to renewables," says Ortiz. Given the essential role copper plays in low-carbon technologies and Antofagasta's position as one of the world's largest copper producers, the company is an important part of the solution to the conversion to cleaner energy generation. Bhanderi points out that the production of electric vehicles consumes four times more copper than traditional cars, and that solar and wind farms require much more copper than a coal-fired power plant.
Antofagasta's objective is to help fulfil growing demand for copper whilst lowering the carbon intensity of the business, reducing risk exposure, ensuring business continuity and consolidating its position as a responsible and sustainable producer of copper in the long term.
LOOKING TO THE FUTURE
The TCFD recommendations call for business impact projections under different climate-change scenarios and Antofagasta is employing mathematical and geographic data based on the Chilean government's climate models to make projections for the next 50 years.
Since weather is difficult to predict, and climate change likely has things in store that no one has thought of to date, both Ortiz and Bhanderi recognise a certain degree of uncertainty built into the framework.
"This is based on a scientific model, but we still don't know if or when these things will happen. That's the main challenge: changing the base of your risk assessment from looking in the rear-view mirror to looking straight ahead through the windscreen," says Ortiz. Nevertheless, he expresses confidence in the future: "Several decades ago, we pioneered the use of seawater at Michilla. Ten years ago, we decided to build a concentrator based on seawater at Esperanza and, then, to use seawater at Antucoya. Three years ago, we decided to build a desalination plant for Los Pelambres... The company has been visionary in making these decisions, and I feel we're one of the mining groups that is prepared to face climate change."
Bhanderi echoes that assessment: "The future is uncertain, but if we start thinking about climate change and how it affects us – the maintenance person on site, the finance professional who has to comply with budgets and planning, the person working with communities – then we're building resilience in the organisation." The problem may change, he acknowledges, but what is important is everyone is involved in thinking about it and seeking a solution.