Centinela inaugurates autonomous systems in the Esperanza Sur pit
18th January 2023
A fleet of eleven autonomous haulage trucks and two autonomous drills began operating in October 2021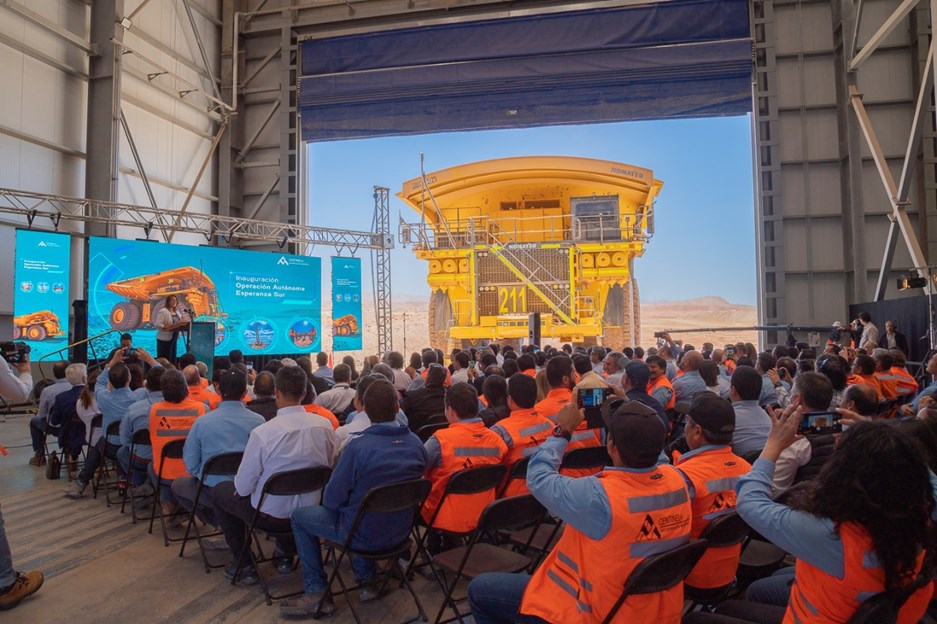 Centinela officially announced the start of operations of its autonomous haulage and drilling systems at its Esperanza Sur pit. These systems, which began operating in October 2021, include eleven Komatsu 980E-5 autonomous trucks and two PV-351 diesel autonomous drill rigs.
This achievement is the fruit of years of effort and is only the second time autonomous, or driverless, haulage trucks have been used in Chile.
A few years ago, Alan Muchnik, Antofagasta's Vice President of Strategy and Innovation, was tasked with establishing a clear roadmap to figure out how to make best use for a range of technologies —such as autonomy— that were reaching a significant level of maturity. And he had to analyse how each of them might allow the company to operate better, "safer and more productively, and maintaining our competitiveness", Muchnik says.
So, autonomy was incorporated into this roadmap.
"We understood that the best opportunity to develop autonomous technology would be in a new pit, which for us is the Esperanza Sur pit at Centinela," Muchnik says. "We started there, and the whole fleet has now been operating autonomously for a year, and very satisfactorily."
This is not the first time the company has used autonomous technology as autonomous drilling rigs were introduced at Los Pelambres in 2019. "We learnt a lot from that experience," Muchnik said.
Muchnik emphasizes that one of the advantages of the autonomous system is that it allows decisions to be made based on data, which is coupled with the new Remote Operations Centres. Centinela's was built in the city of Antofagasta in April 2021. It makes it possible to monitor and operate the equipment from 105 miles away "not only remotely, but also using a set-up that allows us to see the complete operation", he says. "This allows us to make decisions using all the information available and in real time."
Over the next few years, Centinela expects to grow its autonomous fleet to 100 haulage trucks, which would make it the largest operation using these trucks in the global copper mining industry, said Carlos Espinoza, Centinela's General Manager.
A PEOPLE-CENTRED APPROACH
This is not technology just for the sake of technology, Muchnik says. "This is technology for value, because there is an attractive business case in this new way of operating. And it is not necessary to see it as a threat, but as an opportunity for those of us in this business."
He adds that initiative has been done in conjunction with all stakeholders and, particularly, "with our workers, because a big concern, when talking about autonomy, has always been that fewer operators would be needed".
Claudia Formas, project leader at Centinela, explains: "We designed the project with a focus on the growth and development of Centinela's people. To operate in the Esperanza Sur pit, we needed some 80 mine employees".
There were more than 300 applicants who had to go through intense training that included e-learning, simulators and certification.
"We selected people who had the motivation to keep growing and developing. And the willingness to learn more technological skills," she says.
The most important thing was to show that autonomy and corporate development "always goes hand in hand with people´s growth. That was the focus from the very beginning".
Since they were opening new pits, this allowed them to grow.
 "Here we are aiming to develop our people so they can keep up with the evolution of technology and learn new skills that weren´t previously required in the mining industry," Formas says.
Progress has also been made in gender equality: four of the women from our "Young Professionals" programme are now Route Designers.
"We want everyone to have access to greater skills through initiatives such as our 'Digital Academy'. Everything that the Esperanza Sur pit autonomy project has to offer in terms of training and capacity building is state-of-the-art, and is available right there at Centinela," Muchnik adds.
AT THE FOREFRONT
Several of these technology initiatives are pioneering. In the case of the 2019 autonomous drilling rigs at Los Pelambres, they were the first in Chile, and one of the first success stories globally for this technology.
At Centinela, this autonomy project is pioneering for the current generation of this technology in the copper industry. Until now, there had been developments in other industries (such as iron and coal), and particularly in Australia, but not in copper. "Several mining sectors have it in the pipeline, but not deployed productively," adds Muchnik.
Since the autonomous system began operating in 2021, it has drilled and hauled over 40 million tonnes of copper ore, said Patricio Picero, Centinela's Implementation Manager for the Remote Operations Centre and Autonomous Equipment.
The project also allowed employees to develop and strengthen other skills such as working online, adaptability, flexibility and collaboration, Picero added.
THE FUTURE
Looking ahead, the Mining division has several projects in the works, including scaling up the current projects and integrating different systems. One aspect of this is the use of the Remote Operations Centres, another is the wider application of autonomous technology and robotisation. And all of this comes together at the next level with integrated centres that have autonomy built in. The application of these technologies will provide a new platform upon which we can build further, Muchnik adds.
"We must continue to increase the levels of robotisation and automation in the Mining Group, because it allows us to generate greater discipline and operational stability. And, with that, we will be able to optimise and apply additional levels of sophistication," says the Vice President.
The plan is to extend the use of these technologies to the other operations in then Mining Group.
THIS IS THE INNOVATION ROADMAP
Centinela invested approximately $57 million developing its autonomous systems which have increased worker safety and improved the company's competitiveness (availability of equipment) and life of components (tyres, spare parts). "The project aims to be safer, more sustainable and competitive," Muchnik says.
This initiative is part of Antofagasta's digital roadmap, which covers all areas of innovation, and will contribute to the overall competitiveness of the company.
Centinela is not only a leader in innovation, but also in sustainability. It only uses seawater, operates solely with electricity from renewable sources, and in July 2021 it obtained The Copper Mark, a seal for the responsible production of copper.