Antofagasta Minerals embraces the circular economy
3rd May 2023
"The transition to a circular economy plays a vital role in achieving the UN Sustainable Development Goals and the Paris Climate Agreement," reads the introduction to the UN Environment Programme's latest Guidance on Resource Efficiency and Circular Economy Target Setting. "By adopting circular principles, companies can create value for their stakeholders while contributing to the global effort to achieve the UN Sustainable Development Goals and the goals of the Paris Climate Agreement."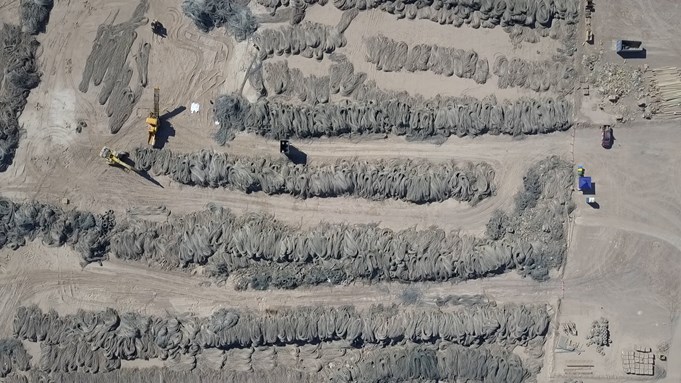 The circular economy concept represents a significant change in traditional production and consumption methods, evolving from the linear logic of extract-produce-consume-dispose to favour as much reuse and recycling as possible while limiting consumption.
Antofagasta approved the group's Circular Economy Strategy towards the end of 2022 for implementation in 2023. However, this does not mark the beginning of its foray into the circular economy; rather, it is the consummation of several initiatives that are closely tied to the Climate Change Strategy enacted in 2020.
The company focused on streamlining and implementing the Climate Change Strategy in 2021 and 2022. "As we progressed, we began to identify some needs that were complementary to the Climate Change Strategy, where we needed to go into further detail," says Alejandra Vial, Environment Manager at Antofagasta Minerals.
"That's how the Circular Economy Strategy arose, as a very necessary, complementing how we build resilience and how we integrate with local communities while increasing efficiencies. It is also very much aligned with our purpose of developing mining for a better future," she added.
In order to define the strategy, Antofagasta put together a multidisciplinary Circular Economy Committee, comprised of executives from across the company to work with the sustainable development think-tank Fundación Chile in identifying a comprehensive vision and management model.
The Committee defined three pillars for the Circular Economy Strategy: reduction in the use of resources, extending the lifecycle of material and equipment, and conversion of waste into new resources. The Strategy is based on four enabling pillars: regulatory framework and trends, stakeholder engagement, innovation and generating a circular culture.
Antofagasta is currently defining a baseline for the Circular Economy Strategy and mapping activities that have already been started at its operations. Once they have been defined, the company will be able to show specific concrete examples of the circular economy. "We think that it will be a much more informative, clear and motivating way of presenting the Strategy," says Vial.
Some of the existing initiatives include:
The Los Pelambres mine recovers steel from discarded mine haulage truck tyres for recycling into grinding balls which are then used at the mine. This initiative - carried out in conjunction with Atlas Morgan, the company in charge of the final disposal of the tyres, and Magotteaux, a grinding ball supplier – aims to repurpose 97 tonnes of steel from 156 haulage truck tyres during the pilot project.
The Centinela mine sends wooden pallets and boxes to the Colina 1 Penitentiary, in the Metropolitan Region, for the inmates to repurpose the wood into products such as kitchen cutting boards, pellets for combustion stoves, slatted panels and mulch.
The Antucoya mine has adapted an autonomous T-Rex 900 chipper to recycle High Density Polyethylene (HDPE) tubes and drippers. The adapted chipper shreds the plastic, before it is transported to the recycling plant in Santiago.
The FCAB transport division sold 1,794 tonnes of old locomotive parts, engines, bogies and rails as scrap metal in 2022. It also donates old wooden sleepers for repurposing in parks, urban squares and social areas in Antofagasta, Calama and Ollagüe, and has installed 25 collection centres for recycling plastic bottles, aluminium cans and paper.
At Antucoya local company ID Chile converts old HDPE pipes into mobile lamp posts, which are solar powered and improve the lighting and workers' safety at its leach pads.
The Circular Economy Committee expects to deploy the Strategy's work plan mid-2023, according to Antofagasta Mineral's Vice President of Sustainability and Corporate Affairs, René Aguilar. Early in deployment of the strategy, the company will first focus on quick wins in the reduction, reuse and/or recycling of tyres, lubricant oils, wood, metals, plastic, water and energy.
There are certain initial costs involved as projects are defined and studied, and their viability is determined. However, extending product and equipment lifecycles, optimising the consumption of goods and materials and repurposing waste may also create corporate opportunities. "In the long term, we aim for this strategy to deliver savings, and hopefully be net positive from the social point of view, while also improving our environmental stewardship," says Aguilar.