Antofagasta Minerals - Catholic University of Chile in Pioneering Endowment Partnership
22 July 2021
The new Antofagasta Minerals Chair of Water Sustainability aims to build knowledge and human capital in a critical area for Chile's resilience to climate change.
University endowments have long been common in Europe and the United States. In the UK, some -mostly in the form of farmland- date back to the Middle Ages but when, a few years ago, the Catholic University of Chile (UC) looked to the system as a means of ensuring its future financial sustainability, it was breaking new ground in Latin America.
Its initial aim was to raise US$30 million and, after topping US$35 million, it has set itself a new target of US$50 million by 2023. However, according to Patricio Donoso, UC's Pro-rector for Institutional Affairs, the University also concluded that, beyond this success, it could take the endowment system a step further.
"We felt there was room for deeper interaction with some companies in a way that would not only raise resources, but also enable us to address specific issues that are important for society," he says.
One of those issues, particularly in the context of climate change, is water sustainability and UC, the country's top university according to the latest QS World University Rankings, soon found a potential partner in Antofagasta Minerals. In November 2020, after around a year of discussions, they announced the creation of the Antofagasta Minerals Chair of Water Sustainability.
This is the first of a number of chairs that UC hopes to create -two more are currently in the pipeline- under a system in which income from a particular endowment -US$1.5 million in the case of Antofagasta Minerals- will be earmarked for a specific area of work, rather than going into a general fund.
For the company, the timing was right, says Marcelo Sepúlveda, Antofagasta's Senior Water Resources Engineer and chair coordinator for the company. With three of its mines located in the Atacama Desert and the fourth in central-northern Chile's drought-stricken Coquimbo Region, Antofagasta Minerals has always given particular importance to water for its own use and that of neighbouring communities.  
It pioneered the use of raw seawater in the Chilean mining industry in the '90s and this now accounts for almost all the water used at its Antucoya and Centinela mines. In addition, its Los Pelambres mine is building a desalination plant, thanks to which desalinated and recycled water will account for 95% of its consumption by 2025.
Since 2019, the company has also been a partner in the Quitai-Anko public-private research consortium that is working to develop sustainable solutions to water-related problems, starting with the Coquimbo Region, where Los Pelambres is located. "As that is a five-year programme," points out Sepúlveda, "we also wanted to be able to think about the long-term issues for the mining industry and the territories where it is located, and the endowment was a practical alternative." 
In the Coquimbo Region, the company also participates actively in provincial water working groups, develops and supports Rural Drinking Water systems known as APRs and participates in programmes to improve the efficiency of local farmers' irrigation canals.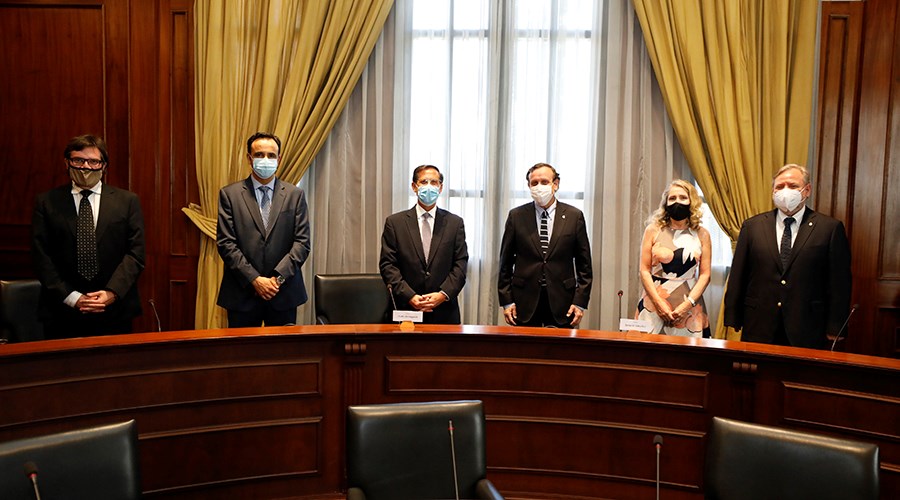 Next steps
For both the company and the university, the Chair is a new type of relationship. "It's philanthropic; the university is not selling services to Antofagasta Minerals," points out Jorge Gironás, Director of UC's Department of Hydraulic and Environmental Engineering, who is coordinating the initiative.
The first task was to examine the areas of water sustainability in which the UC has expertise -it estimates that some 50 academics, ten faculties and 13 research centres work in related areas- and how they intersect with the interests of Antofagasta Minerals. "There is a lot of intersection and we're currently mapping that," confirms Gironás.  
Decisions on the work areas will be made jointly, steered principally by a twice-yearly meeting between senior company executives and university representatives. Initially, the topics identified include seawater desalination, with its environmental and social implications, models for sustainable basin management and an area known as socio-hydrology, which focuses on the interaction between water resources and communities.   
The next important step will be to fill the new position funded by the endowment. In contrast to the common image of chairs being occupied by high-flying academics, it will be held by a more junior person, says Donoso, possibly a recent PhD graduate, whose professional development will be one of the initiative's key legacies. 
Outreach will be another important part of the Chair's activities, starting with a conference on water sustainability in March 2022. In a bid to heighten awareness of the issue, it also plans to award prizes for research in the field.  
Above all, however, the Chair will provide experience in a new model of private financing of research. As well as broadening the sources of research funding available in Chile, it promises to serve as a bridge between the knowledge contained behind university walls and the hands-on experience and needs of companies.
"To address the challenges posed by climate change, it is essential that the state, academia, companies and civil society work together," says Iván Arriagada, CEO of Antofagasta Minerals. That is exactly the direction in which the new Water Sustainability Chair points.