Antofagasta empowers employees with digital skills
The Digital Academy is strengthening the company's digital transformation
17 June 2021
The Covid-19 pandemic laid bare what was already on the horizon: the need for organisations and people to wholly embrace the digital age. From one day to the next, a range of digital tools and skills became essential for work, chores and leisure, forming habits that are here to stay.
For Antofagasta Minerals, the global health emergency sped up and deepened the implementation of its digital roadmap, which aims to replace the manual processes used by its mining operations and support functions with digital technology.
A critical part of the strategy is building up the skills of its employees. "Our purpose is to develop mining for a better future, a future that will be digital, and we need to prepare our employees for this new world both in and outside the company," says Ana María Rabagliati, Vice President of Human Resources.
This vision is behind the twofold purpose of Antofagasta Minerals' Digital Academy, launched in March 2020. The academy seeks to provide courses that not only increase the company's productivity and competitiveness but also improve the skillset and, therefore, employability of its workers.
The academy's first initiative was a Digital Literacy program to provide employees with a baseline and common language to understand and engage with the digital era, says Paolo Mapelli, who oversees the academy. Last year, over 1,500 employees in managerial and supervisor roles completed nine courses on the basics of design thinking, agile project management, big data, Internet of things (IOT), cybersecurity and key digital technologies such as collaborative tools and robotic process automation (RPA).
Satisfaction surveys were positive - over 85% of those who responded said they were satisfied or very satisfied with the Digital Literacy program. Based on the feedback, a shorter nine-hour version has now been included in induction packs for new recruits.
The company is also designing curricula for Learning Pathway programs that go into greater depth on specific topics. In 2021, it is focused on rolling out a course on data-based decision-making.  Around 250 employees from areas where data plays a particularly important role – such as accounting, maintenance and operational excellence – are taking part. Coursework covers analytics, data science, data reporting, and data and visualisation. "It's a skill that we want to develop as an organisation rather than for a specific role," explains Mapelli.
Another aspect of the academy is its Community of Practice in which some 30 employees from the corporate offices and the four mining operations meet regularly online and share learnings, tips and best practices on data reporting.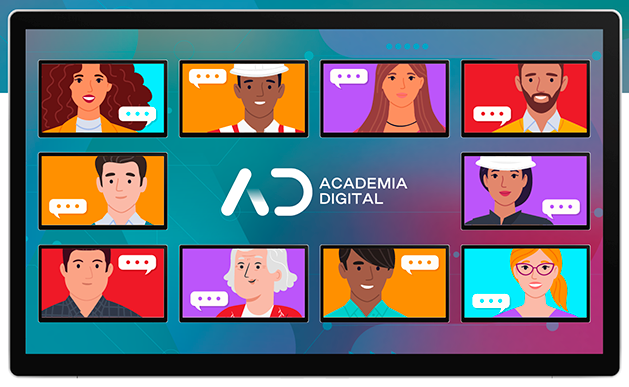 Supporting the company's culture and growth
Antofagasta Minerals used the online LinkedIn Learning platform to create its initial curriculum of courses. Following the initiative's success, it has now signed a two-year contract with that platform as well as with Coursera, which includes online courses with certification from prestigious universities such as Stanford and Johns Hopkins. The company adds internally-developed training capsules as necessary.
The contracts give employees full access to these two platforms that offer thousands of learning options. The company urges employees to block out time during working hours to study Digital Academy courses but they can take advantage of other courses in their own time. "People with more ambition or hunger to learn can access whatever they want," says Edgar Rojas, Antofagasta Minerals' manager of Organisational Development. Courses on strategic thinking and non-verbal language for leaders are two popular extra-curricular options taken by employees.  
The online format and array of other learning opportunities promotes the company's aim to strengthen employees' self-management skills and the culture it wishes to create. "The Digital Academy is not just learning about technology but how things will work and we will function in the world of the future," says Rojas. Likewise, the company is making its leadership seal compatible with the digital era by, for example, encouraging employees to make space for innovation, accept trial and error and try out new ways of collaborating and engaging.
The Digital Academy's courses are also being aligned with the organisation's specific digital business challenges. Major digitalisation projects include an Integrated Remote Operations Centre in the city of Antofagasta and automated trucks for Centinela mine, as well as the development of a Data Governance program. Courses are being especially designed for operator roles that may also involve different methods such as in-person training.
The academy is allowing Antofagasta Minerals to advance these and other projects more rapidly and effectively, says Rodrigo Vidal, the manager of the company's Digital Transformation area.  "We believe the academy will be the main lever to generate the new contents and skills for the projects we are working on today."