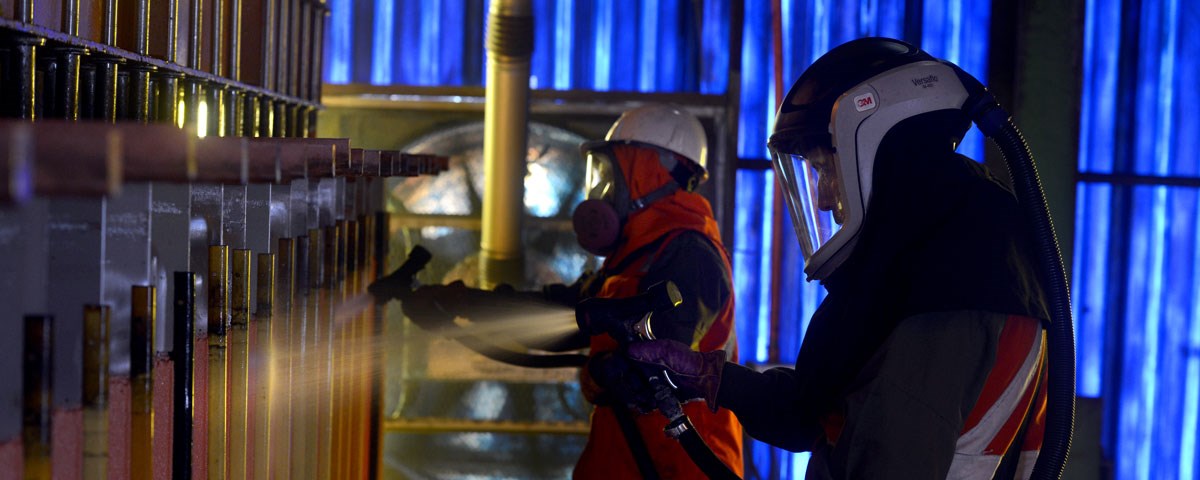 HIGHLIGHTS 2020
By the end of 2020, we achieved a record of 27 months without a fatality
Our LTIFR fell 15% to a record 0.86
High potential incidents dropped 63% to an all-time low
In 2020, we continued to deepen our occupational safety and health strategy which is based on four pillars: safety risk management, health risk management, standardised reporting and continuous improvement, and leadership. The strategy aims to meet four main goals: zero fatalities, zero occupational illnesses, the development of a resilient culture and the automation of hazardous processes.
For the second consecutive year, there were no fatal accidents related to Antofagasta Minerals' activities among employees and contractors or related third parties such as communities. By the end of 2020, we had completed almost 27 months with no fatalities, a new record. We continued to improve our Lost Time Injury Frequency Rate (LTIFR) which fell 15% compared to 2019 to 0.86 per million hours worked, another new record. We did not register any cases of occupational illness in 2020
During the year, we strengthened the effective implementation of critical controls for high risk activities. We updated our Control Strategies for ten identified fatal risks and more clearly defined roles and responsibilities at the operational level to improve the management of critical controls.
Our strategy involves a seven-step process to continuously improve the identification of safety breaches and understanding of the root causes of high potential incidents (HPIs), in other words, incidents that could have led to one or more fatalities. HPIs are leading indicators of the effectiveness of safety controls and facilitate the early introduction of improvements to prevent serious accidents. We continue to focus on learning and sharing findings across operations from HPI investigations to close risk management gaps.
In 2020, we began using HPIs as a measure of safety in our employees' Performance Agreements to reinforce a preventive and resilient safety culture. During the year, we reduced HPIs by 63% year-on-year, far exceeding our reduction target of between 10% and 15%. Our most frequent HPIs are related to transport (light vehicles and interaction with mobile mining equipment), uncontrolled releases of energy, and slope failures and rockfalls.
We also promote the reporting of near-misses to strengthen our safety performance. Our near-miss frequency rate rose by 15% to 298, reflecting a significant improvement to our reporting culture.
The Group is committed to providing a healthy workplace and contributing to the physical and mental wellbeing of our employees and contractors. In 2020, we established Control Strategies for four of our most significant occupational health risks: silica dust, noise, fatigue and drowsiness, and acid mist.
For the first time, we also established a reporting target for high potential unwanted health events to stimulate awareness, reporting and facilitate improvements. The group registered a frequency rate of 111 such events per million hours worked.
In addition, we strengthened our psychosocial health programme to help employees and contractors handle any harmful effects on mental health of the COVID-19 pandemic, including a new confidential 24x7 helpline. We also set up a working group of representatives from unions, human resources, mining operations and occupational health, to deepen the understanding of psychosocial risks and identify improvements.
Antofagasta began implementing measures in February to prevent or slow the spread of COVID-19 to maintain a safe and healthy workplace and protect the health of our employees, contractors and nearby communities.
Our first main step was to limit access to offices and operations to positions that required in person attendance to ensure operational continuity. Higher-risk individuals were required to stay at home and remote working was swiftly organised for all possible roles.
Main controls
Four basic controls were implemented to prevent COVID-19 infection in the workplace:
Health self-assessment questionnaires and health checks prior to each shift
Obligatory use of masks in all common areas
Physical distancing on buses, pick-up trucks, charter planes and common areas
Frequent hand cleansing
In addition, we hired buses and charter flights to transfer employees and contractors to and from site at the start and end of each shift. Other measures included installing barriers in vehicles to separate people, frequently disinfecting spaces and additional training for catering staff on how to handle food.
Information campaigns on critical COVID-19 control habits were conducted through e-learning, posters, videos and competitions.