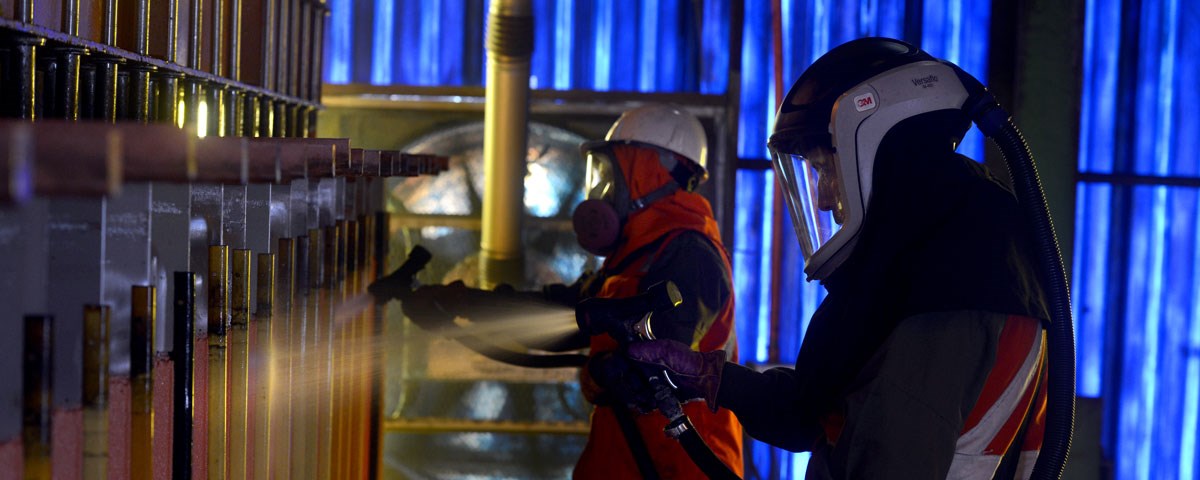 Safety and health is a priority and non-negotiable focal point for Antofagasta Minerals. We continuously strive to improve our performance in all matters that could affect our employees, contractors and neighbours.
CONTEXT
The mining industry in Chile has continuously improved its accident rate and the number of fatalities1 has decreased by 44% in the last nine years. Antofagasta Minerals has been part of this collective effort as well as ICMM which has driven good practice on these matters. ICMM member companies have reduced the number of fatalities by 63% over the last decade2.
Regrettably, after 30 months without a fatality, one of our contractors suffered a fatal accident at Los Pelambres in October 2018 while working on the wall of the Mauro tailings deposit. The tragic loss led to important organisational lessons, drew attention to required improvements to both behaviours and procedures and, among other issues, made clear the urgent need to further strengthen the Safety and Health Strategy in all areas of the operating companies.

Five years after launching the Safety and Health Strategy, we continue working towards a clear objective: eliminate fatal accidents.
MANAGEMENT
Experience acquired over the years has shown that the commitment of all employees and contractors is critical to the success of the Safety and Health Strategy. Focusing on fatality risks and their critical controls is vital to eradicating fatal accidents.
1 The mining industry in Chile suffered 27 fatalities in 2009 compared to 15 in 2018. Source: Accidentabilidad Minera 2018. Sernageomin, 2018 (Mining Accidents 2018, National Geology and Mining Service, Sernageomin, 2018). Available at: https://www.sernageomin.cl/accidentabilidad-minera/
2 ICMM members had 136 fatalities in 2008 compared to 15 in 2017. Source: ICMM.
In 2018 we deepened the implementation of our Safety and Health Strategy, approved by the Board in 2017. The strategy is based on four pillars (a) safety risk management (b) health risk management (c) aligned reporting and continuous improvement and (d) leadership. It also sets four goals to be achieved by 2020: zero fatalities, zero occupational illnesses, the development of a resilient culture, and the automation of hazardous processes.
Safety and health performance targets account for 5% of all our employees' annual performance bonuses to encourage a culture of accident prevention.
We have defined Fatal Risk Standards, of which 15 are applicable across the whole business and seven cover specific tasks in each operation. The latter were developed in 2018. Based on these standards, the operations implement critical controls – both preventative and mitigating – that must be checked prior to any activity. In 2018 progress was made on ensuring compliance with all safety critical controls by conducting a review covering 98% of our accident history. The challenge in 2019 will be to establish performance measures for each of these controls.
We have defined 10 Occupational Health Standards through which we can identify and control potential occupational health risks, with a goal of minimising exposure to hazardous agents or risk factors. Medical surveillance programmes at operations identify early symptoms that can indicate incipient occupational diseases. During 2018, we standardised existing surveillance programmes and developed an occupational health baseline for the entire mining division. In addition, on closure of this report we conducted a survey of critically exposed teams and generated a plan for implementing engineering controls or direct maintenance at the sources of origin.
The preventative culture that we are working to establish is based on the observation, reporting and follow-up of potential accidents. In 2018 the standardisation of reporting was reinforced, aligning processes of analysis, warnings, improvement projects and corrective actions raised by investigations. In 2019 the focus will be to improve organisational learnings from safety and health events and reduce repetition of high-potential incidents.
Leadership is at the heart of the Safety and Health Strategy and seeks to ensure that we are all aware of the role that we play in this model. The best standards are no help if there is no visible leadership at all organisational levels. Leadership is a key driver for eliminating fatalities, severe injuries and occupational illnesses. The Executive Committee conducts monthly on-site safety and health reviews at operations to verify that critical controls are correctly applied. Safety performance is reported weekly to the Executive Committee and monthly to the Board, and the Sustainability and Stakeholder Management Committee reviews any serious safety incidents.
Raising awareness of the importance of a preventive culture among employees and contractors is key to achieving their commitment to safety and health. We carry out a variety of actions including training, induction courses, discussions on the causes of accidents, safety meetings and recognition of employees committed to safety, as well as participation in joint safety and health committees. Contractor and sub-contractor companies must comply with the Corporate Guidelines on Safety and Health for Contractors which is essential for ensuring their commitment and providing orientation, training and support on safety and health issues. In addition, compliance is closely monitored by each company's contract owner.

Regrettably, in 2018 we did not achieve our zero fatalities goal due to the fatal accident at Los Pelambres involving one of our contractors. However, we remain firm in our commitment to zero fatalities.
The Lost Time Injury Frequency Rate (LTIFR) remained steady at 1.1 and the All Injury Frequency Rate (AIFR) decreased by 30%. Near-miss reporting increased by 56% clearly indicating a substantial improvement in our reporting culture.
During the year we conducted two audits at each operation and the Executive Committee made 12 on-site reviews of compliance with the Safety and Health Strategy, which indicated progress in line with plans.
Three occupational diseases were identified in 2018, one at Centinela and two at Zaldívar. Of these cases, two are related to hypoacusis.
Safety Statistics for Employees and Contractors
 
 
 
 
2018
2017
2016
ALL INJURY FREQUENCY RATE (AIFR)
Total number of accidents per million hours worked
5.1
7.4
6.9
LOST TIME INJURY FREQUENCY RATE (LTIFR)
1.1
1.0
1.2
INDEX OF REPORTED NEAR-MISS ACCIDENTS
198
 
50.2
FATALITIES
1
0
1
OCCUPATIONAL DISEASES
Number
3
3
4