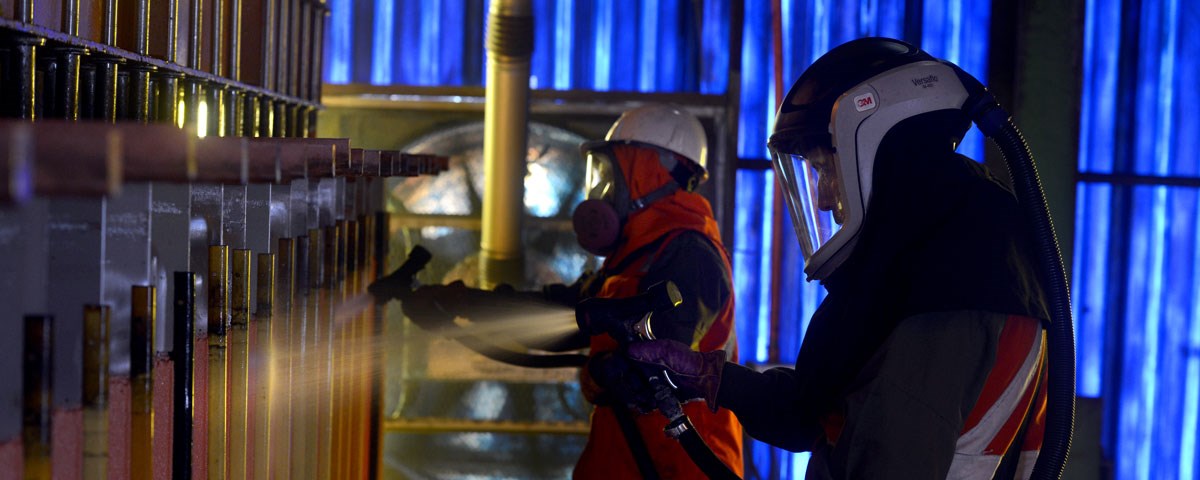 HIGHLIGHTS 2022
We had zero fatalities in 2022.
We continued to improve our safety performance, reducing high potential incidents (HPIs) by 37%, the Lost Time Injury Frequency Rate (LTIFR) by 32% and the Total Recordable Injury Frequency Rate (TRIFR) by 19%. 
We launched our Control Strategy for psychosocial risks, which had increased during the COVID-19 pandemic, to provide support for our employees.
We seek to be recognised as a leading company in occupational safety and health in which our own workers and contractors promote and maintain a safe and healthy work environment.
Solid health and safety management is the basis of our activities, which is why we are committed to its continuous improvement through risk control and performance monitoring.
For this purpose, we have our Occupational Health and Safety Strategy, which is based on four pillars:
Safety and health risk management
Reporting, investigation and learning from our accidents
Leadership
Contractor management
In 2022, there were no fatalities at our operations.
We continued to reduce the number of high potential incidents (HPIs): in 2022 we recorded 36 incidents, 37% less than in 2021, our best result in history. We focus on HPIs, which are leading indicators of the effectiveness of safety controls, to continuously strengthen critical controls and implement effective corrective actions to prevent the repetition of such events. HPI targets are included as a key performance indicator (KPI) in employees' performance agreements to promote and reinforce a preventive and resilient safety culture.
We seek to keep our Lost Time Injury Frequency Rate (LTIFR) – the number of lost time incidents in the year per million hours worked – below a score of 1. In 2022, we achieved a rate of 0.76, 32% better than 2021, owing to strengthened control strategies for high-risk tasks.
Our Total Recordable Injury Frequency Rate (TRIFR), which includes LTI and medical treatment injuries that do not involve lost time, improved by 19% to 1.86 per million hours worked, compared to a rate of 2.29 registered in 2021.
Our strategy involves a seven-step process to continuously improve the identification of safety and health breaches, effectivity of critical controls and the understanding of the root causes of undesired events that could have caused fatalities (HPIs) or a chronic occupational illness.
Critical controls
July 20 marked one year since the death of the contractor worker, Fernando Silva López, at Los Pelambres in 2021. In commemoration, safety-related reflection breaks were implemented at all our operations to reinforce the lessons learned.
Following the investigation and detailed analysis of that tragic incident, we focused on improving our planning, analysis and supervision of critical tasks under a model anchored around critical controls, identification of key risks and promoting the indicated behaviours. We prepared and implemented programmes for supervisors to better understand their roles and responsibilities regarding planning, shift changes, work crews and their obligation to confirm tasks are executed according to plan, particularly high-risk and critical ones. We also reinforced the correct use of our task risk analysis system, Job Safety Assessment (JSA), to plan high-risk and critical tasks. The JSA describes in detail the required task step-bystep, the tools and equipment needed and the obligatory controls to guarantee that the task is carried out safely.
The use of the JSA tool emphasises planning as a fundamental condition to ensure operational continuity without fatal accidents or occupational illness, eliminating workers' exposure to high-risk situations. If at any point workers perceive that adequate working conditions are not met as outlined in the JSA, they are expected to employ the "Yo Digo No" (I Say No) tool and stop task execution until the proper conditions can be verified. This focus will continue into 2023 to ensure that corrective measures are taken every time a Yo Digo No is activated.
There are now 13 critical activities with their respective JSAs in the Occupational Safety and Health's digital library.
We are also increasing automation and remote work to enhance the safety of our workers and contractors. Operators and supervisors were trained to operate Centinela's Integrated Remote Operations Centre (IROC) and the Los Pelambres IROC. Employees at these two mining operations also received training on the use of autonomous equipment such as drill rigs and, in the case of Centinela, a fleet of trucks at the new Esperanza Sur pit.
Collision avoidance systems
In 2022, we began the process of installing the latest generation collision avoidance system in our transport equipment as well as that of contractors and subcontractors. Full implementation is expected by the first quarter of 2023 with the system alerting the driver of the vehicle or equipment to take action when it detects imminent danger.
Visible leadership
Leadership is the fundamental basis for building a culture of continuous improvement. In this context, at Antofagasta Minerals we have implemented the "visible leadership" initiative for several years, whereby the Executive Committee conducts on-site visits at the different operations with the aim of reviewing in person and in detail the safety and health performance of our own workers and contractors.
In general terms, visible leadership and the recommendations of the Executive Committee are key to progressing in the four focus areas of our Safety and Health Strategy. They also enable identification of strengths and weaknesses in management, to reinforce or correct those critical points that drive continuous improvement and compliance with the established performance goals.
In 2022, the visible leadership's focus was on reinforcing that the owners of the risks and controls assume their roles and responsibilities in their respective correct execution. The foregoing is in line with that planned for 2023: that supervisors and operators assume their roles and responsibilities in the planned execution of critical tasks using the JSA.
Investigations
Investigation teams that are independent of the area involved in the incident, often involving representatives from other sites, look into all HPI incidents. Findings are shared across the entire organisation and used to close any identified risk management gaps.
In 2022, we investigated deviations from critical controls and implemented corrective measures, building on previous campaigns to raise awareness on the use of control strategies and understanding how critical controls are verified.
At Antofagasta Minerals, we are committed to providing a healthy workplace and contributing to the physical and mental wellbeing of everyone who works for us. In 2022, we continued to improve the application of critical controls for health risks and to investigate undesired health events.
During the year, we reinforced our medical surveillance program and updated the risk maps once the health authorities lifted the restrictions corresponding to the COVID-19 pandemic. We identified new cases of occupational diseases that began during the pandemic, which led our Occupational Illness Frequency Rate (OIFR) to rise to 2.26 per million hours worked when compared to 2021 due to the registration of historical cases.
Psychosocial risks
In 2022, we launched our Control Strategy for Psychosocial Risks, which had increased during the COVID-19 pandemic. Owing to this strategy, we identified five employees with temporary mental health issues and provided treatment for them to prevent the illness from becoming chronic.
We have a confidential 24x7 helpline for employees and contractors who wish to seek help for mental health issues.
Our contractors and subcontractors are included in our safety and health performance data and must fully comply with our standards and procedures. In 2022, we placed special emphasis on the effectiveness of our Special Corporate Health and Safety Regulation for Contractor and Subcontractor Companies (RECSS), continuing to embed this updated contractor management manual across the organisation to ensure an adequate understanding of our requirements and oversight of contractor tasks.
In 2022, we strengthened oversight on the security of our operations with the appointment of a senior industrial protection expert to address the increased violence used in attempted robberies of copper, particularly in transport logistics, which put our employees' physical and psychological safety at risk. It is important to note the significant role that the local government has played in working together with the industry to address this issue.
We have a system of alarms, sensors and cameras to control access to our mining sites and ensure that security contractors have adequate personal protective equipment (PPE).
We also provided training to security personnel, in alliance with Acción Empresas,1 on the Voluntary Principles on Security and Human Rights.
 Read more about our Safety and Health in our Sustainability Report 2022