Water is necessary for life and human activities; it is also an essential element to produce copper.
Efficient water management must contribute to maintaining the balance between water availability and its use by all parties that coexist in a region, both now and in the future.
CONTEXT
Water is an essential resource for productive process in mining as well as the development of other human activities.
The mining industry uses 3% of total water consumption in Chile1. Although the mining industry is not one of the main water users, it is useful to understand the land-use context of mining operations to assess the different water management challenges.
In our case, we have three mining operations – Centinela, Antucoya and Zaldívar – located in northern Chile and one operation – Los Pelambres - in central Chile.
Each region has different water-related challenges although those of climate change and mining sustainably are common to both. All these variables need to be incorporated into our water management system to obtain a better grasp of water issues, establish necessary controls, improve processes and performance, and contribute to solutions for future challenges.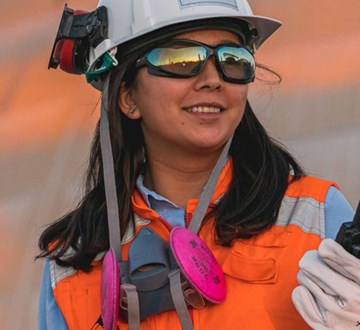 Related information
Sustainability Report 2019
MANAGEMENT
In 2018 Antofagasta Minerals adopted ICMM's Water Stewardship Framework to reinforce our management of water resources. The Water Stewardship Framework is based on four key elements:
Be transparent and accountable: Publicly report material water risks, management activities and performance.
ENgage proactively and inclusively with stakeholders to understand their priorities, share plans and collaborate on solutions.
Adopt a catchment-based approach understanding the social, cultural, economic and environmental value of water at the catchment scale to identify material water stewardship risks and provide context for corporate and operational water management.
Effective water resource management: Manage operational water (quantity and quality) inputs, use and outputs to maximise resource sustainability, operational flexibility and economic benefit.
Within this framework, during the year we reviewed our organisational water management structure. Our new Operational Model describes water management roles and functions. We also held workshops at each of our mining operations with the Risk and Compliance area to identify at risk water resources. This led to the development of a risk matrix with respective controls. The general manager of each operation is responsible for water issues and reports to the Board. The corporate environmental department is responsible for controls, monitoring and incident reporting. Since 2012, we have reported our water management performance in the water chapter of the Carbon Disclosure Project (CDP)2.
1 Forecast water consumption in copper mining 2017-2028, Chilean Copper Commission (Cochilco), 2017.
2 Our report to CDP is publicly available at www.cdp.net


SEA WATER, REUSE AND EFFICIENCY
In recent years our different water challenges have led us to focus on the strategic and efficient planning of water resources that will be necessary to continue our processes on an annual basis, as well as on the incorporation of technologies to minimise continental water use to reduce water consumption per tonne of copper produced.
As a mining group we have promoted the use of sea water, developing technologies for its raw use in ore processing operations.
In 2018, 45% of our total water consumption came from the sea, significantly higher than 9% a decade ago, when only Michilla used sea water, and also than the Chilean mining industry's average sea water use of 14%1. Remaining consumption came from surface water (25%), groundwater (29%) and supplied by third parties (1%).
Water reuse rates vary between 80% and 96% depending on the characteristics of each operation. This is higher than the Chilean mining industry's average reuse rate of 75%2.
In 2018 we consumed a total of 67.2 million m3 of water, 2% more than the previous year, mainly due to the increase in ore processed.
PROTECTING WATER – SHARED RESOURCE
The main loss of water is through natural evaporation from the tailings deposits.
We conduct participatory monitoring to ensure water quality outside our sites; in the case of Los Pelambres with the local community. In 2018, we conducted monitoring at 160 points – both ground and surface water – in the Choapa Valley and in the port area. At Centinela and Antucoya, water quality is monitored in the vicinity of the port facilities and at Zaldívar, we monitor groundwater extraction points in Negrillar, close to the Salar de Atacama.
In 2018 we carried out a series of water resource protection initiatives at Los Pelambres. Some of the best examples of this are the Aproxima and Confluye programmes, as well as the training of social leaders on rural drinking water issues.
In addition, we are conducting a pilot project to help protect the accelerated melting of glaciers.
| | | | |
| --- | --- | --- | --- |
| WATER EXTRACTION3 - million m3 |   |   |   |
|   | 2018 | 2017 | 2016 |
| Surface water | 16.5 | 18.1 | 14.1 |
| Groundwater | 19.4 | 17.2 | 13.5 |
| Water supplied by third parties | 0.9 | 1.2 | 1.2 |
| Sea water | 30.4 | 29.2 | 26.5 |
| Total | 67.2 | 65.7 | 55.3 |
1-2 Source: Minería en números 2017, Consejo Minero (Mining in numbers 2017, Mining Council).
3 In 2017 we began implementing the ICMM Water Reporting Guide. The calculation considered factors such as water retained in ore moisture, water at bottom of the pit (ground water according to
ICMM methodology), as well as rainfall and run-off (continental water according to ICMM methodology).