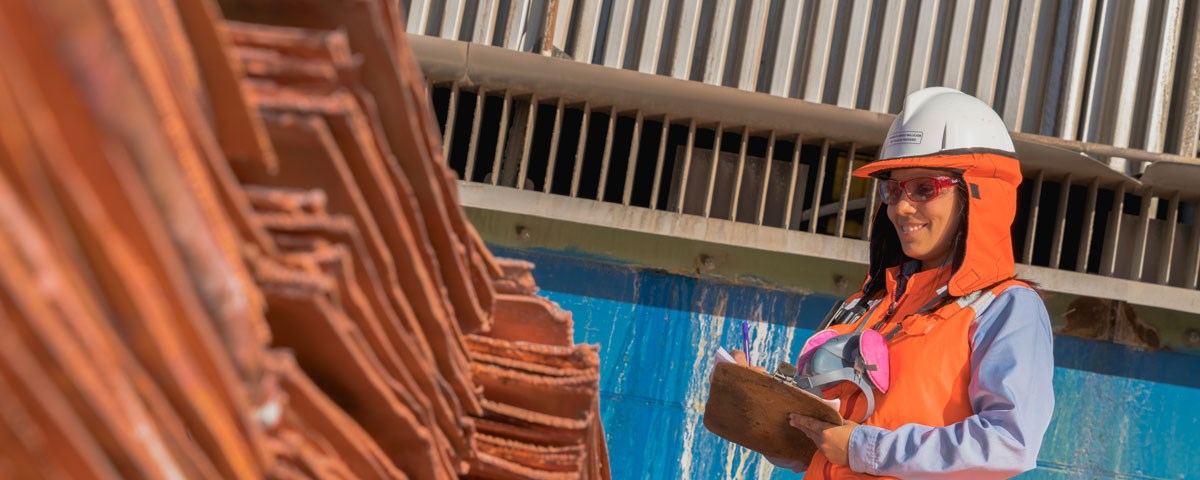 Suppliers play a fundamental role in the development of our activities and the capacity to operate safely, sustainably and efficiently. For this reason we not only have policies and controls to ensure they meet our standards but also seek to develop suppliers and to contribute to the progress of everyone who works in the mining industry.
CONTEXT
More than 4,000 suppliers of goods and services form part of Antofagasta Minerals' supply chain. They provide a large range of goods and services from mining equipment and energy to fuel and catering. 
MANAGEMENT
COMPLIANCE
A central corporate purchasing team defines and consolidates common procurement practices and procedures, as well as the standards and good practices required of suppliers.

We carry out due diligence on all our potential suppliers prior to awarding a contract. Company ownership, participation of politically exposed persons (PEP), antitrust issues, commercial behaviour, legal and labour cases, conflicts of interest and contract risks are all reviewed.

Contracts covering the supply of goods include clauses requiring compliance with Chilean Law 20,393 (Prevention of Crimes) and UK laws on bribery (UK Bribery Act) and modern slavery (UK Modern Slavery Act).

In addition, audits of direct suppliers monitor compliance with labour legislation and the Group's rigorous safety and health policy. In the case of contracts with direct suppliers in jurisdictions with different standards, for example in Asia, on-site audits and due diligence are carried out to ensure suppliers' compliance with our standards. This was the case for China-based suppliers during 2018 with 26 on-site audits of factories.

In 2018 nearly 500 suppliers participated in a training session to reinforce their knowledge of our policies and practices, including the new Compliance Model. 
Suppliers
 
 
 
 
2018
2017
2016
Suppliers
Total number of suppliers
4,028
2,865
2,948
Purchases of Goods and Services1
Millions of $ in goods and services net of VAT 
3,218
2,445
2,260
1 Figures for 2018 include purchases made during the year and the balance from 2017. It also incorporates payments to suppliers which, as shown on p.32, are considered part of our economic social contribution (strategic partners, Somos Choapa and Dialogues for Development programmes).



FAIR AND TRANSPARENT TENDER PROCESSES
Bidding processes are carried out on an online platform designed to guarantee objective and auditable evaluation and award procedures.
COMMUNICATION AND COMPLAINTS
We encourage suppliers to raise any issues or concerns regarding their relationship with the Company or its contracts through the complaints reporting line as well as various other channels of communication and engagement. In 2018 no complaints regarding irregularities in procurement and hiring processes were registered.
CRITICAL INPUTS, EQUIPMENT AND SERVICES
Critical inputs in the mining industry are: electricity, water, fuel, lubricants, explosives, sulphuric acid, grinding balls, lime and chemical reagents (diluent, extractant, NaSH, foaming agent, salt, collectors, cobalt sulphate and metabisulphite). Critical equipment consists of spare parts for critical assets for operational continuity and the safety and health of people. Examples are mining equipment and plant processing systems, work clothing and personal protection equipment (PPE). Finally, critical services are catering and accommodation, passenger and freight transport, health care centres, equipment and installation maintenance services and blasting services.
LOCAL SUPPLIERS
At Antofagasta Minerals, we seek to conduct our business in a thriving local environment that participates in our activities and require suppliers to have high standards. To achieve this we have focused on developing the skills of local companies to help improve their commercial, financial and human resource capabilities, as well as their productivity and use of innovation.
OPPORTUNITIES FOR LOCAL SUPPLIERS
Most of our suppliers have their headquarters in Santiago. However, an analysis conducted by the supply area in 2018 showed that most of the spending on goods and services by Centinela, Antucoya and Zaldívar is through regional branches of our supplier companies which mainly use local employees, infrastructure and resources including power plants, ports, manufacturers, distribution centres, repair shops, logistics and subcontractors. As part of the local integration strategy, our operating companies favour local suppliers, both for new projects and at its operations. In 2018, 1,455 suppliers in Antofagasta and Coquimbo Regions supplied $1,929 million of goods and services. Future projects also incorporate local suppliers; for example, at least 55 companies from Los Vilos and Salamanca have been contracted to work on the construction of the Los Pelambres Expansion Project.
SUPPLIER DEVELOPMENT
Our mining operating companies run development programmes for local suppliers, many of them within the framework of official programmes with participation of the Chilean state. Antofagasta Minerals' mining operations in Antofagasta Region continued to use the local procurement programme (PAL) during the year. Los Pelambres has an online suppliers' portal to provide visibility and foster a supply chain, and to link local suppliers with its existing direct suppliers (Tier 1). In 2018 we paid a total of $469 million to SMEs with average payment times of 25 days.
COLLABORATIVE INNOVATION
We are part of Expande, an open innovation programme that promotes the development of high-potential solutions from technology companies and connects them with challenges faced by the mining industry. The programme seeks to become a fundamental pillar for the development of technology providers.
ALLIANCES FOR LOCAL DEVELOPMENT
In 2018, a co-operation agreement was signed between Los Pelambres and the Association of Traders and Companies of Salamanca (ACESA)1 to ensure that local businesses get the opportunity to supply Los Pelambres and the Expansion Project.
Local Suppliers2
 
 
 
 
2018
2017
2016
Local Suppliers
Number of suppliers from Antofagasta and Coquimbo Regions
1,455
688
735
Local Purchases
Millions of $ in purchases of goods and services net of VAT in Antofagasta and Coquimbo Regions
1,929
350
377
1 Asociación Gremial de Comerciantes y Empresarios de la comuna de Salamanca (ACESA).
2 Figures for 2018 represent total Antofagasta Mineral purchases through local suppliers from Coquimbo and Antofagasta Regions according to the following definition: "local supplier is a supplier company that has facilities in any of the municipal districts of a specific region, and may have its headquarters or a branch installed in this region".