SUN AND WIND: DRIVERS FOR SUSTAINABLE MINING
Climate change is a reality and we are committed to being part of the solution. Our increasing use of energy generated from renewable sources, such as sun and wind, is an example of this. This complements an auspicious future for copper, a metal that will play a strategic role in the low carbon society.
WHY IS CLIMATE CHANGE IMPORTANT?
Climate change is becoming increasingly important to us, for three reasons:
The global commitment to reducing carbon emissions has shown that it is possible to produce copper while generating less greenhouse gases, using two renewable energy resources that are abundant in Chile: sun and wind.
But climate change is a real threat to the country and to our operations. It has already made itself felt in extreme rainfall, landslides, floods, storm surges and other phenomena.
The low-carbon society will require more copper and other metals, which is good news for us.
CONTEXT
The signing of the 2016 Paris Climate Agreement, which seeks to reduce global emissions and limit the planetary temperature increase to 2°C, has brought important advances in reducing carbon dependency in the energy systems of major economies such as China, India and the European Union.
Climate change made itself felt the length and breadth of Chile during 2017 in the form of extreme weather events and the Environment Ministry has evaluated the potential impact on the country in such areas as health, water availability, biodiversity, mining and ports.
Last year Chile drew up a national climate change plan1, and set itself the goal of obtaining at least 20 percent of its energy from nonconventional renewable sources by 2025. In October 2017, the figure reached 20.2%, creating great optimism among environmental groups seeking to reduce the role of carbon in the country's energy supply.
Chile's two energy grids were interconnected for the first time in 2017, significantly improving the quality of supply for our operations in the north of the country.
THE ROLE OF COPPER IN A LOW-CARBON SOCIETY
Copper is a 100 percent recyclable metal. Each year, some 9 million tonnes are recycled around the world. It is used to conduct electricity and heat, and is an important ingredient of new low-carbon technology; it is essential in wind turbines, photovoltaic cells, planes and trains. Electric cars use four to five times as much copper as conventional ones.
1 https://portal.mma.gob.cl/wp-content/uploads/2017/07/ plan_nacional_climatico_2017_2.pdf 
HOW DO WE MANAGE CLIMATE CHANGE?
At the beginning of 2018 Antofagasta Minerals committed to a goal of reducing its CO2 emissions by 300,000 tonnes relative to its 2017 base year projections, during the five year period 2018-2022.
Climate change Standard
The Company's climate change standards, approved by the Board in 2016, include a formal risk management process. They seek to make progress on three levels by:
Incorporating climate change into the organisation's culture.
Considering greenhouse gas emissions when taking decisions, from initial project design through to project completion.
Including greenhouse gas mitigation measures, while identifying operating opportunities in terms of energy supply and efficiency.
Organisation and reporting
The Board has overall responsibility for climate change issues, which are managed by the Energy and Environmental department. We have been reporting our greenhouse gas emissions´ and climate change management to the Carbon Disclosure Project (CDP) since 2009 and the figures have been verified since 2013 by external auditors accredited by that organisation. We have also had a greenhouse gas module on the SIGEA online platform since 2014.
Monitoring and results 
Antofagasta plc's management and reporting has been favourably rated by international organisations1. We are in the third highest category, and rank above average in the mining and metals industry, which is in the fifth highest group.
In 2017, we carried out a study of our projected emissions to 2030. This showed emissions intensity rising due to lower-grade ore and reduced production by the Los Pelambres and Centinela operations. We must therefore make more of an effort to reduce them.
In 2018, we expect total mining division emissions to fall by more than 20 percent (>30% of Scope 2) as a result of the interconnection of the county's two power grids, which begins this year. Scope 1 and 2 emissions increased by 4.7 percent compared to 2016.
Scope 1 rose by 7.4 percent compared to 2016 due to increased use of fuel at the Group's operations, while Scope 2 increased by 3.6 percent as a result of increased electricity consumption. The Antucoya mine began full operation in 2017 and this was the biggest contributor to the increase in emissions at 40 percent, together with the start-up of the Encuentro Oxides project at Centinela.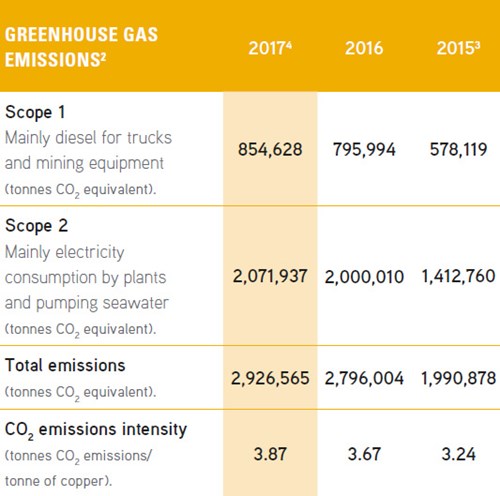 1 Analysis by CDP and ADEC Innovations, which evaluate the climate change management and carbon footprints of companies around the world.
2 The emissions inventory has been verified by a CDP-recognised audit company since 2013.
3 The 2015 figures do not include Zaldívar, but they do include Michilla, which was sold at the end of that year.
4 The 2016 and 2017 figures include 100 percent of Zaldívar's emissions, although Antofagasta plc owns 50 percent.
Since 71 percent of emissions are associated with electricity consumption (Scope 2), we make significant efforts to increase the use of renewable energy through our choice of suppliers.
In 2017, 21 percent of the Group's power came from nonconventional renewable energy sources thanks to the supply from solar and windfarms to Los Pelambres, and the thermal and solar plant at Centinela. In total, 54 percent of Los Pelambres' energy consumption came from renewable sources (El Arrayán, Javiera, and Conejo and the energy generated by its downhill conveyor belts) to produce copper and, simultaneously, reduce its environmental impact.
Specialists forecast that, from 2018 onwards, SING (the electricity grid in the north of Chile) emissions should fall from a factor of close to 0.8 at the beginning of 2017 to between 0.4 and 0.351, thanks to the incorporation of non-conventional renewable energy within the energy mix.
As a result of the Group's strategy of focusing on its core business, we have sold some of our energy generation assets over the past two years. Additionally, as part of our energy strategy, we have decided not to invest in this type of asset in the future, although we are continuing to consume renewable energy from the assets we have sold. For example, we buy solar energy from the Javiera solar plant, which is now owned by Energía Andina.
We have also decided to preferentially source low-emission energy when we issue tenders for electricity supply. Examples include replacing diesel with liquid natural gas in the boilers at the Centinela, Antucoya and Zaldívar mines, tendering for self-generated solar energy at Los Pelambres and Centinela, and the increased output of the solar heat and power plant at Centinela, so that we can continue replacing diesel in our operations.
CO2 abatement by incorporating green areas 
The Innovation Committee approved a reduction strategy in 2017, and this will be implemented in 2018. We are therefore evaluating the capture capacity of the green areas, whether by restoring existing forests, reforestation, vegetation recovery or protection.

1 "Updated 2017-2030 emissions forecast and analysis of CO2 equivalent mitigation measures", carried out by the consultant POCH in June 2017 for the Asociación de Generadoras de Chile. "Estimated CO2 emissions in the SING", study by the consultant Systep, November 2015.
Chile's 2050 Energy Strategy provides a roadmap for companies on this issue. The Consejo Minero, representing the mining industry, has agreed a joint approach with the Energy Ministry. The Company is actively participating in this agreement.
Between 2015 and 2016, the Group implemented energy audits for all of its operations and defined efficiency plans. We send a progress report to the Consejo Minero every year. In 2017, we worked on drawing up guidelines and identifying and prioritising risks and opportunities in terms of energy efficiency. In 2018, we continue to develop initiatives in three areas: behaviour, replacement technology and innovation.
Energy management 
All Group companies use an integrated energy management system so we can continuously monitor our consumption and the progress of projects being implemented. The system, which complies with ISO 5001 principles, defines guidelines, measurements and verifications for each project.
Management of energy efficiency 
These guidelines are defined by the Energy Efficiency Committee, consisting of the Vice Presidents of Operations, Projects, and Corporate Affairs, and the Energy Manager. During 2017, they were joined by the different operations' Operating Excellence departments so that the initiatives can be implemented. The Innovation Committee has continued to play an active role in this area, with the aim of reviewing the potential of innovative energy efficiency projects.
Action plans 
2017 saw the development of software that detects energy efficiency opportunities. This innovative project will be implemented in a primary operation and financed by the Group and CORFO, with scientific support from the Universidad Técnica Federico Santa María.
Among projects at the evaluation or implementation stage, we are considering a fuel-saving device which would be installed in mining equipment across all Group companies.
Monitoring and results 
We consumed 11,906,112 gigajoules of electricity in 2017, and 9,491,721 Gigajoules of fuel. Our electricity consumption was slightly higher than in the previous year, and fuel usage also rose slightly, mainly due to the increased use of diesel. The biggest consumer of electricity and fuel is Centinela (20 percent), followed by Los Pelambres (33 percent).