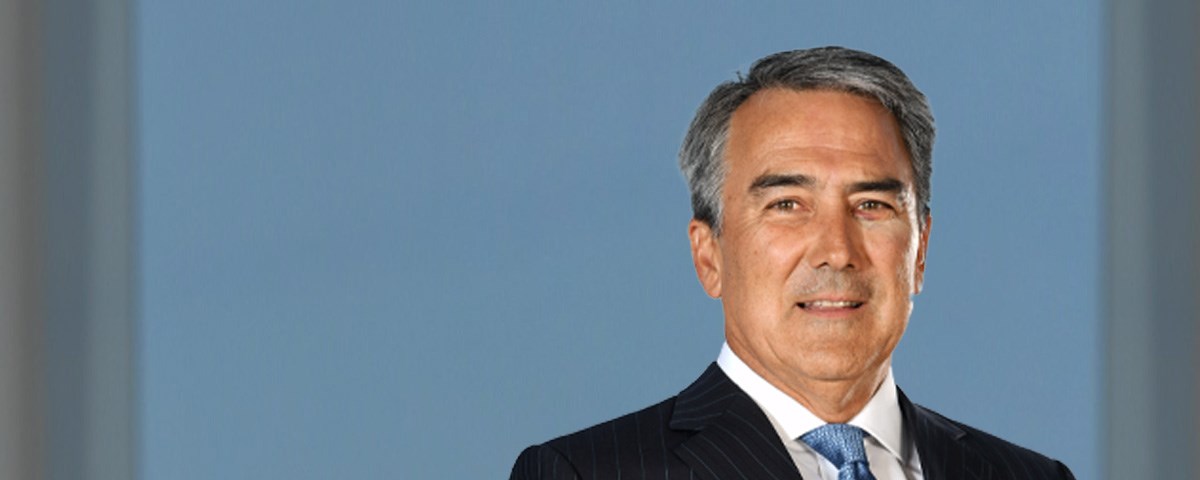 Dear shareholders
At its core, Antofagasta is a long-term business. Our mines operate on decades-long timelines and our strong balance sheet is the result of years of disciplined capital allocation. We continue to be mindful of short-term developments but remain committed to thinking and acting for the long-term.
This year has certainly had its challenges, but it is times such as these that make demands on us that calmer times do not. They test our resolve and resilience, and in this Annual Report you'll find stories about what we have done to demonstrate both. My thanks go out to everyone across our company who helped us to navigate the year successfully.
I also want to take this opportunity to acknowledge everyone's efforts that have led to us having a record safety performance this year. Not only did we not have any fatal accidents, but we also improved our high potential incidents and lost time injury frequency rate to record lows. I know this requires constant care and attention from everyone at our operations, from the leadership team to every employee and contractor and I applaud them for their success.
2022 – A volatile year for copper and the global economy
Copper's price fluctuations reflected the broader volatility in the global economy. Although the details differed in important ways for each major economy, their growth was similarly dampened in 2022. Driving the slowdown were headwinds that dominated the headlines for much of the year: Russia's invasion of Ukraine and the economic shockwaves and energy crisis it sparked; rising inflation and interest rates; the lingering effects of COVID-19; China's reduced economic activity; and ongoing supply shortages and strained global supply chains.
Yet it wasn't entirely a year of headwinds for copper. As China, a market that consumes over half of the world's metals, relaxed its zero-COVID policies in the final weeks of 2022, and as the country's property market started to show signs of recovery, commodity prices lifted due to low stocks and an anticipation of a return to stronger economic growth. In March, copper reached a historic high of $4.86/lb before falling to a low of $3.18/lb in July and then recovering to end the year at $3.81/lb.
A powerful long-term tailwind for copper also continued to gather strength: the transition to a low-carbon economy. The United States passed the Inflation Reduction Act in 2022 and the European Union recently announced its Net Zero Industry Act. Together they promise to spur further investment in the many copper-intensive products and technologies integral to a net-zero world. And in November 2022, COP27 took place in Egypt, drawing further attention and commitments from governments to a net-zero future.
Chile's economic, social and political environment
The centrality of climate change to Chile – and to Antofagasta
Heat waves, wildfires, a drought stretching into its 13th year; the effects of climate change were once again powerfully felt in Chile. It's a vital issue for the country, for business, for the communities where we operate, and for our people and their families. It is important that I highlight what we're doing to align ourselves with Chile's vision for a net-zero future.
Achieving and setting new climate-related targets
Combatting climate change sits at the centre of Antofagasta's strategy. Lowering emissions and reducing continental water use remain two key issues for which we have a group-level strategy, board-level focus and company-wide initiatives.
In line with Chile's national target, Antofagasta is working towards being carbon-neutral by 2050. Last year we surpassed our 2025 emission target to reduce our emissions by 30%, achieving this three years early, and we are now in process of setting a new target.
In April 2022, the last of our mining operations started using solely renewable energy and all our mining operations have now received The Copper Mark, an independently verified responsible production standard.
Our project to build a desalination plant and water pipeline at Los Pelambres will start operating in the second quarter of 2023 and by 2025 we expect that 90% of the Group's water usage will be sea or recirculated water, substantially reducing our continental water withdrawals.
Our commitment to Environmental, Social and Governance (ESG)
Our efforts on climate change are an integral part of our ESG strategy, but far from the only ones. The copper we produce has a key role to play in a net-zero world; our responsibility is to produce it sustainably, efficiently, and with respect for local communities and the environment.
ESG considerations are integrated into our business and we are working with our suppliers, not just in the application of our safety standards, but also of our sustainability practices. In 2022, Antofagasta set new standards for sustainability for our suppliers, and by doing so we plan to gradually align their ESG capabilities with our own. Whether it's lowering emissions, insisting on enhanced minimum wages, or ensuring that mining becomes more diverse and inclusive, such partnerships are poised to deliver progress in areas that are fundamental to our purpose: "Developing Mining for a Better Future".
Chile's handling of COVID-19
COVID-19's effects waned during the year, but Chile was not immune to the economic challenges felt by many countries, particularly rising inflation and supply chain disruptions. The country's budget deficit during the pandemic period was over 7% of GDP, but in 2022 the deficit is expected to have reversed to a surplus of approximately 1.6% of GDP, a commendable achievement.
Chile's uncertain political environment
In a September referendum, the country rejected a proposed draft for a new Constitution, reflecting support for a more centrist approach going forward. A new Constitution will be drafted in 2023, with a new referendum scheduled for December. My hope is that this new Constitution will unite Chileans and provide the clarity and stability that helps attract investments and all the opportunities that flow from them to Chile.
After a long period of discussion between Congress, government and industry, the proposed mining royalty bill is now with the Senate for review before moving to the lower house. Our focus remains on ensuring that Chile's mining industry, which accounts for more than 10% of the country's GDP, remains competitive globally and thereby able to contribute to furthering Chile's economic and societal growth.
The upcoming year presents Antofagasta with important capital decisions, notably the construction of a second concentrator at Centinela and we will make these decisions when we have a clearer picture of the Constitution and the mining royalty legislation.
Antofagasta's 2022 performance
Our performance reflected the challenges of a difficult operating environment with copper production falling and net cash costs increasing, and revenue of $5.9 billion and $2.9 billion of EBITDA. We ended the year strongly, with our performance improving in key areas, from lower cash costs to increased production, compared with the first half of the year.
A notable operational issue that Antofagasta faced this year related to water. The drought in central Chile continued to affect communities in the region and Los Pelambres. The water shortage has reduced our production in the short-term, but we will soon complete construction of a new desalination plant and this will lift the water constraints at Los Pelambres.
Challenges such as this reinforce the importance of planned investment, our engagement with local communities and decisions we've taken over the years to become a more resilient business. The desalination plant would have been completed earlier but for the pandemic, and we need to expand this plant to improve the water availability for other consumers in the region. The expansion is currently being permitted and if this is completed on schedule over 95% of Los Pelambres's water will then be either sea or recirculated water.
Los Pelambres also advanced its concentrator plant expansion during the year and this will come into production in the second quarter of 2023.
Exit from Reko Diq, Pakistan
Ten years after work on the Reko Diq project stopped, Antofagasta finalised an agreement with Barrick Gold Corporation and the Governments of Pakistan and Balochistan to exit the project and receive proceeds of $946 million. This enables us to refocus our time and resources on strengthening Antofagasta's business in other priority locations, notably in the Americas.
Twin Metals Minnesota, USA
In January 2022, the US Department of Interior cancelled two mineral leases which Twin Metals had renewed in 2019. The Company is challenging this decision and we still believe that Twin Metals represents a world-class project to provide the critical metals that a growing and greener world requires.
Transport division
It was a strong year for our Transport division, which had a record year for both safety and the tonnage transported.
The division has been based in the city of Antofagasta for over a century and during this period the city has grown extensively. The location of its facilities and workshops are now in the city centre, providing a long-term opportunity to repurpose the area and fully integrate it into the future urban development of the city. We have therefore made the decision to relocate the facilities and workshop 40 miles north to an industrial area near the town of Mejillones.
We have been making progress and in 2022, prior to beginning the urban redevelopment, we started the process of converting the former railyard into a historic neighbourhood. This involved us working closely with the local community and authorities to ensure the project meets the needs of the area and is environmentally sustainable.
Governance update
This year saw our entire board meet in person for the first time since early 2020. It also saw our directors make site visits to at least one of our operations, including to the desalination plant and concentrator plant expansion projects, and to Los Pelambres' tailings dams. The insights from these visits were shared at board and committee meetings, deepening the directors' understanding of our activities.
By the date of our 2023 AGM, Vivianne Blanlot will have served on our Board for nine years and, although she has agreed to continue on the Board, she will no longer be considered 'independent'. She has therefore stepped down from the Nomination and Governance Committee and Remuneration and Talent Management Committee, and has been appointed to the Projects Committee.
To fill the vacancies on these committees, Francisca Castro has joined the Nomination and Governance Committee and Eugenia Parot has joined the Remuneration and Talent Management Committee.
Vivianne joined the Board in 2014 and since then, half of our Board appointments have been female, with women currently comprising 30% of our Board. However, we aim to increase female representation to 40%, and we are actively working towards this target.
Outlook for 2023
The IMF forecasts that global growth will slow in 2023 affected by a number of issues, particularly the war in Ukraine, China's economic performance, the rate of economic growth in the US and Europe, and the energy crisis. In addition, Chile's political and economic environment further complicates the outlook.
Uncertainty clouds the short-term picture, yet important features of the long-term are clearer. The world is moving towards net-zero. That journey will demand more copper, according to some forecasters almost 10 million more tonnes over the next decade alone, at a time when the global copper supply is constrained by declining resource quality and long lead times for project development and permitting. Our focus remains on being a leading, responsible producer of the copper that the low-carbon world requires.
We know that in any environment, the diversity, safety and health of our people matter. So do the vibrancy of our culture and the discipline with which we manage costs. Such steps not only strengthen the core of our business but position us so that 2023 is not defined by the challenges we face, but by our responses to them.
JEAN-PAUL LUKSIC
CHAIRMAN