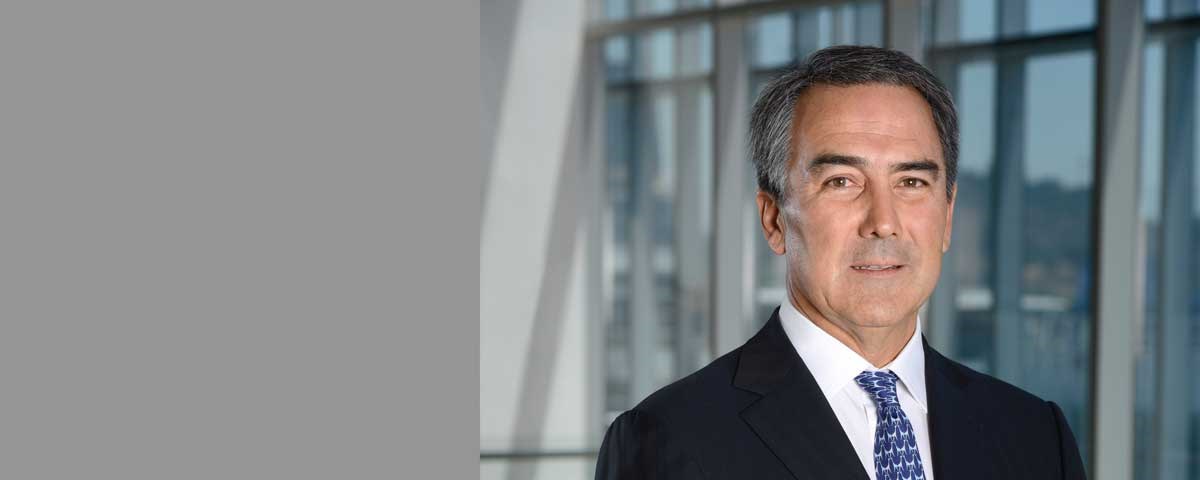 It's been said that adversity introduces us to ourselves - that it not only tests, but also reveals, who we are. Last year offered no shortage of adversity and, as this Annual Report details, Antofagasta's employees responded in ways that demonstrated our company's purpose, values, culture and resilience more powerfully than words alone ever could.
Amid the most severe global health crisis of our lifetimes, our employees developed new ways of working efficiently whilst keeping their colleagues, contractors and local communities healthy and safe. Our operations have high standards for safety, sustainability and efficiency, and sustaining those despite COVID-19's many complications is a fantastic achievement, one that enabled Antofagasta to meet its annual production and cost targets while continuing to improve its safety record and lower its emissions. Even more, it allowed Antofagasta - through increased donations and assistance to employees and communities, employees' salaries and bonuses, and taxes - to provide ongoing support towards Chile's social and economic recovery.
So before reflecting on some of last year's key international and national developments, or offering thoughts on the year ahead, I want to express my pride in - and profound gratitude to - our employees and contractors. Thanks to their resilience and innovation, the past 12 months were defined not by the unprecedented challenges Antofagasta faced, but our responses to them.
A year of global headwinds - and tailwinds
Few years have generated such volatility alongside so many health, operational and financial challenges. The pandemic's disruption of global economic activity was historic, as were its influences on commodities. In late April 2020, as the price of oil futures went negative for the first time in history, copper dipped to $2.09/lb, its lowest level since 2016. The effect of these headwinds on copper prices lessened as the year wore on with copper ending the year at $3.51/lb, a price not seen since 2013, but continued to affect operational and financial conditions across the industry.
A number of powerful tailwinds for copper as a commodity, and for Antofagasta as a business, also gathered significant momentum in 2020. Notably, the world's transition to a low-carbon economy accelerated. As 2021 began, countries accounting for 70% of the world economy had committed to a net-zero target; a mere six months earlier, only 53% of the global economy had set targets. China and Japan, two of the world's largest markets for copper, were among the countries that announced net-zero pledges in 2020. The EU's 'Green New Deal' and the climate proposal of US president Joe Biden's heightened this 'green wave'.
Each country's approach differs in detail, yet all share a common characteristic: they will be copper-intensive. Generating renewable energy requires four to twelve times more copper than conventional power; electric vehicles require four times more copper than ICE vehicles. Therefore, the copper Antofagasta produces has an important role to play in helping governments meet their climate targets. Our responsibility is to produce that copper sustainably, efficiently and with respect for communities and the environment. Both aspects - the importance of what we produce, and how we produce it - are woven into our purpose: 'Developing Mining for a Better Future.'
Last year, we took further steps to honour that purpose. August 2020 saw the launch of the Global Industry Standard on Tailings Management, which is working to create the safe management of tailings facilities, with the goal of zero harm. Antofagasta set out plans for Los Pelambres, Centinela and Zaldívar to comply with the Standard by 2025. Centinela and Zaldívar also committed to The Copper Mark in 2020, a framework established to demonstrate the industry's responsible production practices and contribution to the United Nations' Sustainable Development Goals.
Supporting Chile's social and economic recovery
The Chilean government's response to COVID-19 avoided the severe health and economic crises endured in some other countries. Appreciating mining's vital role to Chile's economy - it represents more than 10% of the country's GDP - the government allowed operations to continue during the pandemic. Antofagasta worked alongside the government to deliver a co-ordinated response to the emergency and, as the largest non-State company in Chile's mining sector, supported the country's economic recovery while also setting up a fund for local communities.
As the pandemic unleashed new societal challenges around the world, it exacerbated long-standing ones. Many countries experienced some blend of political and social unrest; Chile was among them. The demonstrations and violence which I described in my 2019 letter thankfully lessened. But the issues underpinning the unrest remain, as does the complex political environment, and the pandemic has only worsened the inequalities. In 2020, a referendum was held, and a clear majority of Chileans voted in favour of rewriting the country's constitution. Members of a Constitutional Assembly will be elected in April and will present a new constitution for a vote by the people at a referendum in 2022.
What the text of the new constitution will be, its impact on our operations, whether it will be supported in the 2022 referendum, remains uncertain, particularly is this year when there are also presidential and parliamentary elections. However, I still believe that, whatever the way forward, it should include measures that help the country reach higher standards of economic equality, growth and development.
As this constitutional process and the elections continue, our focus remains on being safe, efficient and sustainable, managing costs and delivering growth, and being the kind of business that benefits the communities, cities and nation where it operates.
Considered growth
The cyclical nature of copper has informed Antofagasta's pursuit of what we call 'considered growth'. That means building a business that focuses on factors within our control and making prudent operational and investment decisions with a long-term view. That strength was on display last year. As I mentioned earlier, in the face of incredibly challenging circumstances, the Company met its annual production and cost targets - while continuing to improve its safety record, seeing our second year without a fatality and also lowering our greenhouse gas emissions.
Our Transport division similarly pursued considered growth. It secured new contracts as well as new locomotives that are more efficient and have lower emissions. These will strengthen its long-term business and returns.
To protect the health and safety of our people and local communities, as well as manage costs and risk during COVID-19, we temporarily suspended the Los Pelambres Expansion project in March and delayed the start of our other growth projects. I am pleased to say that they were all able to start again later in the year, integrating our new COVID-19 health protocols into their planning, and all are moving ahead on updated schedules, although there has been some increase in the project costs.
Governance update
In 2019, the Board adopted a new strategic framework for the business' long-term success. That framework is built around five pillars - growth, our people, the safety and sustainability of our operations, innovation and competitiveness - and its resilience was revealed over the course of 2020.
The Board continues to focus on ESG matters, such as climate change, and the Sustainability and Stakeholder Management Committee, in particular, considers in detail many of the key issues that matter to our workforce (such as safety and health), local communities, national and local governments, regulators and other stakeholders. All stakeholders' views are considered in the Board's principal decisions and examples of this are given in this report.
As I mentioned in last year's letter, we welcomed Tony Jensen as a new independent Non-Executive Director to our Board in March and later in the year he joined our Audit and Risk, Remuneration and Talent Management, and Sustainability and Stakeholder Management Committees.
Our efforts to improve diversity across all levels of the Company, including the Board, continue. We have had some success, increasing the female proportion of our workforce to 14.7%, but at the Board level it has been more difficult. However, we continue our search for new female members of the Board who have the skills and experience that we need. Diversity and inclusion are an area where we have made progress, but have further to go. We are committed to do so.
Due to COVID-19 restrictions in the UK, our 2020 AGM was held behind closed doors. This year we are making arrangements for shareholders to access the AGM remotely and to ask questions during the meeting, while avoiding the need for unnecessary travel. You will find additional information in the Notice of Meeting.
Dividend
In 2020 we decided to cut the final 2019 dividend and pay the minimum allowed under our dividend policy. This year, following a year that was stronger than we expected at the time we decided on the cut, the Board has recommended a final dividend that will make the total dividend for the year of 54.7 cents per share.
Outlook for 2021
At a time when new sources of copper supply are of lower quality and discoveries are rare, copper demand is undergoing a systemic shift as the world addresses the transition to a low-carbon economy. Also, the increasing pace of COVID-19 vaccinations should bring greater economic stability and a sustained global recovery. This global growth, coupled with green government stimulus spending, has led some analysts to predict the beginning of a prolonged upturn in the commodity cycle.
These favourable expectations are encouraging, yet 2020 demonstrated just how quickly conditions can change. At Antofagasta we continue to focus on the areas within our control: working to keep our people safe and healthy, managing costs, strengthening our culture, attracting diverse talent and executing on the delivery of our near- and mid-term goals.
In this Annual Report, we report on the progress we've made in those areas as well as telling stories of leadership, resilience and creativity. My pride in Antofagasta's employees is matched only by my gratitude. There have been many memorable chapters in Antofagasta's 132-year history and in 2020, our people helped write another one.
JEAN-PAUL LUKSIC
CHAIRMAN