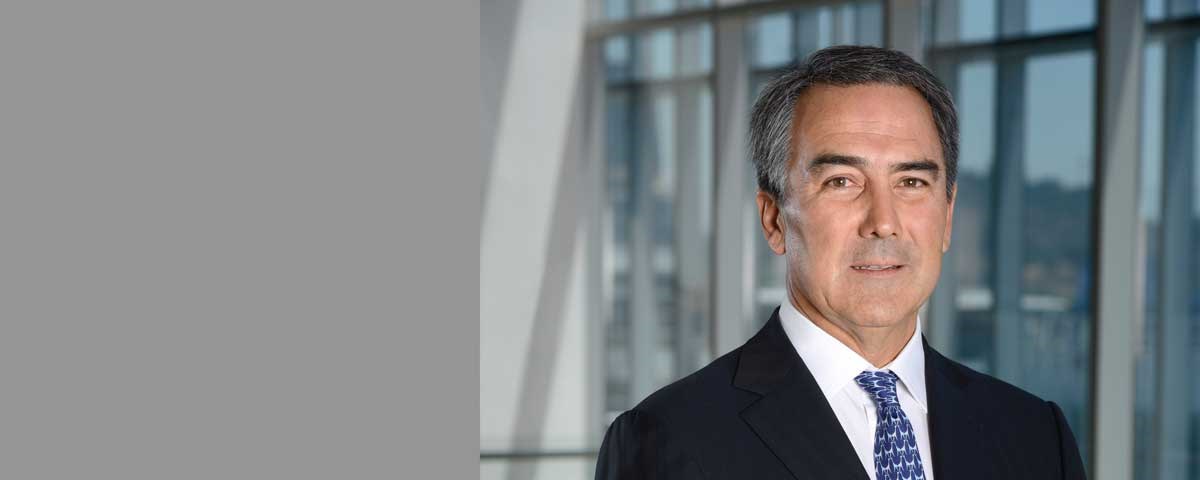 I have written before about the cyclical nature of the copper industry and the need for Antofagasta to deliver what we call "considered growth". This means focusing on those elements of our business that are within our control, whether that is costs, the pace of new developments, maintaining strong employee and community relations or ensuring safe and sustainable operations.
The importance of this approach was again apparent in 2019, as the copper price averaged $2.72/lb, 8% lower than in 2018, and once again was affected by the uncertainty generated by the global trade dispute. Despite this, Antofagasta delivered another record year of production and at a lower cost than last year, reflecting the improved grades at all our operations and the continued hard work of our teams. As a result, Antofagasta continues to be in a strong position, generating solid cash flows.
Growth is not just about copper production, of course. In Antofagasta's Transport division (FCAB) we are transforming the business by introducing new locomotives, improving the efficiency of the network and securing new contracts. As a result, we are seeing growth in total transport volumes and expect to see this translate into improved returns in due course.
A framework for long-term success
I have always believed that for the copper industry to be sustainable in the future there is a need for long-term planning and a willingness to invest in new projects throughout the commodity cycle. This relies on the development of a strong corporate culture, a sense of organisational purpose and a clear strategy, and this is encompassed in our Purpose – Developing Mining for a Better Future.
In support of this approach, in 2019 the Board adopted a new strategic framework designed to underpin Antofagasta's long-term success. The framework is built around five pillars: growth, our people, the safety and sustainability of our operations, innovation, and competitiveness. We have put in place a clear set of near- and medium-term goals for the organisation based on this framework.
Green light for further growth
While production in 2019 was at record levels, a decline in ore grades at Centinela will lead to a fall in production in 2020. The Board has already approved the expansion of Los Pelambres, which will reverse this decline when it reaches full production in 2022.
In addition, during 2019 the Board approved two further projects to ensure that we continue to deliver new growth projects. The Chloride Leach project at Zaldívar will increase recoveries and will add 10-15,000 tonnes of copper per year and the new Esperanza Sur pit at Centinela is expected to add a similar amount for its first few years of full production from 2022 onwards. This is in addition to the 60,000 tonnes from the Los Pelambres expansion.
Looking further ahead, Antofagasta has substantial additional copper resources that can be brought into development over time. The construction of a second concentrator at Centinela and a further expansion of Los Pelambres are among a number of options for future growth projects in our portfolio.
Improving diversity in the workforce
The mining industry has often been criticised for lacking diversity in its workforce. At Antofagasta, we continue to encourage more women into the workforce and to ensure that they are better represented at all levels. We now have two female Chairs of Board Committees, for Sustainability and Stakeholder Management and Remuneration and Talent Management, who serve on the Board alongside nine male Directors. In addition, some of our female senior executives have been appointed to each of the boards of our mining operating companies and we have two women in the Senior Management team, the General Manager of the Transport division and our Vice President of Human Resources, who are members of our 15-member Executive Committee. I would like to thank them and all members of the Board for their work and support during 2019.
We are determined to further improve diversity in our business. By doing so, we will continue to broaden the depth as well as the breadth of skills and perspectives within our talent pool. We believe that this will enable us to ensure that Antofagasta has the right people to help the Company navigate the many challenges facing mining today.
Your Directors
It was with great sadness that we said goodbye to our Non-Executive Director Gonzalo Menendez, who passed away at the end of June following a period of illness. Gonzalo had been an important part of Antofagasta's development for nearly 40 years. He was responsible for transforming the Transport division into a profitable business in his role as General Manager in the early 1980s and later, in his role as a Director, he played a significant role in the Group's expansion and eventual transformation into the mining company that it is today. The Board will miss his wise counsel and advice.
In May we appointed Mike Anglin to the Board. Mike has over 30 years' experience in base metals, focused on South American and US operations and mine construction. His extensive experience in developing and constructing large-scale mines in the Americas will, I know, be of great benefit to Antofagasta in the coming years and I would like to welcome him to the Board.
In March this year, we also appointed Tony Jensen to the Board. Tony has over 35 years of mining experience in the United States and Chile in operating, financial, business development and management roles and will stand for election by shareholders at the 2020 Annual General Meeting.
Tim Baker will not be standing for re-election at the 2020 Annual General Meeting, having served for nine years on the Board. Tim has provided invaluable service during his time with us and has served as Chairman of the Remuneration and Talent Management Committee and as a member of all of the other Committees.
I would also like to take this opportunity to mark the passing of Viscount Montgomery of Alamein, David Montgomery, who was Chairman of the Company from 1980-82. He had a great love of Latin America and was decorated by the governments of Chile, Argentina, Mexico and Venezuela as well as those of Spain and Brazil. He lived in Antofagasta for a period during the 1970s and made a valuable contribution to the Company in its early days of transformation from a railway to a mining business.
An industry that works for everyone
During the last two decades, the quality of life and the wellbeing of the population have improved significantly in Chile. Poverty levels have reduced markedly and all the indicators included in the Human Development Index of the United Nations Development Programme have improved.
However, since October 2019 Chile, like some other countries, has been experiencing a period of social tension with street demonstrations and demands for social improvements which have been followed by instances of violence by some small groups. We condemn violence and we strongly believe that the best way to achieve social advancement and cohesion is through dialogue. We also believe that this should include measures that help the country to reach higher social standards, and to grow and develop. In order to address these issues, the government and all major political parties have agreed to hold a referendum to determine whether a new constitution should be adopted.
We must all work together to resolve the country's challenges and mining will continue to be one of the main contributors to Chile's economy. When the mining industry is successful, the whole country benefits through higher tax revenues, higher levels of employment in better jobs and improved infrastructure.
As an industry, and as a business that plans for the long term, we value certainty and stability. We have worked hard to build strong community relations and we benefit from the country's educated workforce. Ensuring that our interests are properly aligned with those of our stakeholders is critical to the long-term sustainability of our operations.
That is why we are focused on ensuring that when we are successful as a company our stakeholders benefit as well. This includes our people, local communities, suppliers, customers, shareholders and the government and regulators. 2019 has been no exception and we have described the specific efforts we make to support these stakeholders throughout this Annual Report. I am particularly proud of the work the team has done over the year to strengthen our community relations; rolling out the successful community relations programme we have developed at Los Pelambres, to our mines in the north of Chile, at Centinela, Zaldívar and Antucoya.
Outlook
Despite a strong finish, the copper price was flat for most of the year, impacted by the uncertainty around global trade. However, in the longer term we continue to believe that the fundamentals for copper are strong. The demand picture suggests that the world's appetite for copper as part of the greening of our global power and transportation systems will continue to grow at a time when new copper supply sources are becoming rarer.
In the short term, there is limited new supply coming on-stream in 2020. However, the outbreak of the COVID-19 virus at the beginning of the year is having an impact on copper demand in Asia. It is not clear at this stage how important the impact will be, but it is possible that it will be significant. In the meantime, the Chinese government has put in place rigorous controls to stop the spread of the virus and has announced several stimulatory economic measures that should reverse at least part of the negative impact on demand.
For me the commodity price volatility we have experienced over the past few years really highlights our strengths at Antofagasta. We plan for the long term, to deliver considered growth, manage our costs tightly, put the safety of our people and communities at the heart of all that we do and invest in the future. This approach will remain core to our strategy in the years ahead.
On a final note I would like to thank our shareholders for their support and our employees and contractors for all their work that made 2019 another record year for Antofagasta.
JEAN-PAUL LUKSIC
CHAIRMAN