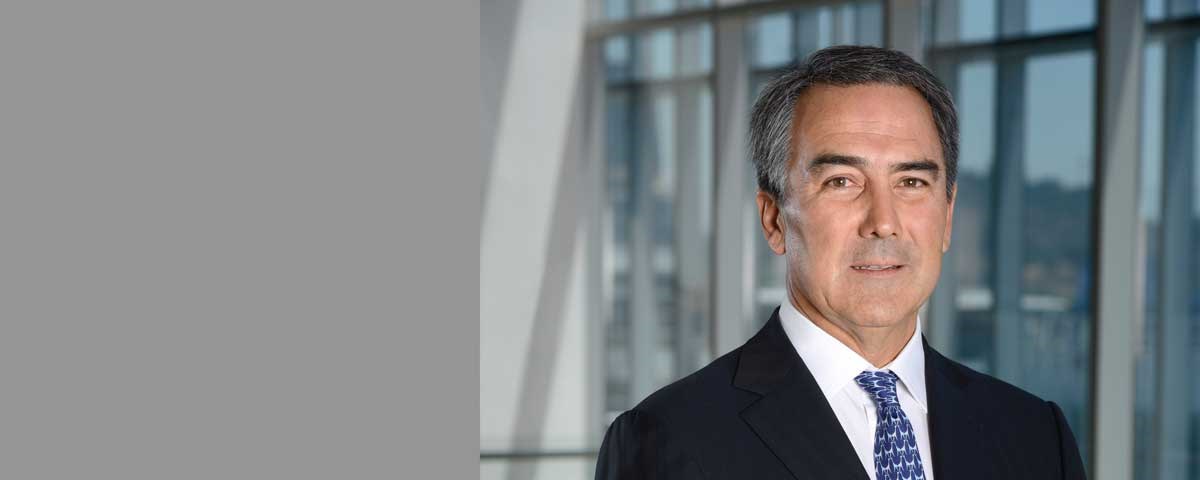 It is now 40 years since the Luksic family acquired a stake in Antofagasta and began the process of creating one of the world's leading copper mining companies. During the years in which I have been at the helm of the Company, as CEO of the mining division from 1998 and subsequently as Chairman of the Board, it has been fascinating to see the huge changes which have taken place, both in the industry and in Antofagasta.
We have grown from being a regional railway business to becoming a company focused on copper mining, developing and operating large-scale open pit mines at Los Pelambres, Centinela and Antucoya, as well as acquiring a 50% stake and operatorship of Zaldívar in 2015. I am proud to be able to report that this year we have had record production of 725,300 tonnes which is due to the hard work of the operations teams, particularly at Centinela and Los Pelambres.
CONSIDERED GROWTH
While our production hit record levels during 2018, global trade tensions led to a fall in the copper price in the second half of the year, highlighting once again how the fundamentals of our industry are so often shaped by geopolitical circumstances. The cyclical nature of the copper industry has fundamentally shaped the way we think about the future, focusing our attention on those elements that we can control: the pace of our developments, costs, ensuring safe and reliable operations and maintaining good community and employee relations.
We are fortunate to have substantial mineral resources and we know that these resources will all one day be developed. The judgement we have to make is when. We think of this as 'considered growth'.
Evidence of our conviction to growing and developing our resource base over time has been our commitment to investing through the cycle. It is in line with this that we completed the acquisition of our shareholding in Zaldívar in 2015 and the construction of Antucoya with first production in the same year. We continually review and assess our portfolio of opportunities and expansion plans. And as part of this process the Board recently approved the expansion of Los Pelambres after the project had been fully reviewed and all risks and uncertainties minimised to acceptable levels. Construction is now under way and the first phase of the expansion is expected to add an average of 60,000 tonnes of copper production per year between 2021 and 2036. The project also includes a desalination plant to improve the water security of the whole mine and ensure that the expansion will not need to rely on local supplies.
We are also considering expanding our production at Centinela and having evaluated two development alternatives, have decided to advance one of these alternatives, the construction of a second concentrator, to the next stage of evaluation.
PROCESS ENSURES SAFETY
After more than two years without a fatality at one of our mines, it is with great sadness that I have to report that a contractor suffered a fatal accident at Los Pelambres in October. My condolences go to the family of Jorge Pérez Barraza. We have undertaken a full investigation of the incident and have implemented the recommendations with direct oversight by senior management.
Safety remains the Group's top priority and this tragic incident provides a salutary reminder that we must always remain alert. It is the duty of all of us – including those with the most experience – to follow the rigorous procedures and processes that we have in place to maintain a safe working environment and to ensure that those working around us are doing the same. After many years in the industry I know that people can become lulled into a false sense of security through familiarity with the mining environment. We all have to guard against that and the complacency it sometimes breeds.
GOVERNANCE: TALENT ESSENTIAL FOR THE FUTURE
We announced in November that Francisca Castro, who has served as an independent Non-Executive Director since 2016, has been appointed as chair of Antofagasta's Remuneration and Talent Management Committee, with the appointment effective in May 2019. Ms Castro is replacing Tim Baker as chair and I would like to thank them both, and indeed all of our committee members, for their hard work over the course of the year.
The role of the Remuneration and Talent Management Committee is vital to ensuring that Antofagasta performs at its full potential. Partly this is about ensuring that we maintain strong and transparent relations with our employees and the communities in which we work. I am proud that we have maintained such strong employee and union relations, successfully completing a number of major wage negotiations this year and recording yet another year without strikes – an unbroken record.
We engage constantly with our workforce, not only in the years when there are negotiations, but every year as this open dialogue is key to maintaining good relations and develops the trust that has built up between the Company and its employees.
FAREWELL TO BILL HAYES
At this year's AGM Bill Hayes will not put himself forward for re-election as a director. Bill has been a Non-Executive Director for 12 years, of which five were as the Senior Independent Director. I would like to thank Bill for all the work he has done for us and his contribution to the success of the Company.
CREATING A DIVERSE WORKFORCE
Diversity is another big issue being tackled by the Board and I challenge everyone in the business to see how we can improve the level of diversity across our workforce. To my mind ensuring that the most talented people are drawn to Antofagasta and want to stay here is not just the right thing to do – it is good business. While we still have much to do, I was enormously proud that three women at Antofagasta were honoured by Women In Mining as being identified as some of the 100 most inspirational women in mining today.
OUTLOOK
It is our view that the copper market continues to look tight, with the outlook for 2019 and beyond positive for copper prices. The growing demand for copper as a critical element in renewable energy and electromobility is here to stay and represents strong new sources of demand, which we believe will help offset the worst excesses of continued global trade disputes. With growing production, new developments under way and an attractive portfolio of future projects, Antofagasta is well positioned to meet this demand with its next phase of considered growth.
As I said at the beginning of this letter, we have experienced many ups and downs over the past 40 years, and I have no doubt that the future will bring many new opportunities and challenges. What I have learnt though is that by focusing on what we do best – maintaining our costs, running safe and efficient operations, and managing our development programmes – we can ensure that Antofagasta will still be here in another 40 years.
I would like to finish by thanking all of our employees and contractors without whose hard work none of this would be possible and our shareholders for their continued support.
JEAN-PAUL LUKSIC
CHAIRMAN