Zaldívar
50% OWNED Joint Venture
Zaldívar is an open-pit, heap-leach copper mine operating at an average elevation of 3,000 metres above sea level, approximately 1,400 km north of Santiago and 175 km south-east of the city of Antofagasta. The Group acquired a 50% interest in the asset from Barrick Gold Corporation in 2015 and is the operator of the mine.
VISIT OUR WEBSITE FOR DETAILS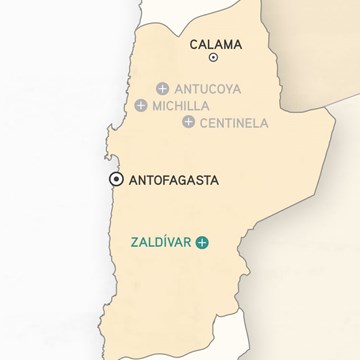 OPERATING PERFORMANCE
During 2018 Zaldívar successfully focused on improving copper recoveries following a decline in 2017, although this effort was offset by lower throughput arising from multiple stoppages affecting the uptime of the plant.
Attributable EBITDA was $87 million compared with $134 million in 2017.
PRODUCTION
Copper production was 47,300 tonnes, 8.5% lower than 2017, mainly due to lower throughput, which was partially offset by higher grades and recoveries.
CASH COSTS
Cash costs for 2018 were $1.94/lb, 19.8% higher than the previous year, mainly because of the impact of lower production and higher input prices.
CAPEX
Attributable capital expenditure for 2018 was $52 million, which includes approximately $10 million with respect to mine development. These amounts are not included in the Group's capital expenditure figures.
OUTLOOK FOR 2019
Attributable copper production in 2019 is forecast to be 55–60,000 tonnes at a cash cost of approximately $1.75/lb.