CENTINELA
70% OWNED
Centinela was formed in 2014 from the merger of the Esperanza and El Tesoro mining companies. Centinela mines sulphide and oxide deposits 1,350 km north of Santiago in the Antofagasta Region, one of Chile's most important mining areas.
Centinela produces copper concentrate (containing gold and silver) through a milling and flotation process, and molybdenum concentrate. It also produces copper in cathodes, using the solvent extraction and electrowinning (SX-EW) process.
VISIT OUR WEBSITE FOR DETAILS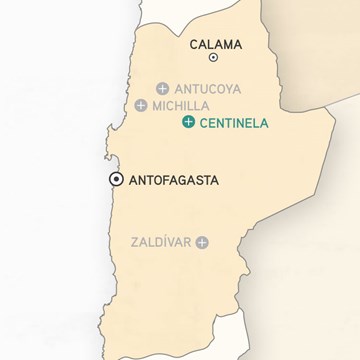 OPERATING PERFORMANCE
Centinela's performance strengthened during the year with the copper grade and throughput in the sulphide line increasing quarter by quarter. Additionally, the new Encuentro Oxides plant commissioned in 2017 achieved its design throughput capacity during the year, increasing cathode production by 28,000 tonnes and utilising most of the SX-EW plant's production capacity.
EBITDA at Centinela was $645 million, compared with $859 million in 2017, despite higher copper production, as the realised copper and gold price decreased by 4.5% and 2.3% respectively.
PRODUCTION
Copper production for 2018 was 248,000 tonnes, 8.6% higher than in 2017, primarily as a result of higher throughput at Centinela Concentrates and the ramp-up at Encuentro Oxides, and partially offset by lower grades in both the sulphide and oxide lines.
Production of copper in concentrates was 155,500 tonnes, 5.1% lower than 2017, mainly reflecting lower average grades and the consequent drop in recoveries, partially offset by higher throughput.
New production from Encuentro Oxides contributed to cathode production of 92,500 tonnes in 2018, 43.4% higher than in 2017.
Gold production for the year 2018 was 146,900 ounces, 6.4% lower than in 2017, mainly due to lower grades and recoveries.
The new molybdenum plant started operation during the year producing 300 tonnes of molybdenum in concentrates.
CASH COSTS
Cash costs before by-product credits for the year were $1.89/lb, 4.4% higher than in 2017, mainly a result of higher input prices, offset by higher production.
Net cash costs were $1.51/lb, 11.0% higher than in 2017, reflecting higher cash costs before by-product credits and lower credits from gold production.
CAPEX
Capital expenditure was $502 million, including $279 million on mine development.
OUTLOOK FOR 2019
Production for 2019 is forecast at 260–280,000 tonnes of payable copper, 190–200,000 ounces of gold and 2,000 tonnes of molybdenum, with production decreasing in the second half of the year as grades decline.
Cash costs before by-products in 2019 are forecast to be approximately $1.85/lb and net cash costs $1.35/lb.