ANTUCOYA
70% OWNED
Antucoya is approximately 1,400 km north of Santiago and 125 km north-east of the city of Antofagasta. Construction of the project was completed in 2015 with full production achieved in 2016. Antucoya mines and leaches oxide ore to produce copper cathodes using the solvent extraction and electrowinning (SX-EW) process.
VISIT OUR WEBSITE FOR DETAILS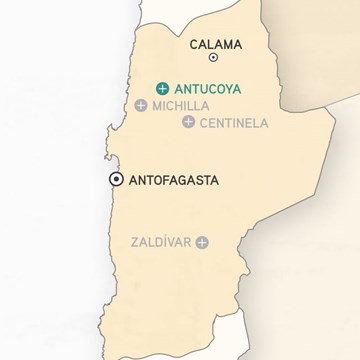 OPERATING PERFORMANCE
Antucoya had a challenging start to the year following a conveyor failure in December 2017 and lower plant availability during the first half of 2018. These affected both throughput and recoveries, but performance improved during the last quarter of 2018 and this is expected to continue into 2019.
EBITDA at Antucoya was $142 million compared with $207 million in 2017, reflecting Antucoya's lower sales volumes and lower realised prices.
PRODUCTION
Copper production was 72,200 tonnes, 10.3% lower than in 2017, due to lower throughput and recoveries.
CASH COSTS
Cash costs for 2018 were $1.99/lb, 18.5% higher than in 2017, mainly because of lower production and higher input prices.
CAPEX
Capital expenditure was $43 million, including $19 million on mine development.
OUTLOOK FOR 2019
Production in 2019 is forecast to be 75–80,000 tonnes and cash costs are expected to be approximately $2.00/lb.