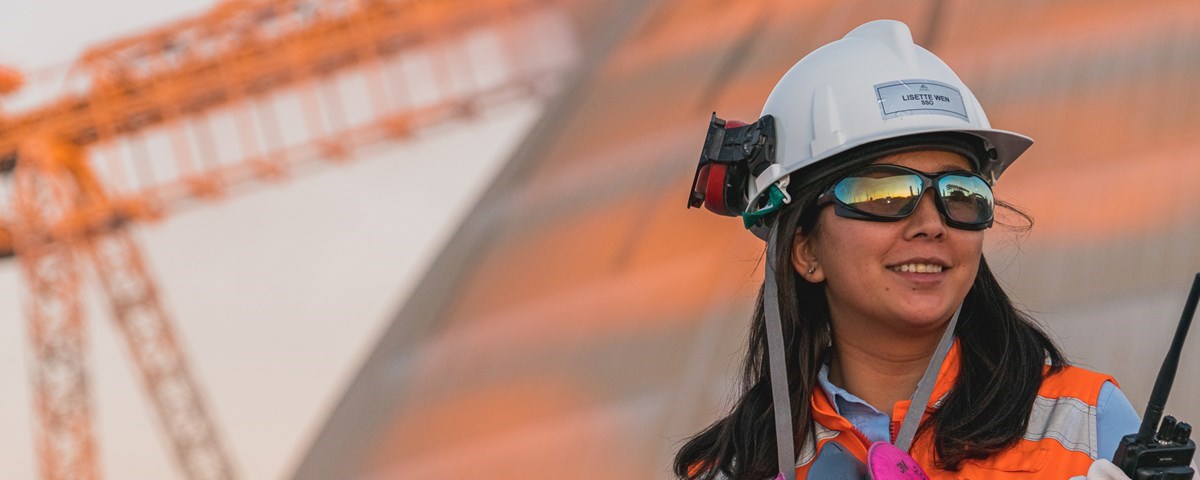 We are committed to our purpose of Developing Mining for a Better Future
This is what drives and motivate us.
At its centre is our Purpose, Developing Mining for a Better Future, which is supported by our Strategy, Organisation and Culture through which we seek our Vision, "To be an international mining company based in Chile, focused on copper and its by-products, known for its operating efficiency, creation of sustainable value, high profitability and as a preferred partner in the global mining industry".
In turn, our Strategy has five pillars, People, Safety and Sustainability, Competitiveness, Growth and Innovation.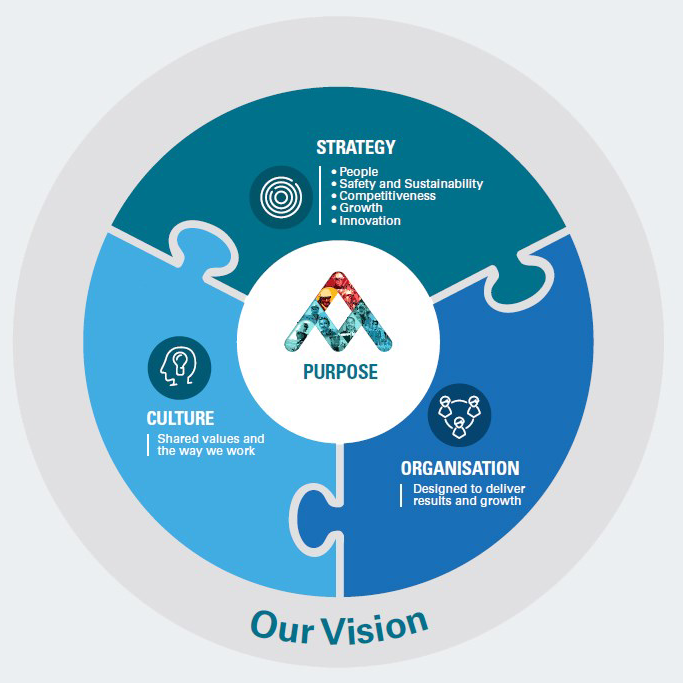 Our strategy is structured around five pillars, each of them with defined short- and medium-term goals to enable us to achieve our Purpose.
People
People are the core of our business. We want our employees to feel recognised and to have the maximum opportunities for personal and professional growth.
We seek to generate a culture of diversity and inclusion in which our employees can achieve their full potential. We are committed to equality and believe that we can develop our business and make a significant contribution to Chile's development.
We work to improve opportunities for individuals' internal promotion fostered through initiatives such as technical and managerial training programmes. Our goal is to be the best employer in the mining industry. To achieve this, we understand the importance of creating an environment of trust and collaboration that looks to the long term. 
Safety and Sustainability
The safety and health of our employees is non-negotiable. We are committed to achieving zero fatalities at our operations and continuing to reduce the number and seriousness of accidents and occupational health issues.
We view sustainability as a source of value creation that is an integral part of our decision-making processes. This includes taking into account all socio-environmental factors throughout the different stages of the development through to the closure of a mining operation.
In line with this, we manage natural resources efficiently and are constantly seeking ways to reduce water consumption, source cleaner sources of energy and protect biodiversity, while always collaborating with local communities.
We are sensitive to the threats posed by climate change and are always seeking to improve our practices accordingly. Our aim is to maximise the utilisation of renewable energy sources and to reduce our greenhouse gas (GHG) emissions.
Competitiveness
Our key focus as regards competitiveness is to achieve productivity gains through cost control and streamlining our processes.
Our Operating Model seeks to reduce the variability of our production plans and includes an operating excellence area, a discipline that focuses on productivity issues. Our Competitiveness and Cost Programme (CCP) has also produced significant savings.
Growth
We have a portfolio of growth projects that allows us to remain competitive and develop sustainable operations in the long term.
We continue to review our options for maximising returns and reducing the capital cost of projects, and are enhancing the capabilities of the project team to improve our project execution strategy, management and control.
Our focus is on the production of copper and by-products in the Americas (particularly Chile, Peru, Mexico, the United States and Canada).
Innovation
We innovate as a means of improving social, environmental and economic conditions while, at the same time, delivering strong returns for our shareholders.
Innovation is key to improving productivity and efficiency and promoting growth. We are investing in innovation and developing opportunities, and encourage and reward employees and contractors who send us their ideas for improving our operations.
During the year we continued to implement our digital roadmap to facilitate and accelerate the adoption of information and analysis technologies, automation and robotics.
The way we work and manage our risks is anchored in our shared values:
Responsibility. We are responsible for our actions, particularly our own safety and health and that of others.


Respect. We respect people, their opinions matter to us and we interact with them in an open and collaborative manner.


Commitment to sustainability. We maximise the value of our assets while contributing to social development and minimising our impact on the environment.


Excellence in our daily performance. We strive to achieve ever better results.


We are forward-thinking and seek to generate value in the long term. We learn from our mistakes and have the flexibility and confidence to address changing challenges.


Innovation is a permanent practice and is key to our long-term success.
Each area of the Group has an organisational structure and Operating Model to optimise asset performance.
This is achieved by standardising and strengthening production processes, improving collaboration between key areas, defining clear roles and responsibilities and seeking to reduce variability and deviation from production plans.