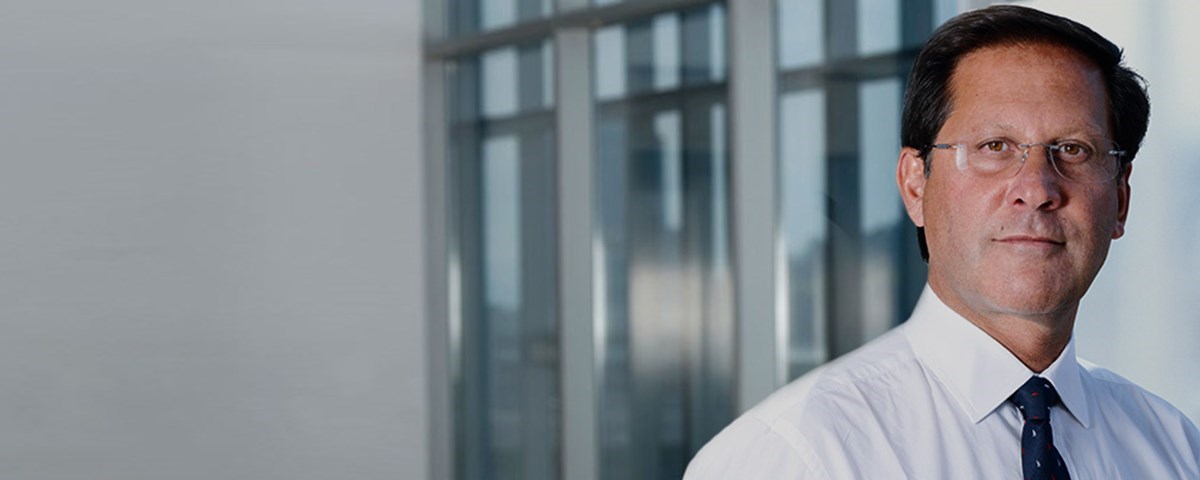 WHAT DO YOU VIEW AS THE HIGHLIGHTS OF THE YEAR – FOR BOTH ANTOFAGASTA AND THE WIDER INDUSTRY?
Our most important achievement was that we had no fatalities at our operations – not least because this is not something that has simply happened overnight. When I started as CEO I found an organisation which had just had a few serious accidents, some of which had resulted in fatalities. Since then we have worked in a very deliberate way to bring safety to the forefront of everything we do and have succeeded in creating the strong safety culture that we have today.
While this is an encouraging result, we cannot be complacent because mining will always be a business that faces very real risks that can only be managed through a resilient safety culture. I am determined to continue to raise safety standards and awareness across the Group – from the Executive Committee, which regularly visits our mining operations as part of our safety leadership programme, to our employees and contractors in the mines and the people in the communities that we work alongside.
My focus over the year has been on producing profitable tonnes by reducing costs, improving productivity and efficiency and applying innovative solutions to the challenges we face. One of the outcomes of these efforts is that we as a Group are getting much better at consistent and reliable delivery – something that is borne out by our meeting production and cost guidance for the year, producing 704,300 tonnes of copper at a net cash cost of $1.25/lb. This performance has translated into an EBITDA margin of 54.5%, the highest margin since 2012, when the copper price was nearly 30% higher.
CAN YOU TALK US THROUGH ANTOFAGASTA'S OPERATING PERFORMANCE??
Let me start with a couple of operating milestones that we reached during the year, which underpin Antofagasta's prospects for a balanced growth outlook into 2018. In the third quarter of 2017 we brought on stream the Encuentro Oxides plant at Centinela. Once running at capacity Encuentro Oxides will produce on average 43,000 tonnes of copper cathode per year, making use of the spare capacity at the SX-EW facilities at Centinela and helping offset natural declines in production due to falling grades. We expect to see the full growth benefits flow through into the Group's results in 2018.
Also at Centinela we completed the construction of the Molybdenum Plant in June, conducted pre-commissioning tests throughout the second half of 2017 and expect to achieve first production during the first half of 2018. The plant will produce an average of 2,400 tonnes of molybdenum per year and help reduce our unit cash costs at Centinela.
So, two real operating milestones for Antofagasta – both of which demonstrate our commitment to investing through the cycle and which provide the Group with an excellent platform for the next stage of organic growth.
Turning to production, as highlighted above we achieved 704,300 tonnes during 2017, in line with our guidance for the year and slightly less than last year. This was consistent with the expected declines in grade at Los Pelambres and Centinela, which were not fully offset by Encuentro Oxides and the first year of full production at Antucoya. The stronger production performance at these mines helped counterbalance a drop of 3.3% in copper production at Los Pelambres. This was primarily due to lower ore grade and underlines both the importance of projects such as Encuentro Oxides being brought onstream and also the need to maintain our drive for further productivity improvements.
Beyond our core copper business, gold production was 212,400 ounces, 21.6% lower than in 2016, which reflects lower grade at Los Pelambres and the shift to higher copper content ores at Centinela. However, our molybdenum production was boosted by 47.9% year on year by higher grade qualities.
At our transport division, EBITDA contribution to the Group improved by 12% compared to 2016, to $98.1 million.
HOW ABOUT THE GROUP'S FINANCIAL RESULTS?
Our financial performance over the course of the year has been a real positive for me. As I said, at the heart of our strategy is the consistent and sustainable production of profitable tonnes. So, while we have been working hard to make sure that our operations are well positioned for growth, we have not lost our focus on tight cost control. During the year we conducted reviews of our Cost and Competitiveness Programme (CCP) and new operating model, embedding them into our everyday business practices.
The lower costs we have achieved combined with improved prices in 2017 flowed through into stronger cash flows and much improved margins. Our cash flow from operations was up 71.2% in 2017 to $2.5 billion and our EBITDA margins returned to over 50% – a real step change in profitability.
It is this better financial performance that has allowed the Board to recommend a final dividend for the year of 40.6 cents per share, bringing the total dividend for the year to 50.9 cents per share or $501.8 million. This is an increase of 176.6% on last year and represents a total pay out ratio of 67% of net earnings, ahead of the Company's policy of paying out a minimum of 35% of underlying net earnings.
DESPITE YOUR COST CONTROLS THE COMPANY IS INCREASING ITS CAPITAL INVESTMENT. WHY?
Capital expenditure for 2018 is expected to be about $1.0 billion, which is some $100 million higher than in 2017. This reflects the coincidence of each of the three categories of expenditure we have, development, sustaining and mine development, increasing at the same time. Development expenditure is mainly on the Los Pelambres Incremental Expansion project. Now that the EIA has been approved, it will be presented to the Board for approval once certain additional permits have been received.
On sustaining capital expenditure, we have been keeping a tight control on this and expect it to average about $400-450 per tonne of production through a multi-year period, typically over five years. In 2016 and 2017 it was well below this level and although it is increasing in 2018 to $385 million this is still within the target range over the cycle.
Finally, our mine development expenditure is mainly at Centinela and increases slightly this year as mining moves into a new phase with a larger amount of waste rock to be moved.
This investment will provide growth in future years and ensure our operations will continue to operate reliably and that productivity is improved.
WHAT PROGRESS HAS BEEN MADE ON THE GROUP'S GROWTH PROJECTS?
The EIA for Phase 1 of the Los Pelambres Incremental Expansion project was approved in February 2018. We have also recently updated the capital estimate with current pricing projections, advanced detailed engineering and a project execution plan to a revised estimate of $1.3 billion.
This figure includes the concentrator plant expansion and prestripping at $780 million and the desalination plant and water pipeline at $520 million. The desalination plant will serve as a back-up water supply for the entire operation – existing plus both phases of expansion – in conditions of severe drought.
The project is expected to be submitted for approval to the Board during the second half of 2018 once ancillary permits to the approved EIA are in place and additional geotechnical studies at the desalination plant have been completed.
The project will increase Los Pelambres' production by 55,000 tonnes of copper a year from 2021. Phase 2 will require further permitting and will add another 35,000 tonnes of production and extend the mine life by 15 years.
We also have the opportunity to expand production at Centinela and we are considering two alternatives. One is to build a new second concentrator at an estimated cost of $2.7 billion and producing some 180,000 tonnes of copper equivalent per year. The other is to expand the existing concentrator. We have conducted preliminary work on a second option that has lower capital expenditure and lower construction and project execution risks than the Second Concentrator project. We will be doing more work on both options during 2018 with the intention of being in a position to select our preferred alternative by the end of the year. If the alternative to expand the existing concentrator is selected then a full feasibility study will need to be done before the Board decides on whether to approve it for construction. The feasibility study will take about 18 months.
LABOUR AND COMMUNITY RELATIONS HAVE BEEN AN ISSUE FOR THE CHILEAN COPPER INDUSTRY IN RECENT YEARS. HOW DO YOU APPROACH IT?
Well, it can be a challenging issue for everybody concerned and is something I and my team spend a lot of time on. I am pleased that over the last few years we have been able to reset the relationships we have with our labour force and communities. During 2017 we successfully concluded pay agreements for the next three years with the unions at Centinela and Zaldívar. We've also made progress in strengthening our community relations – formalising our partnership with the Choapa Valley community through Somos Choapa.
It is my view we work best when we work in partnership, and the first step to success is mutual understanding. So, when I sit down with our employees, our contractors and with the communities that we work in I always want to begin by understanding their viewpoint. We may not always agree but over the years we have demonstrated that reaching agreement – through constructive conversation – helps secure jobs and prosperity for all of our stakeholders.
Over the last few years we have made excellent progress at Los Pelambres, resolving the legal challenges that have hung over the operation for some time. Going forward, Los Pelambres can enjoy the lack of distraction caused by these cases and the more rewarding interaction with the communities in the areas in which it has an impact. We are rolling out this community engagement model to our other operations, and we expect to improve the interaction we have there as well.
LOOKING AHEAD INTO 2018 AND BEYOND WHAT DO YOU SEE FOR ANTOFAGASTA AND THE MARKET?
2017 was a good year for copper, with a strong rally in the price driven by a pick-up in demand – mostly in Asia but also, as the Chairman mentions in his letter, from potential new sources in the shape of electric vehicles and clean energy. It is my belief that the price will stabilise at current levels over the next couple of years, partly sustained by demand but also due to a tightening supply position going into 2019.
This is when you will see the benefit of our investment during the downturn in the copper price over the last few years, when we continued with the construction of Antucoya and the expansion of Centinela, and took the opportunity of acquiring 50% of Zaldívar. We were able to do this because of the strength of our balance sheet and our conviction that in the medium to long term the copper price would recover. Now these additional tonnes of copper production will contribute strongly to the Group's results and these assets will act as the basis for further growth in the future.
I believe that we are in a good position to benefit from this improving environment. We are forecasting production for 2018 of 705-740,000 tonnes of copper as Encuentro Oxides ramps up. We have taken $525 million of costs out of the business since 2014, including $166 million in 2017, and a further $100 million have been identified for 2018. Combined with a prudent approach to our balance sheet, tight cost control and improved prices have boosted our operating margins and provided us with the flexibility to take full advantage of future organic growth opportunities, while safeguarding returns for our shareholders.
We have made great progress over the last few years in improving the resilience and efficiency of our operations and this is reflected in our adherence to guidance. This would not have been possible without the support and hard work of our stakeholders – our employees, contractors, shareholders, communities and state and national governments. I would like to thank all of them.
I am excited about what we can achieve together over the next few years.
IVÁN ARRIAGADA
CHIEF EXECUTIVE OFFICER